Winners & Losers
This week's biggest Winners & Losers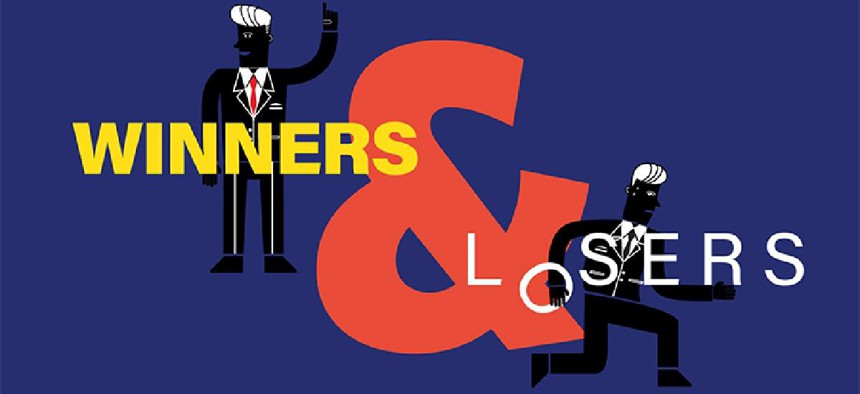 Anyone hungry for a helping of political news had plenty of new developments to digest this week. State Senate lawmakers advanced a controversial measure that would allow permitless carrying of guns, a state court struck down a school mask mandate put in place by Gov. Tom Wolf and Republican leaders introduced a bill to roll back executive power. It was a pretty sweet week for Republicans, though Democrats are probably a bit salty about how things went down. And speaking of sweet and salty, The Hershey Company finalized deals to acquire two separate pretzel makers for a total of $1.2 billion, as the company looks to make the sweetest place on earth a bit more savory.
 
Scroll down for more of this week's winners and losers!
WINNERS:
Bridget O'Connell -
The surname O'Connell comes from the meaning "strong as a wolf." Anyone who's worked for Dr. Bridget O'Connell could say the same about her. O'Connell, the Palisades School District superintendent, was named the 2022 Pennsylvania Superintendent of the Year for her leadership and advocacy for education. As the commonwealth's recipient, she'll be recognized alongside the other 49 honorees at the National Conference on Education in February.It's safe to say she's leading the pack.
Brian Fitzpatrick -
Biden's bringing billions to Pennsylvania, and Brian's backing him. Rep. Brian Fitzpatrick was one of 13 Republicans who voted to pass the president's infrastructure bill, stating that the country's infrastructure "has reached a breaking point." The commonwealth is set to receive $11.3 billion for highway projects, $1.6 billion for bridge construction, $2.8 billion for public transportation and $1.4 billion for water infrastructure, among other things. The First District congressman is helping pave the way for the state's future.
Lori Dumas -
Philadelphia Court of Common Pleas Judge Lori Dumas looked to be on the losing end of two elections for seats on the state's Commonwealth Court. In the days following Election Day, Dumas trailed Republican Drew Crompton, who currently serves on the court after being appointed in 2019. As ballots were counted, though, Dumas appeared to inch ahead of Crompton. The state announced that a statutorily-mandated recount of the race will commence soon, and if Dumas ultimately prevails, she'll be the only Democrat to win a statewide appellate court race this cycle – a much-needed victory for Democrats after they nearly got swept in the statewide judicial races.
LOSERS:
Alison Beam -
The Pennsylvania Department of Health was dealt a blow this week when the Commonwealth Court struck down the state's school mask mandate, which was implemented through an order signed by Acting Secretary of Health Alison Beam and took effect in September. Gov. Tom Wolf's administration already planned to relax the mandate beginning in January, but the Court's decision brought a premature end to the statewide policy, though the policy was quickly appealed and the ruling put on hold until the state Supreme Court makes a decision. If the mask requirement in schools ultimately gets relaxed, public health officials probably won't be.
George Halcovage -
Lawmakers in the state House took a rare step this week when they approved a resolution to launch an investigation into Schuylkill County Commissioner George F. Halcovage Jr., who is accused of sexually harassing four county employees, according to Skook News. The House Judiciary Committee will lead the investigation and determine whether impeachment is needed. Give credit where credit is due though; Halcovage managed to unite the entire state House of Representatives, who unanimously voted to allow the investigation into the sexual harassment allegations.
Kirk Mullen -
Oops, he did it again. Former West Reading borough councilman Kirk Mullen was sentenced this week to six to 20 years in state prison for his second robbery conviction. Mullen was found guilty of robbery and attempted delivery of opioids last month, which came after a 2019 robbery where he was charged with taking more than $16,000 worth of oxycodone from the West Reading Drug Store.