Winners & Losers
This week's biggest Winners & Losers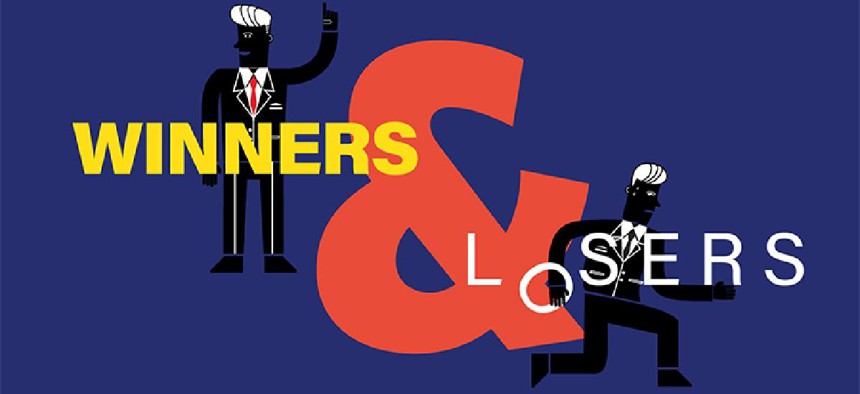 Christmas miracles may be coming early this year. A Pennsylvania dad and daughter were rescued in state game lands this week after they survived a plane crash in the woods near Scranton. U.S. Air Force rescuers were able to get a signal and location from the two thanks to the daughter's iPad. Who said kids are wasting their time on technology?
But that's not the only news this week in the commonwealth, though. We also saw one labor leader move on up, another get sent downtown, and the state's own travel troubles get exposed. 
Scroll down for more of this week's winners and losers!
WINNERS:
Ryan Boyer -
Ryan Boyer was already an up-and-coming force in the Philadelphia labor landscape as president of the Philadelphia Building & Construction Trades Council and business manager of the Laborers District Council. But with the conviction of John Dougherty this week, Boyer quickly ascended to business manager of the Building Trades Council, which represents more than 50 unions across Philadelphia. With the new promotion, Boyer also made history, becoming the council's first Black leader.
John Gurganus -
Court is in session. John C. Gurganus was appointed U.S. Attorney for the Middle District of Pennsylvania this week by U.S. Attorney General Merrick Garland. Gurganus, former chief of the criminal division, has served in a number of positions including criminal chief and lead task force attorney for the Organized Crime Drug Enforcement Task Force. The Villanova alum will be taking over the attorney role until a presidential appointment is made.
Kevin O'Toole -
Commonwealth casinos are breaking the bank, and that's no bluff. Casino and betting revenues generated more than $425.9 million in October, eclipsing the previous revenue high set in July. Last month's revenues were a 33% increase compared to October 2020. Kevin O'Toole, executive director of the Pennsylvania Gaming Control Board, must be feeling like a high roller this week.
LOSERS:
John "Johnny Doc" Dougherty & Bobby Henon -
This week couldn't have gone much worse for Philadelphia labor titan John Dougherty and Philadelphia City Councilmember Bobby Henon. The two were convicted of a slew of charges in a federal bribery trial this week, and as a result, Dougherty resigned his positions at IBEW Local 98 and the Philadelphia Building & Construction Trades Council, while Henon relinquished multiple city council committee roles. Henon has yet to resign from City Council, but the verdict likely marks the end the duo's political power in Philadelphia.
Glen Grell & Jim Grossman -
It's been a rough few months for the executives at PSERS. Amid internal and federal investigations into the state's public school pension fund over errors in investment numbers, executive director Glen Grell and chief investment officer Jim Grossman announced today they will be retiring from their positions. PSERS board members have said they've lost confidence in the executives, and just this week, Gov. Tom Wolf called for the PSERS investigation to be made public. This probably isn't the way these two imagined riding off into the sunset.
Yassmin Gramian -
A new report from the Reason Foundation, a libertarian think tank, said the quiet part about Pennsylvania out loud: The state's roads and bridges could be a lot better. The think tank's 26th Annual Highway Report found that Pennsylvania ranks 39th in the nation in the "overall cost-effectiveness and condition" of its highways, 45th in traffic congestion and 46th in structurally deficient bridges. It's probably not the news PennDOT Secretary Yassmin Gramian wanted to hear this week, and probably only underscores her desire to get federal infrastructure dollars flowing to Harrisburg as soon as possible.