Winners & Losers
This week's biggest Winners & Losers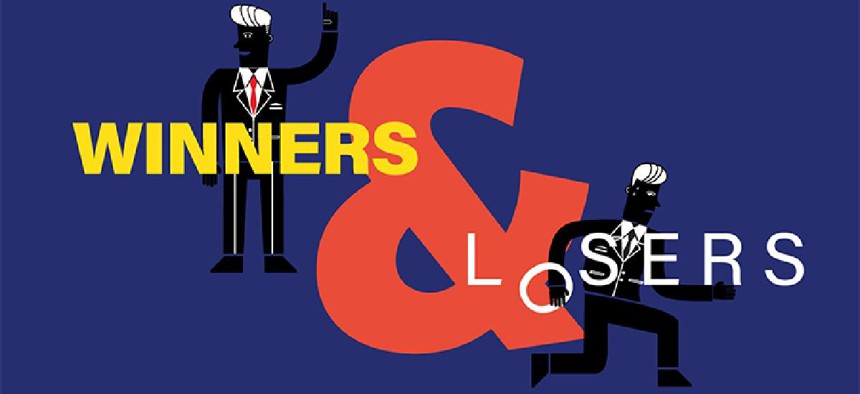 It appears that 2021 is ending the only way 2021 knows how – with a dramatic, over-the-top exit that is sure to leave many questions heading into 2022. Lawmakers are currently sparring over new political maps, conservative state Sen. Doug Mastriano is facing heat from Breitbart, of all places, the state is currently grappling with a surge of coronavirus cases driven by the omicron variant. Some, however, are ending the year on a high note. Three Pennsylvanians were named LGBTQ trailblazers by a national LGBTQ outlet, current and former state lawmakers are celebrating new career milestones and most Pennsylvanians – we can say with near certainty – are glad to be closing the book on a wild year.
 
Scroll down for this week's winners and losers!
WINNERS:
Leigh Chapman -
We have a new acting secretary of the commonwealth. Gov. Tom Wolf named Leigh M. Chapman to serve as acting secretary starting Jan. 8, replacing Veronica Degraffenreid, who will be serving as a special advisor to the governor. Chapman, who previously served as policy director at the Department of State, is currently the executive director of Deliver My Vote, a nonpartisan organization focused on voting by mail.
Tarah Toohil & Stefanie Salavantis -
For the first time in Luzerne County history, there are now as many women on the judiciary bench as there are men. Stefanie Salavantis and Tarah Toohil, a former District Attorney and state representative, respectively, were sworn in as judges this week in the Luzerne County Court of Common Pleas. A nice step toward "more equality on the bench," Salavantis said.
Ryan Mackenzie -
State Rep. Ryan Mackenzie will chair the powerful House Government Oversight Committee in 2022, taking the reins from former state Rep. Tarah Toohil, who left the General Assembly for a seat on the Luzerne County Court of Common Pleas. As chair of the panel, Mackenzie will oversee investigations recommended to the committee by House leaders, a role Mackenzie said he is "honored" to be trusted with.
LOSERS:
Mehmet Oz -
There have been few candidates in Pennsylvania's U.S. Senate race that have received as much attention as Dr. Mehmet Oz, the celebrity physician. Putting concerns about Oz's residency aside, the GOP candidate made headlines this week after reportedly cursing out a reporter who was just trying to get in touch with Oz, who has proven pretty elusive to members of the press that don't belong to cable news networks. Maybe it's time to spend less time pushing raspberry ketones and more time answering questions.
Brittany Yurchyk -
The state Supreme Court approved its ethics board's recommendation this week to suspend lawyer Brittany Yurchyk for one year for failing to adequately represent four clients and acting dishonestly. The court said Yurchyk was late and her explanations were not credible in responding to filing deadlines and court orders while representing family law-related clients. You could say she's temporarily barred from the association now.
Zach Rehl -
Bad things are happening to this Philadelphian. Zach Rehl and other Proud Boy leaders had their arguments rejected that they were being prosecuted for participating in the Jan. 6 Capitol riot because of their political beliefs. U.S. District Judge Timothy Kelly ruled the First Amendment doesn't protect the Pennsylvania Proud Boys head from criminal prosecution.