Winners & Losers
This week's biggest Winners & Losers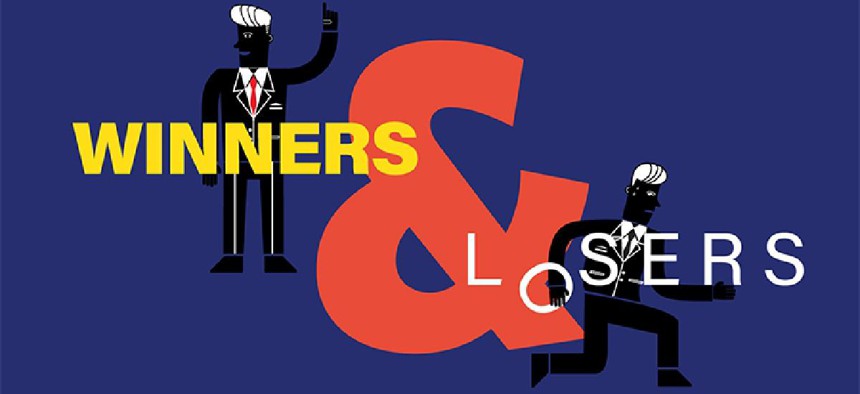 State lawmakers were in the spotlight this week, as one former official got banned from public office, another had a bill vetoed by Gov. Tom Wolf and … well … all of them got a hefty $5,000 raise this year thanks to their annual Cost of Living Adjustment. Others, like members of leadership, will get even larger raises. Does that make them winners? Losers? We'll leave that for you to decide. 
Scroll down for more of this week's winners and losers!
WINNERS:
Tim Holden -
Tim Holden, chair of the Pennsylvania Liquor Control Board, deserves a drink this week. Under Holden's leadership, liquor sales in Pennsylvania saw a historic increase in the last fiscal year, with the PLCB recording $2.91 billion in sales – a 13.7% increase from the prior year. That figure also represents the largest yearly sales increase in the board's history. Cheers, sir!
Dr. Costa Samaras -
A doctor is headed to Washington, but not the one who pushed pseudoscience on television. Dr. Costa Samaras, an associate professor of civil and environmental engineering at Carnegie Mellon University, will be leaving Pittsburgh for a gig at the White House. Samaras is taking a job in the new White House Office of Science and Technology Policy, where he can use his decarbonization research on developing energy policy.
Zachary Cohen -
Democratic judge candidate Zachary Cohen got a win in court this week that could result in an election win. A Lehigh County judge ruled earlier this week that mail-in ballots without dates on the return envelopes must be counted and included in the results of the Nov. 2 election. Republican candidate David Ritter, who currently leads Cohen, had his appeal rejected. After that ruling, Ritter may be going postal.
LOSERS:
Margo Davidson -
Former state Rep. Margo Davidson pleaded guilty this week to stealing from the state, after Attorney General Josh Shapiro charged her with theft for filing fraudulent per diem requests and other expenses while a member of the state House. After entering a guilty plea, Davidson is now prohibited from holding public office in the state ever again.
Cris Dush -
State Sen. Cris Dush was the architect of a bill that would have allowed law-abiding gun owners in Pennsylvania to concealed carry a firearm without a permit – a bill that garnered considerable opposition from Democrats as it moved through the General Assembly. Gov. Tom Wolf, however, threw cold water on the idea on Thursday, vetoing the bill. Unless lawmakers can find a veto-proof majority, this bill likely won't go anywhere as long as Wolf is governor.
John Lorenzo -
This chairman could use a lesson in cyberbullying. John Lorenzo, chairman of Rostraver Township commissioners, was arrested this week after being accused of using burner phones and fake social media accounts to harass political opponents. The arrest was a result of a yearlong investigation that found Lorenzo sent multiple messages using three different burner numbers, allegations Lorenzo denies. He'll only be allowed one phone call now.