Winners & Losers
This week's biggest Winners & Losers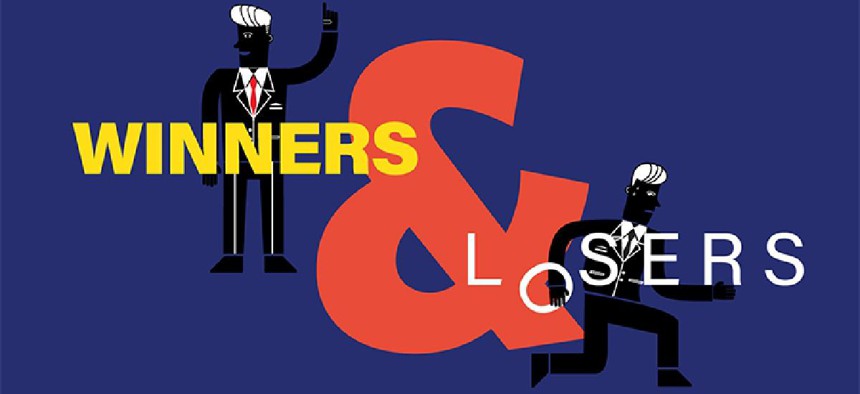 First comes a pandemic, then an election marred by controversy, then … flying spiders? For those afraid of eight-legged friends, you're not going to like this news: Giant flying spiders could be coming to the Keystone State in the near future. Researchers at the University of Georgia say Joro spiders, a mostly harmless spider species originally from Japan, could blanket the East Coast by using their webs to parachute up and down the Eastern Seaboard. This certainly won't help with the state's out-migration problem. 
Scroll down for more of this week's winners and losers!
WINNERS:
Dave McCormick -
It appears that Dave McCormick's barrage of TV ads are proving successful. In a new Fox News poll released this week, McCormick is leading a field of GOP candidates running for U.S. Senate in Pennsylvania with support from 24% of Republican primary voters. McCormick holds a nine-point lead over Dr. Mehmet Oz, who is also seeking the GOP nomination. Ultimately, it will be the voters, and not the polls, who decide the primary. But for now, Pennsylvania voters seem to favor the former hedge fund executive's prescription for fixing the country and not that of the celebrity physician.
Tom Wolf and Jake Corman -
If there's one thing we can come together on, it's complaining about gas prices. One day after Gov. Tom Wolf urged Congress to pass a federal gas tax holiday through the end of the year, Senate President Pro Tempore Jake Corman introduced a proposal of his own to cut the commonwealth's gas tax.The two politicians often at odds in Harrisburg can finally agree on something. Pennsylvania drivers are eager to see lawmakers pump out this legislation.
Eric Holder -
He may not be a Pennsylvanian, but former U.S. Attorney General Eric Holder has had a significant impact on the state's most recent congressional redistricting cycle. Holder currently chairs the National Redistricting Action Fund, a Democratic group that submitted a congressional map for Pennsylvania that was ultimately selected by the state Supreme Court. This week, the U.S. Supreme Court denied an attempt to block the new congressional map, meaning the Holder-backed plan will remain in place for now.
LOSERS:
David B. Burritt -
David Burritt, the current president and CEO of U.S. Steel, may be feeling a pocketbook pinch this week after the company was fined $1.8 million by the Allegheny County Health Department for hydrogen sulfide gas leaks at its Clairton Coke Works site. According to StateImpact PA, the plant exceeded state air quality standards 153 times between January 2020 and March 2022. What's bad news for U.S. Steel could be good news for noses throughout Allegheny County, however, if the fine helps get rid of that rotten egg smell.
Margaret Bayuk -
When the Pennsylvania Liquor Control Board chose to stop buying and selling Russian-sourced products last week, Margaret Bayuk lost her only customer. The Slovakian immigrant and Beaver Falls resident is now sitting on about 30,000 bottles of Ustianochka Vodka, which is distilled in Russia and exclusively sold in the commonwealth. She's asked the governor to reconsider the ban, but in the meantime, the small-time importer has to put the next shipment on ice.
Kenelm Shirk -
It's been more than a year since the Jan. 6 attack on the nation's capital and there's still more Pennsylvanians catching riot-related charges. The latest is Kenelm Shirk, who pleaded guilty this week to threatening to murder Democratic Senators. A former solicitor in Akron Borough, Shirk was found by authorities after he reportedly threatened to kill his wife and planned to attack government officials in Washington, D.C. Police found him on his way to Washington with several firearms and ammunition. Not sure you can talk your way out of that one.