Winners & Losers
This week's biggest Winners & Losers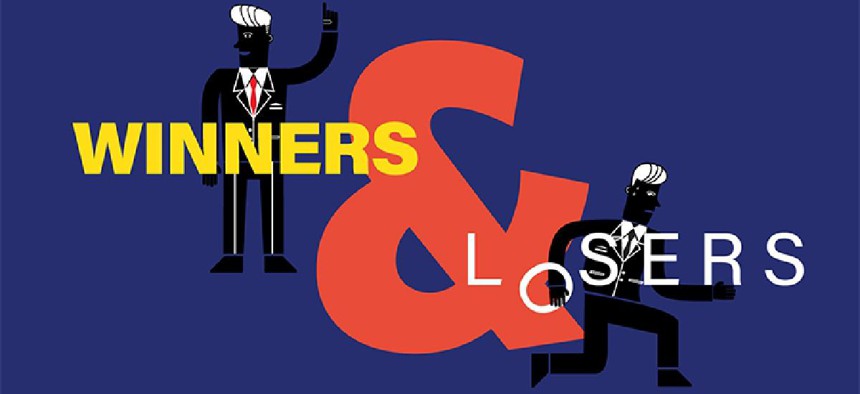 Whose got the luck of the Irish on this St. Patrick's Day? It looks like Pennsylvania, where two cities were named among the best places to celebrate the holiday. Not only did Pittsburgh crack the top five at No. 3, but Philadelphia unseated Boston at the top of the list. The study conducted by WalletHub weighed metrics based on traditions, costs, safety and accessibility, and weather. Even if you don't agree with those rankings, there's no arguing there were a handful of winners and losers this week. Some on this list are in need of some more luck, while others looked to have stumbled across the end of the rainbow. 
Scroll down for more of this week's winners and losers!
WINNERS:
Brian Fitzpatrick -
The long-awaited reauthorization of the Violence Against Women Act is finally expected to be signed into law by President Joe Biden. Part of the act includes Kayden's Law, legislation introduced by Rep. Brian Fitzpatrick to protect children from violence. Named after Kayden Manucuso, who was murdered by her father after he was awarded unsupervised custody, the law would reform custody proceedings and provide funding to protect children. It's nice to see some bipartisan support in Washington.
Daniel Greenstein -
Pennsylvania State System of Higher Education Chancellor Daniel Greenstein is probably breathing a bit easier this week after the Middle States Commission on Higher Education approved twoseparate university integrations as part of a systemwide redesign that Greenstein says will expand student opportunities while cutting administrative costs. With the initial approval from Middle States, PASSHE is one step closer to realizing some major changes to how its schools operate.
Dan Laughlin & John Yudichak -
Here's more bipartisan talks for you. Legislation allowing bars and restaurants to sell cocktails to-go could soon come back after the popular policy was banned following a temporary allowance during the beginning of the pandemic. State Reps. Dan Laughlin, a Republican from Erie County, and John Yudichak, an Independent from Carbon County, are forging the next effort to bring back the law. Although lawmakers failed to agree on a previous iteration, this time around, it's expected to get broad support in Harrisburg.
LOSERS:
Kathleen Kane -
If you thought the woes of Kathleen Kane were over, you thought wrong. Kane, a former state attorney general who resigned her post in shame in 2016 after being convicted of perjury and other charges, was arrested late last week for driving under the influence after being involved in a two-vehicle crash in Scranton. Kane lost her law license in 2019, and it looks like her driver's license could be next.
Shawn Berger & John Ventre -
Even though there are still 10 Republican candidates left in the race for governor, the field actually began to thin this week. Shawn Berger and John Ventre, two political outsiders looking to make names for themselves, withdrew from the gubernatorial race this week after failing to meet the 2,000-signature petition threshold by 5 p.m. Tuesday in order to be on the primary ballot. Now out of the field, it looks like Berger, a business owner from northeastern Pennsylvania, and Ventre, a former UPS public affairs executive, had their Cinderella stories come to an end this March.
Andrew Lewis -
State Rep. Andrew Lewis will be leaving his post as state representative after just two terms in office, citing new state legislative districts that were upheld by the state Supreme Court this week. Lewis said he's not concerned about his own future, but added in a statement that the new House map is "detrimental to my community and the ones surrounding it." And while Lewis may not be worried about his next move, the new House map effectively led to Lewis getting drawn out of the district he currently represents.