Opinion
It's time for candidate Shapiro to resign as attorney general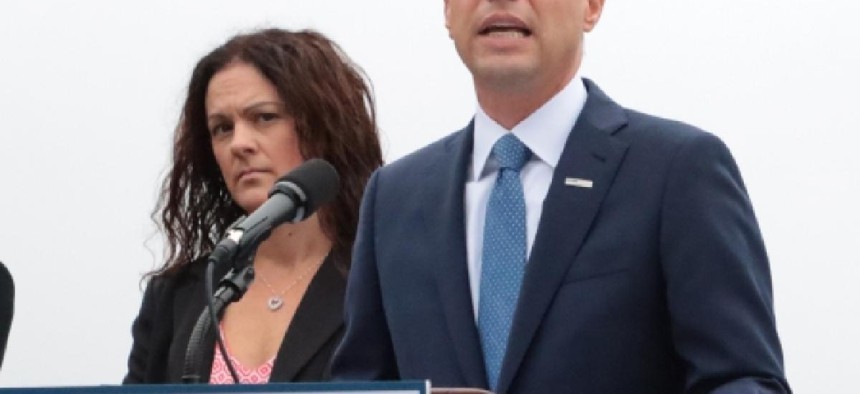 On Oct. 13, 2021, Attorney General Josh Shapiro finally announced what everyone in Pennsylvania has known for years now – that he was running for governor of Pennsylvania. Shapiro's candidacy was no secret among PA politicos, as the attorney general's accomplishments and talking points have echoed national political talking points throughout his tenure. However, now that it's official, the question is whether Pennsylvanians should be paying the attorney general to campaign for governor – especially as crime rates soar and Pennsylvania's opioid crisis continues to be one of the nation's most deadly.
As Shapiro announced his long-awaited run for governor, he told reporters in Harrisburg that he would not step down as the state's top law enforcement official as he seeks to replace Gov. Tom Wolf in 2022. There is "not a chance" he steps down, Shapiro told reporters in Harrisburg. "There is too much work to do in the AG's office, so I'm going to keep doing that work." This comment raised eyebrows in Philadelphia, where murders are at record numbers for two years in a row and despite numerous scandals at the Philadelphia district attorney's office, the Shapiro-led attorney general's office has not stepped in to provide effective oversight in the state's biggest city.
In 2010, the Philadelphia Inquirer editorial board called on Attorney General Tom Corbett to quit his day job as attorney general and focus on running for governor. This was a sentiment echoed by the state House Democratic Leader Todd Eachus who said in 2009, "Corbett will have to judge, when he actually announces his candidacy, whether he can balance the two, both from a political point of view and from the efficacy of taxpayers."
Eleven years later, House Democrats and The Inquirer are seemingly mute when demanding the same of Shapiro. In contrast to elected officials in Philadelphia, who must resign from their current office to run for another, state officials do not have this same regulation. This raises important questions as to whether Shapiro can effectively conduct his sworn law-enforcement duties while running for the gubernatorial nomination of a party that has solidly come out against the law enforcement community. 
Shapiro's actions as attorney general have been tinged with ramifications for his political aspirations for higher office. Shapiro has been vocal on environmental issues, filing criminal charges against Pittsburgh's water authority for excessive lead levels in drinking water, and pursuinga grand-jury investigation andcriminal charges against the state's fracking industry. Furthermore, Shapiro's public efforts to overturn a Trump administration policy that expanded a religious exemption to employers who didn't want to provide workers with contraception and/or abortion coverage in health insurance policies gained national attention when the Little Sisters of the Poor joined that legal fight, even though their own exemption had already been upheld by the U.S. Supreme Court.
As an independent and elected attorney general, Shapiro is sworn to be a law enforcement officer first and politician second. Pennsylvanians rely on him to be a check and a balance to the state's elected officials, especially when potential patterns of corruption, unconstitutional governance and criminality are raised. To date, the attorney general has not publicly investigated the deadly COVID-19 policies launched in 2020 by Gov. Tom Wolf or Health Secretary Rachel Levine, despite the state coroner's association dispute of Levine's death tallies. Furthermore, there has been no public probe into a lack of oversight at the Philadelphia District Attorney's Office, despite reports of misconduct, perjury, and other crimes emerging from the Krasner administration. 
Recently, when Philadelphia City Council made national headlines for passing a law based solely on racial demographics, restricting police from enforcing important state vehicle code regulations, Shapiro was conspicuously silent. This comes only after the same city made global headlines for hosting dangerously large gatherings where traffic laws were brazenly defied, even in front of heavily policed areas like City Hall and Temple University.
In a statement, the Republican Governors Association said Shapiro "has stood by Tom Wolf and his failed COVID policies that endangered Pennsylvania seniors, crushed the economy, and left the Keystone State with an unemployment rate well above the national average." 
The constitutional loophole that allows Shapiro to hold what should be an apolitical law enforcement post while running for governor raises a question about whether conflicts exist between party politics and accountability on such big issues. When public safety and public integrity is on an opposing political trend to Shapiro's party caucuses in a current election, it's impossible not to view Shapiro's actions as attorney general as driven at least in part by politics. This undermines public trust in the attorney general's role, and worse, as the district attorney and U.S. Attorney are also of the same party as Shapiro, the whole criminal justice system in Philadelphia. 
It is no longer possible to distinguish between Shapiro's roles as attorney general and gubernatorial candidate. The lack of action by Shapiro to use the state's authority to prosecute suspects who have gotten "a pass" from the Philadelphia district attorney's office raises these questions. Is Shapiro's constant political messaging and simultaneous inaction regarding this seemingly unchecked rise in crime serving his political ambitions? In not holding the utter failures of his fellow party members accountable for their potentially deadly waste, fraud, abuse or mismanagement, Shapiro isn't upsetting his voter base. 
While it's common at the state and federal levels for elected officials to run for higher office without giving up their current post, a prosecutor's job demands a higher level of commitment and impartiality. In contrast, Republicans Patrick L. Meehan, Bill McSwain, and New Jersey's Chris Christie all quit their posts as federal prosecutors before running for higher office. Therefore, Shapiro needs to show the intestinal fortitude needed to "go all in" and either be a lawman or a candidate, because you can't be both and do a good job at the same time.
Law enforcement should be as free as possible from the taint of political motivations. This is why it's time for Josh Shapiro to resign.
A. Benjamin Mannes is a decorated former municipal and federal law enforcement officer before being thrust into a legal battle over Washington, D.C.'s firearms prohibition in 2005. Following his 2007 reinstatement to the D.C. police, Mannes served as a consultant and expert witness; and as the director, Office of Investigations with the American Board of Internal Medicine from 2008-2017. He is a regular contributor to Philadelphia Weekly, Broad + Liberty, and other publications, and serves on Lou Barletta's Public Safety Advisory Board.