Opinion
Editor's Note: Remembering when marriage equality became a reality
June is Pride month and wedding bells will soon be ringing for same-sex couples.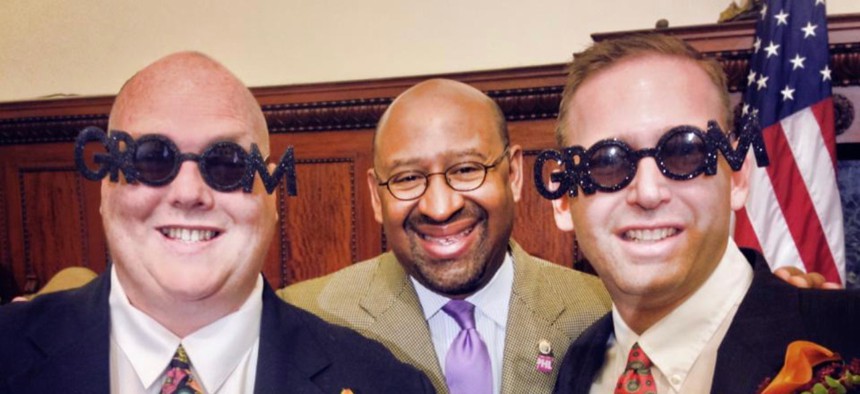 Ten years ago, when I was a reporter covering the doings at the Montgomery County Courthouse, I had the pleasure of interviewing Loreen Bloodgood and Alicia Terrizzi, two Pottstown women who made history in Montgomery County when they were issued the very first two same-sex marriage licenses in the state of Pennsylvania. 
The Register of Wills at the time, D. Bruce Hanes, granted the marriage license, just after 8 a.m., waiving the three-day waiting period that's typical of all marriage licenses. Bloodgood and Terrizzi were in a hurry and wanted to skip town, and Hanes opened the door for them.
Shortly thereafter, Sasha Ballen and Diana Spagnuolo, both of the Philadelphia suburb of Wynnewood, were granted a marriage license. 
"I think we feel equal, for once. I think we feel the same as everybody else and it's a great feeling. It's almost indescribable," Bloodgood told me at the time. "We think it's really important to show our children that we are a family and we are just like their friends who have moms and dads. It's important for us to stand up for what we believe in."
Then Philadelphia magazine's "gentleman paparazzo," HughE Dillon tied the knot with longtime love Mike Toub at Philadelphia City Hall, officiated by then-Mayor Michael Nutter. Finally, members of the LGBT community were allowed to wed just as straight couples, and, if they want, begin a family. 
In our latest magazine, you'll read stories similar to these, such as how Zach Wilcha, executive director of the Independence Business Alliance, is working to better support businesses and workers within the LGBT community. We also have a guide for everything you need for your first Pride parade, from flags to hand sanitizer to a positive attitude.