Health Care
Opinion: Policymakers should change course on xylazine
Peer support should be encouraged as an inexpensive intervention for addiction.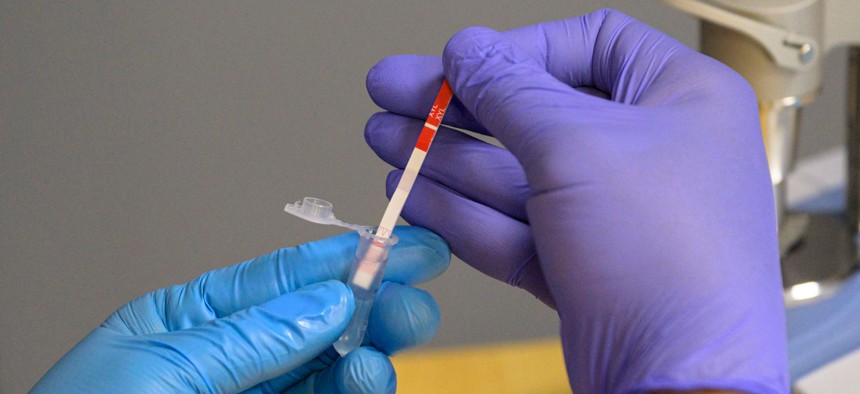 A recent change to our state's drug policy will have unintended and likely fatal consequences, and policymakers should change course now, if we want to address the overdose crisis and save lives.
Xylazine, a powerful veterinary sedative known on the street as "tranq," which is increasingly found mixed with illicit fentanyl and other drugs, was added to Pennsylvania's list of illegal substances earlier this month and will remain on that list for a year or longer. Because xylazine can slow the heart, depress breathing and cause flesh wounds when used by humans, it might seem sensible to make it an official "Schedule III" substance, which means the drug has a relatively low addictive potential but empowers law enforcement to prosecute those who illegally possess it. The effects will be devastating.
Our state is now poised to search out and seize illicit xylazine, continuing an endless game of whack-a-mole that fosters the creation of still more deadly drugs. Meanwhile, a recent study by RTI International indicates that drug seizures are associated with a subsequent spike in overdose fatalities in the same geographic area. How can that be?
When a bust disrupts a local drug supply, people who use substances typically seek new sources, and they often end up purchasing drugs of unknown composition and potency. In some cases, this leads to fatal overdose.
Such fatalities will not be the only destructive consequence of scheduling xylazine. Ratcheting up enforcement will also translate into criminal records for more people in our communities as well as increased stigma, which can be deadlier than the drug itself. And while some argue that anyone who possesses an illicit substance deserves a criminal record, this approach exacerbates our widespread addiction crisis by ignoring the real reasons that people use drugs.
For many of us, substances are a solution to life's hardships. I would know: I'm a physician living in long-term recovery. For 13 years, I used cocaine to self-medicate my undiagnosed post-traumatic stress disorder.
Drugs help people tolerate trauma, pain and oppression. Opioids, for instance, offer a sense of profound calm and comfort, while xylazine sedates and can ease the excruciating sensation of opioid withdrawal.
That's why scheduling a substance such as xylazine and increasing enforcement is not a solution for drug use or addiction. In fact, most of our current enforcement methods only make matters worse by inflicting more pain on those who already need help, through incarceration and the thousands of collateral consequences that accompany a conviction. By contrast, genuine solutions are those that address the underlying causes of drug use – and here's a great example.
Consider the relatively inexpensive intervention known as peer support, in which people who are in recovery from substance use disorder put their lived experience toward helping those who are currently struggling. I have personally volunteered in such a program, through an organization called Lawyers Concerned for Lawyers Pennsylvania, in which I've provided support to both attorneys and judges who use drugs.
Peer support is distinct from many other types of counseling because it gives participants the sense of hope as well as personal connection that comes from being seen, heard and supported by someone who has been in their shoes and is now a living example of the power of recovery.  Research shows that properly tailored peer support programs decrease participants' psychiatric symptoms and increase their stability in employment and housing.
Now that's the kind of solution Pennsylvania needs.
Instead of enhancing enforcement and fueling still more overdose fatalities, we need to put our precious tax dollars toward community-based interventions such as peer support that acknowledge and address the real reasons so many of our friends, neighbors and loved ones use drugs. We must extend to these loved ones and community members a helping hand, rather than a criminal record. The end result will be more recovery success stories – and safer streets, too.
Sean Fogler is a physician living in long-term recovery, co-founder of Elevyst, a public health consulting group, and co-chair of the Health Justice for Pennsylvania Coalition.