Capitol Beat
Shapiro puts 'tranq' on the controlled substances list
The governor also reaffirmed his opposition to safe injection sites.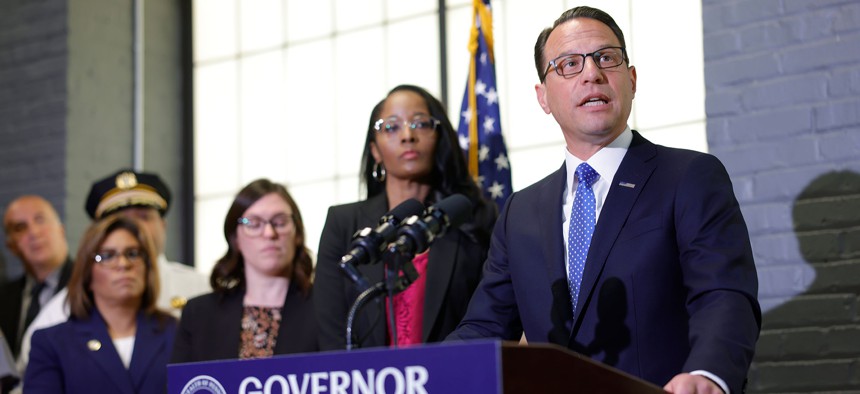 An animal tranquilizer that's increasingly being found in Pennsylvania's illicit drug supply will soon be on the state's controlled substances list. 
At a press conference in North Philadelphia Tuesday, Gov. Josh Shapiro announced his administration's actions to add xylazine – also known as "tranq" – and nitazines – a class of synthetic opioids – as schedule III and schedule I drugs, respectively, to the list of controlled substances. 
"Drug dealers have begun to cut opioids like fentanyl, with a drug called xylazine, otherwise known as a tranq," Shapiro said Tuesday. "It's literally used on large animals like horses and it's never been approved for use with humans … the combination of xylazine and opioids can stop your heart and your lungs entirely and overdose reversal drugs like Naloxone don't work on xylazine because it's not an opiate."
Acting Secretary of Health Dr. Debra Bogen has submitted a notice of intent to temporarily add the drug to the list of Schedule III drugs under the state's Controlled Substance, Drug, Device, and Cosmetic Act. The administration will also look to add nitazines, a class of synthetic opioids that have never been approved for use in the U.S., as a schedule I drug.
John Stanford, Philadelphia's first deputy police commissioner, said the move will allow police officers to charge people for possession of the illicit drug. 
"This gives us the ability to move forward with some of those investigations and with the ability to charge individuals for selling or distributing (xylazine)," Stanford said. 
The announcement comes days after the Biden administration declared fentanyl laced with xylazine – which Shapiro said has appeared in 90% of opioids samples taken from Philadelphia's streets – an emerging threat in the country. 
Shapiro and local lawmakers also reaffirmed their opposition to the use of safe injection sites in areas like the Kensington neighborhood in Philadelphia. State Sen. Christine Tartaglione said Tuesday Senate Bill 165, which currently sits in the state Senate's Judiciary Committee, is "ready to move" when legislators return to Harrisburg. If approved, that bill would prohibit safe injection sites throughout the state. 
Philadelphia City Council member Quetcy Lozada, who represents Kensington in the 7th district, agreed with Shapiro that safe injection sites were a bad idea. 
"We told him that we're against it," Lozada told City & State. "We need to spend some (federal) funds on prevention, on education, on resources to connect those who are suffering from addiction to real services."