Elections
Doug Mastriano: 'Our cause is weakened and diminished.'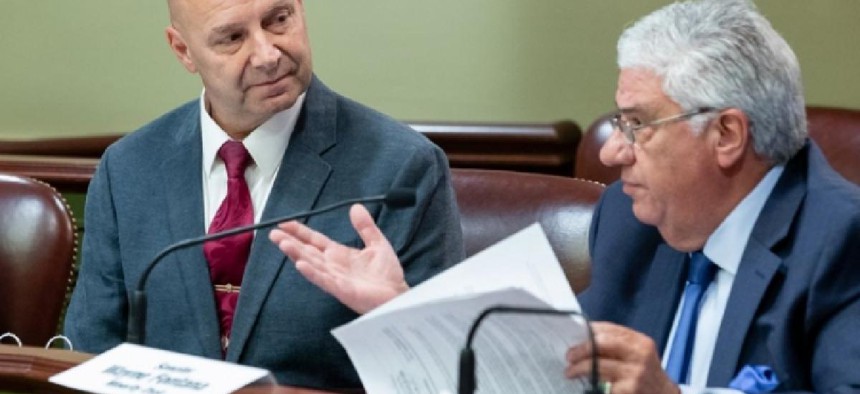 The Republican state senator leading efforts to conduct a "forensic investigation" of Pennsylvania's 2020 general election results said Thursday that his efforts to review the election are "weakened and diminished" after a series of setbacks that slowed progress on his partisan election review.

Sen. Doug Mastriano, a hardline conservative lawmaker with ties to former President Donald Trump, said in a now-deleted Facebook Live video that his efforts to audit 2020 general election results have been hindered by the "powers that be," adding that the review is on pause for the time being.
"Obviously, I've been trying to get support to move forward on a forensic investigation, and behind the scenes, it's wrought with lots of drama," Mastriano said in the livestream. "Our cause is weakened and diminished."

Mastriano, who has often echoed Trump's claims that the 2020 general election was riddled with fraud, sent out letters to three separate counties in July asking them to provide his committee – the Senate Intergovernmental Operations Committee – with access to a trove of documents, data and other materials, including ballots, voting machines and tabulation equipment, as well as software, computer logs, security tokens and thumb drives.

But Mastriano was quickly met with opposition, even from Republican-led counties, after the Pennsylvania Department of State threatened to decertify voting machines accessed by Mastriano and his committee. Senate Democrats also objected to Mastriano's attempt to review the election results, with Senate Democratic Leader Jay Costa urging Senate GOP leaders to halt the investigation.

"He attempts to usurp the authority of not only the State Government Committee, but the Local Government Committee, as well, Costa wrote in a July letter to GOP leaders. "Should you allow this to continue, Senator Mastriano will have built a Frankenstein creation of a committee with limitless power, frighteningly controlled by a Senator intent on tainting every level of our government."

Mastriano had previously threatened subpoenas for counties that refused to comply with his requests. In his Facebook Live video, Mastriano said he attempted to convene a meeting of his committee, presumably to vote on issuing subpoenas, but was thwarted.
"I had it set up to have a voting session of the committee several weeks ago, in fact, and the powers that be made sure that didn't happen," he said.

Requests for comment sent to the offices of Senate Majority Leader Kim Ward and Senate President Pro Tempore Jake Corman went unanswered Thursday morning.
Last week, Corman told ABC23 that he had discussed the audit with Mastriano. "I've talked to him. We're … trying to provide oversight to make sure that everyone feels comfortable with the election process moving forward. Part of our process is oversight and we're going to look at ways to provide oversight not only over the last general election but the last primary," Corman said.
But a little more than a week later, it appears that Mastriano's audit attempt is on thin ice. "I put my name out there to get it done, and I've been stopped for the time being," he said. "If there's a way I could do it without being stopped – a way around this obstacle, this momentary impediment – you know I would find it."
"I would say we're not in a very good spot right now," he added.