Interviews & Profiles
Kim Ward: How the senator from the Meadowlands toppled the status quo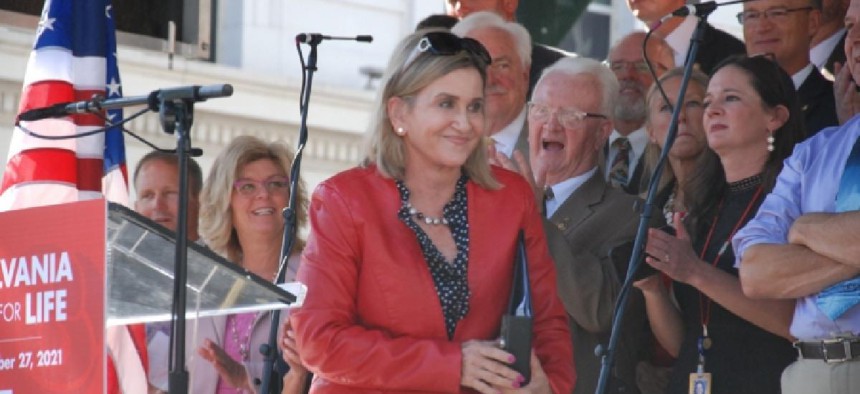 The past year has presented countless challenges to Pennsylvanians across the state. For state Sen. Kim Ward, the challenge of taking over as Senate majority leader came with a twist. 
Just two weeks after being elected the Republican caucus leader and becoming the first woman in the commonwealth's history to serve as Senate majority leader, she was diagnosed with breast cancer. 
"Are you kidding me?" was her first thought, Ward said. "How am I going to navigate all of this?" 
After four chemotherapy treatments in early spring, Ward disclosed her diagnosis in May. She said her routine checkup was scheduled for February 2020, right as the COVID-19 pandemic forced elective procedures and appointments to be delayed. When she got the results of her mammogram in November of last year, she was diagnosed in stage 1. Any later, and the results could've been direr. 
Ward underwent a lumpectomy after receiving her diagnosis, and following the passage of the state budget in June, she had a prophylactic mastectomy and her ovaries removed. Throughout the spring session and summer meetings, Ward didn't miss a single day of work. 
"Any weaker person would have resigned and said this is too much to handle," said Joe Scarnati, friend of Ward and former lieutenant governor and president pro tempore. "Kim Ward's ability to manage her own personal life and continue the public commitment is nothing short of amazing … She is tough as nails."
Ward developed a reputation as a public service in western Pennsylvania, but that wasn't always her plan. She told City & State she originally wanted to be a respiratory therapist. 
While working at Vanderbilt University Hospital in the 1980s at the beginning of the AIDS epidemic, she saw someone else turn their grim situation into political action. Ward and fellow hospital employees were concerned that not everyone had access to patients' charts when treating them. Dr. Hacib Aoun, whom Ward knew, contracted AIDS when a glass tube holding a blood specimen shattered and cut his finger. From that point on, Aoun became a staunch advocate for the rights of infected health care workers and urged compassion for AIDS patients. He succumbed to the virus in 1992. 
"He was before Congress. He was doing all the national talk shows and it just kind of got me off my butt to say, 'Our government needs to respond to this and they need to listen,'" Ward said. "It just really lit a fire under me and a passion and I have been active in one way or another ever since."
That flame has been burning ever since, and it inspired her legislation allowing first responders to be alerted to confirmed COVID-19 cases at the address where they were responding during the height of the pandemic. 
Ward hit the ground running once back in her home state. She started as a volunteer for the Republican Party in Westmoreland County and served as county chair for Rick Santorum's Senate campaign in 1994. From that experience, Ward learned how to lay her cards on the table and tell people what she thinks. 
"You can agree or disagree with that guy, but he never would tell anybody anything just because it's what they wanted to hear," Ward said. "He is a 'what you see is what you get' official and I really loved that."
From there, Ward went on to help other campaigns before taking on her own. She won an election as a Hempfield Township supervisor in 2001, and in 2007 she ran for Westmoreland County commissioner, becoming the first woman elected as county commissioner there in more than three decades. Just a few months into her time as a commissioner the 39th senatorial district seat opened up. 
Ward said many people are afraid of running for office but that the worst thing that can happen is you lose, which happens to everyone. 
"I can compare it to the question: Is it ever a good time to get pregnant?' It's never a perfect time to put your face out on a billboard and have people throw eggs at it but if you have a passion and you want to do it, do it," she said. 
The fear subsided and the confidence came out, and Ward was making good impressions among her Republican colleagues. 
"I was impressed immediately with her charisma and her political prowess," Scarnati said. "She really turned the tide for Western Pennsylvania. Her win cemented that Republican district." 
Once established in Harrisburg, Ward made a name for herself as an advocate of families and children. Among her many legislative accomplishments, Ward said her effort to reform child abuse laws and provide greater protections for children was her most significant. Most notably, Senate Resolution 250 of 2012 created the Child Abuse Protection Taskforce to examine and analyze laws affecting the state's child welfare system. 
That title is under question by some child advocates now, however, as they continue to call on Ward to pass legislation giving child sex abuse victims a window to sue their predators. Advocates have fought for a change in the statute of limitations for child sex abuse victims in the state for years. Just as commonwealth voters were set to vote on a constitutional amendment to create a retroactive window for victims to sue their abusers, the Department of State failed to properly advertise the amendment and the state is back at square one. 
The ongoing saga has cast a shadow over her time as majority leader. Advocates of child sex abuse victims are now pushing for Ward to pass House Bill 951, which would create a two-year civil liability window for victims to take abusers to court. Ward is criticized for not prioritizing this, but she says the bill is not the best way to rectify the situation. She argued that another constitutional amendment has the strongest path and that the proposed legislation could open up the state to a flood of retroactive lawsuits. 
"I think it's a slippery slope because you do this for one issue, the statute issue, and next time somebody wants to go after an employer or a school for something else," Ward said. "I really think we need to do this the right way, and if it goes to the ballot in 2023 and it passes, it's over."
The issue involving victims of child sex abuse is not the only controversy hanging over the Senate's head. As the General Assembly returned to session this fall, Republicans renewed their efforts to conduct a "forensic investigation" of the 2020 election. Ward and Senate Republicans are facing harsh criticism for their effort to subpoena the private information and records of Pennsylvania voters. 
As the General Assembly returned to session in September, Ward said, "the election audit in Pennsylvania is not about Joe Biden or Donald Trump. It's about the distrust in our election process among voters."
Ward's political moves may be questioned now, but her work during the pandemic has been commended by her colleagues. And with the news of her battle with cancer coinciding with the pandemic response, that hard work is even more admirable. 
"Given all the massive issues we had in front of us, to do it in a way that brings confidence to our colleagues, we're in good hands with her," State Sen. Joe Pittman told City & State. "She has a motor on her that is unrivaled."
Ward's intensity and pragmatic approach are what helped her gain a good standing among her Republican colleagues. When the departures of Mike Turzai and Scarnati in 2020 created openings in leadership, many knew Ward was the right fit. 
Scarnati said Ward showed her strength to him early on when they had a disagreement over policy. "I'd rather have my wife mad at me than Kim Ward," he said. "She stood her ground to the pro tempore and that shows some courage."
After Ward won the election as majority leader, she said it didn't hit her that she was the first female floor leader in the General Assembly's 244-year history. When a reporter asked how it felt to be in that position, Ward said, "Oh, I am a female, and I am a senator." Ward said she began to receive calls from women across the country, and it was at that point she came to terms with the job at hand. The cancer diagnosis two weeks later didn't make it easier, but that didn't stop her. She said she didn't tell anyone about her diagnosis besides close staff because it was business as usual. 
"I didn't want anybody considering that as we move forward trying to get our job done. So it made it easier to not have that hanging over my head and having folks constantly worrying about me," she said. "I also managed to keep my hair, so that made it even harder to realize that I was going through some stuff."
Scarnati applauded Ward for not letting her health issues get in the way of her duties. "I can tell you from experience that the job is demanding on you mentally and physically," he said. "Let's not forget she's still a mother, grandmother, and a wife, and I don't think she shirked those duties at all, either."
Now, Ward has become a vocal advocate for breast cancer awareness. This fall, she's working with the Pennsylvania Breast Cancer Coalition and WellSpan to launch a statewide initiative promoting early detection for breast cancer. The partnership will also bring mobile mammogram vans and free exams to areas around central Pennsylvania. 
"To be able to take her personal challenges and turn them into a positive – she's become a tireless advocate for breast cancer awareness and a support network for others who are going through it. To me, that just speaks to the person," Pittman said.