Interviews & Profiles
GOP gubernatorial hopeful Dr. Nche Zama promises to unite Pennsylvania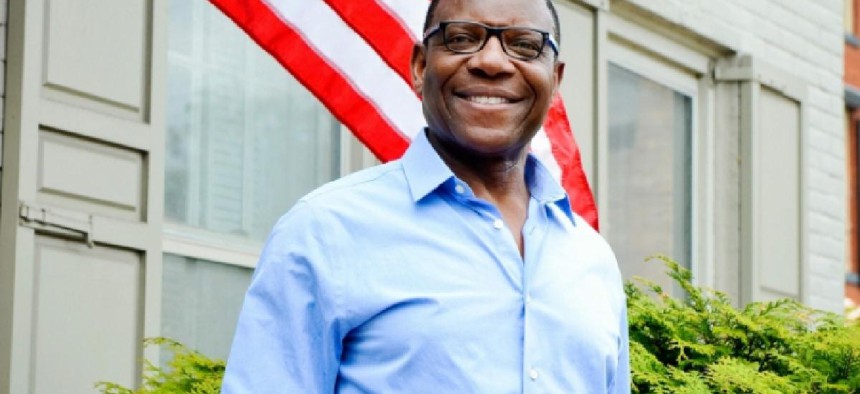 Dr. Nche Zama was an early entrant into the state's 2022 gubernatorial race. He brings an unconventional background to a field of candidates that includes state lawmakers, attorneys and business owners. 
---
---
Zama, a cardiothoracic surgeon, has issued a stark prognosis: "Pennsylvania is sick," and needs the help of a specialist. The following interview explores Zama's background and his vision for Pennsylvania. It has been condensed and edited for length and clarity.
What should Pennsylvanians know about your background and who you are?
I'm a cardiovascular and thoracic surgeon – a heart surgeon. I've lived in the Pocono area for over 15 years. I was born in a small National Geographic village – in a grass hut village – in Africa. I came here in my early teens to attend college. I came with $15 – didn't have anybody with me … In that village … my mother went to the hospital to give birth. It was a bush hospital, had no resources, only one doctor who wasn't there that day, and she started to bleed. As I stood there holding her hand – I was 10 years old; she was 30 – she kept crying … I kept squeezing her hand, and she died. There was a nurse standing nearby who kept crying out: "There's no doctor, there's no doctor." So, when I left and I started trekking back to the village, those words kept ringing in my ear. So, I made a decision. I didn't know what a doctor did. But one thing I knew from what the nurse was saying, that if [there] was a doctor, my mother would be alive. So, I decided I wanted to be a doctor. 
You said Pennsylvania is sick. What are the most pressing issues voters are facing right now?
Number one is we have to unite the state. I'm going to be a unifying governor. If we're not united, there's no need to talk about agendas, whether it is business, education and health care – it'll never work … There's so much disunity and so much polarization in this state … As I've stated, especially in business, business policies – not just our taxation policies – [are] so cumbersome. We're not embracing and we're not attracting businesses to the state … There's this out migration because of the hostile business environment here … [And] without a strong educational system, which undergirds every pillar in our life, we will never be successful. We should stop fooling ourselves. 
Given your medical background, what would your COVID-19 response look like at this point in the pandemic?
What would I have done? Messaging would have been consistent from a high performance team … Also, I would have looked at all the options we have, not just a tunnel vision [with] vaccines. I'm not an anti-vaxxer, but you're talking about vaccines that have not really been tested, so you got to have other options because time is of the essence, human life is of the essence. And remember, months down the line, we realized that there are certain risk categories for severe disease from COVID – the obese, people with COPD, cardiovascular disease, diabetes, the elderly … I would have immediately instituted policies and strategies to address all these risk factors to reduce the severity of disease and mortality in our population. 
Vaccines have turned into a nationwide flashpoint in our political discussions. Are they something you would use as a tool to fight COVID?
As the knowledge evolves in the efficacy of vaccines, it will determine whether I support it or do not support it. Now we know that vaccines – the immunity we receive from vaccination is very short-lived. So, this is not something that has sustainability. We began to know that, for we knew that a while back, but nobody has talked about it and we keep pushing it again and again. Yes, I would say for the elderly, who are extremely vulnerable. There are people who have immune deficiency conditions. Yes, I would encourage it, because those people, we will probably need to continue to support for the longest as we would have in a flu season anyway, because COVID is a flu virus … So, I would have looked at all the issues – nutrition, mental health, physical, organic conditions that impact the risk of an individual contracting the virus and having severe disease.
There are a range of candidates seeking the GOP nomination. For voters who might be wary of voting for a surgeon compared to some of the others, what's your message to them?
First of all, I'm a surgeon who believes that excellence trumps everything. It trumps diversity as a desirable goal. I'm a surgeon who believes that there's no affirmative action in global commerce. I'm a surgeon who believes that whatever I do must be in the best interest of the ones I serve. I'm a surgeon who has been in a leadership position … and has been challenged to the extremes more than anybody else who's running … People in Pennsylvania are looking for somebody who's principled, has been tested in fire, disciplined, compassionate, and committed to excellence, transparency, accountability, integrity and team. I couldn't think of a better candidate than myself.