Interviews & Profiles
Jeff Bartos on the economy, legislating and saving small businesses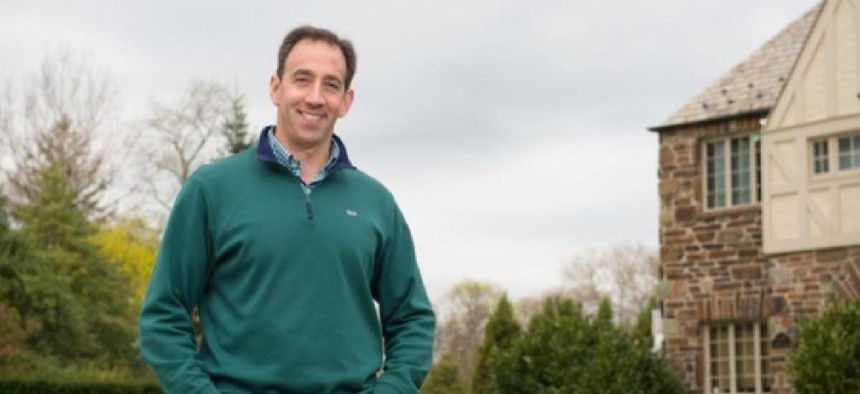 Montgomery County real estate developer Jeff Bartos was one of the earliest entrants into Pennsylvania's 2022 race for U.S. Senate. He's hoping that his business-friendly message, coupled with his track record of winning a statewide election in 2018, will help him secure outgoing Sen. Pat Toomey's seat and keep the seat in Republican hands.
---
---
During a recent campaign stop in central Pennsylvania, Bartos sat down with City & State to discuss what motivated him to run for Senate, what policies he would support if elected and what he thinks voters should know about him before casting their ballot in the May 17 primary election. 
Here's Bartos on what motivated him to run for U.S. Senate:

Bartos said his candidacy is driven by a desire to help Pennsylvania businesses. He reflected back on his time with the Pennsylvania 30 Day Fund, a nonprofit he co-founded that provided more than $3 million in forgivable loans to more than 1,000 small businesses during the height of COVID-19 shutdowns. 

Bartos said he spoke to more than 600 business owners who received financial assistance through the Pennsylvania 30 Day Fund, and said their stories of perseverance inspired him to mount a campaign for U.S. Senate. 
"Ultimately, I felt if we had more commonsense business people on the floor of the Senate, on the floor of the House – we, number one – would do less dumb things. But more importantly, I think we'd pass a lot more sensible policies for the people of Pennsylvania and for all Americans. So really, in a sentence, I'm running to save Main Street Pennsylvania."
On the most pressing issues facing Pennsylvania: 
During his stop in Mechanicsburg, Bartos said the U.S. faces a range of problems that need to be addressed, from combating inflation to crafting sound foreign policy following the Russian invasion of Ukraine. 
But he said the most critical issue in need of attention is the economy.
"What we're seeing on main streets across Pennsylvania right now – it's gas prices, it's grocery prices. It's families making decisions about: 'Do I fuel the car up? Do I heat the house? Or do I buy that extra loaf of bread? Or do I buy what we need? Do I make that donation to a food bank? Do I help my neighbor who's in trouble?'" he said. "I think, right now, it still gets back to economic opportunity for all Pennsylvanians. Yes, we've got a big problem on the global stage. Right now, in the United States Senate, I'd be dealing with that issue, but I'm never going to forget that it all ties back to the people that I hope to have the privilege to represent here in the commonwealth." 
He also listed reducing crime and giving parents a more empowered role in education as key priorities. 
On how he plans to separate himself from other GOP candidates that are leading in the polls:

Two recent polls – one from Fox News and one from Franklin & Marshall College – have Bartos trailing to former hedge fund executive Dave McCormick and celebrity physician Dr. Mehmet Oz. 
Bartos noted that his campaign won a majority of GOP straw polls that surveyed Republican committee members on their choice for the Republican primary for U.S. Senate. 
"Where voters have actually had to make a choice on a ballot, I won 41% of those votes in an eight-way race. The next closest was 30%. So, the only votes that have been cast have been overwhelmingly for me," Bartos said. "Certainly, in an eight-way race, 41% is a dominating performance, and so we focus on that, and we focus on this message of connecting with every voter that we possibly can across main streets, across all 67 counties."
Bartos added that he has already filed a petition to appear on the primary ballot in May, which he attributed to his grassroots support. He also took aim at GOP candidates who have previously lived in other states before moving to Pennsylvania – such as McCormick, Oz and former U.S. Ambassador to Denmark Carla Sands.
"It's my understanding that the political tourists are having to pay a lot of money to pay people to go around and get people to sign their petitions. That's indicative of the kind of campaigns they're running. It's just money – throw money at it," he said. 
On three of his primary opponents skipping a televised debate: 
Bartos recently participated in a televised GOP debate that also included conservative commentator Kathy Barnette, Philadelphia attorney George Bochetto and whistleblower Everett Stern. McCormick, Oz and Sands did not attend the debate, a move Bartos said was "incredibly disrespectful to the voters."
"From day one, the culture of our campaign has all been about respect – respect for the voters, respect for the people of Pennsylvania. That's why this message of saving main street, of focusing on main street across all 67 counties – it's a message that's grounded in a deep love for this commonwealth and a deep respect for the people of Pennsylvania," Bartos said. 
On the first piece of legislation he would sponsor as a U.S. senator: 
Bartos said he would back three major legislative efforts upon being elected to the U.S. Senate. The first, he said, would be to protect the filibuster from Democrats attempts to abolish it. 
"I will fight to make sure that the filibuster is protected so that the Democrats who are trying to change the rules – break the rules to change the rules – we can't allow that to happen because the filibuster protects all Pennsylvanians from having to keep an eye on Washington and what career politicians are doing every two years. We need to protect the filibuster and stop these crazy, left-wing policies from ever having a shot at becoming law. So, that's number one." 
Bartos said he also plans to introduce a proposed amendment to the U.S. Constitution that would explicitly prohibit noncitizens from voting in U.S. elections. He referenced legislation approved by New York City Council last year that will allow between 800,000 and 900,000 noncitizens to vote in local elections. 
"We can't have that, and that's no disrespect to the people who have come to this country legally and are working here and paying taxes here. I mean no disrespect. We are a nation of immigrants. But only citizens may vote," he said. "It's amazing we have to clarify that, but … We need an amendment to the constitution to make it very clear that what we're seeing in New York City doesn't happen anywhere else, and, in fact, that that's made unconstitutional." 
And as far as education is concerned, Bartos also expressed an openness to returning federal tax dollars to parents in the form of tax credits or vouchers to promote school choice. 
"I'd like to support the efforts here in the commonwealth from the federal level to empower parents and students to pick the school that's best for them," he said. 
On what his approach to bipartisanship would look like: 
Bartos said his time campaigning for lieutenant governor, U.S. Senate and his work at the Pennsylvania 30 Day Fund offers a glimpse into how he would work with colleagues in the Senate. 
"I want to work with anyone and everyone who shares my vision and shares my commitment to moving Pennsylvania forward – that shares a commitment to economic opportunity, educational opportunity, safe communities – that's what drives me."
On something that voters may not know about him: 
The former GOP lieutenant governor nominee said voters may be surprised to learn about his athletic habits. 
"People might be surprised I finished two Ironman Triathlons," Bartos said, adding that he has also finished seven marathons, as well. 
On his message to voters who may not be familiar with his candidacy: 

Bartos stressed that he has been a Pennsylvania resident his entire life and that he wants to serve the people of Pennsylvania. 
"I didn't parachute into Pennsylvania because I saw an opportunity during the pandemic. I was living right beside you, sleeves rolled up, trying to raise resources and get it out the door to save the main street small businesses that all of us treasure and love in our communities," he said. "And that's the type of Senator I'm going to be – focused on Main Streets, focused on all 67 counties."
He also took one last parting shot at his primary opponents: "The other people running – the political tourists have parachuted here because they see an opportunity – they're running to have Pennsylvania serve them," he said. "I'm running to continue to serve the people of the Commonwealth that I love, that I've lived in my whole life and that I can't wait to get to Washington and serve."