Interviews & Profiles
A Q&A with U.S. Senate hopeful Carla Sands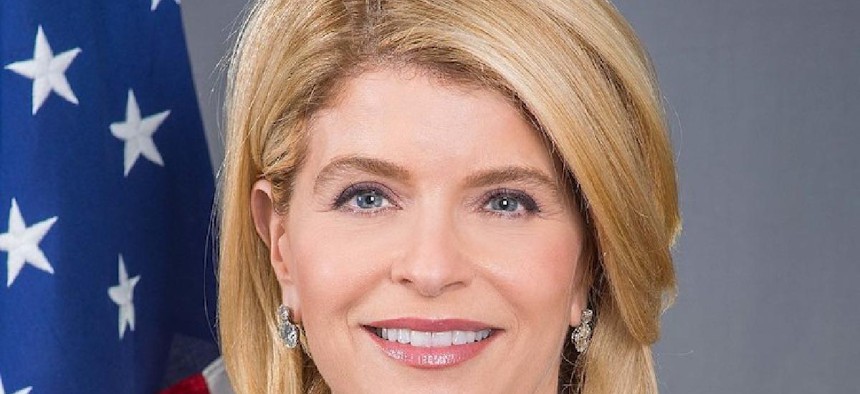 Carla Sands, the U.S. ambassador to Denmark during the Trump administration, is one of three frontrunners jockeying for the Republican nomination for U.S. Senate in a midterm race drawing nationwide scrutiny for its implications on the balance of power in the chamber and the country. Sands describes herself as a "pro-life, pro-First Amendment, pro-Second Amendment, constitutional conservative, an America-first businesswoman, Christian and mom." 
She says she wants to be Pennsylvania's "energy senator," clearing a path for domestic energy production and rolling back regulations on the processing of oil and natural gas. Sands, who makes the claim that Pennsylvanians are getting a "radical, socialist agenda that's at war with everything that [we] hold dear," says she intends to go to Washington and advocate for "Operation Warp Speed for American Energy" – and if elected, her plan is to reverse that on day one.
---
---
The following interview has been edited for length and clarity. 
If elected to the Senate, what's first on your agenda?
I think we should investigate Tony Fauci and what he did – to America, to our businesses, to lives – by his actions and his guidance. And second, did he lie on the floor of Congress when he was questioned? I think we should investigate China and what they did, spreading this virus throughout the world – the loss of millions of lives. The businesses that couldn't make it because of this pandemic and the loss of family members and friends is tragic; I think they owe us trillions of dollars in reparations. And let's investigate Hunter Biden and the Biden family corruption because I think that is at the heart of many of the actions right now in the world, including Russia and Ukraine.
What distinguishes you from the other candidates running for this U.S. Senate seat?
First of all, there are three of us in double digits in the lead, but I'm the only clear conservative. I've been a conservative activist all my adult life. I'm the only one in this race who actually worked to help President Trump get elected in 2016. And I'm the only one who served in his administration. First, he appointed me to his Economic Advisory Council and then as his ambassador to Denmark, Greenland and the Faroe Islands. There is no other candidate our voters can trust to put America and Pennsylvania first in Washington. 
You have the backing of former House Speaker Newt Gingrich and dozens of U.S. ambassadors to countries around the world. What about a Trump endorsement?
I would be honored to have President Trump's endorsement, but I never get ahead of President Trump. He wants to back a winning candidate and I have to prove to him that I'm the winner. I am tied for first place in the latest Franklin and Marshall poll – statistically tied for first … The reason I'm running is because we see the left is taking over our culture … The Washington Biden agenda is more radical than any administration I've ever seen. Pennsylvanians want someone who's going to go fight back against that, and not just fight in the Senate, but lead in the Senate. 
What has your background in business, real estate and as a chiropractor taught you about public service?
My first paid job was at Hershey Park. I did go on to become a third-generation doctor of chiropractic, running a very small business. And then I became the CEO of my family's real estate and investment company, when my late husband, the love of my life, died in 2015. And we had investments throughout our country … What I learned is the challenges and the opportunities of business, how different states and even local governments operate in their regulatory processes. I think that it gives me an understanding of how to attract business to grow the economy.
You've gone through two consulting firms since launching your campaign. Will you address the rumors of multiple staff shake-ups within your campaign? 
This is what I'll say: You can't buy loyalty. 
On more than one occasion, your opponents have brought up your past acting career as a negative. How do you respond to that? 
I am proud of what I've accomplished in my life. When I was working as a doctor of chiropractic at Camp Hill alongside my dad, I got a call and an opportunity. I didn't want to move to the West Coast, but I took that opportunity. I did a soap opera, a couple of movies, some prime-time TV and dozens and dozens of commercials. Some of them played during the Super Bowl. Soon after that, I began to practice as a doctor of chiropractic in Los Angeles. That's what I was doing when I met my late husband, Fred. So, I believe that we learn from everything we experience and it's important to create opportunity here in Pennsylvania so our young people don't have to leave the commonwealth – so they can find opportunity right here at home. And our leaders have not been able to accomplish that … My campaign is really about touching the lives of the people of Pennsylvania who have not been well-served … This is a battle for the heart and soul of America. 
Editor's Note: Any claims relating to Chief Medical Advisor Anthony Fauci and his or China's involvement in disseminating the coronavirus throughout the U.S. are unsubstantiated.