Personality
This week's biggest Winners & Losers
Who's up and who's down this week?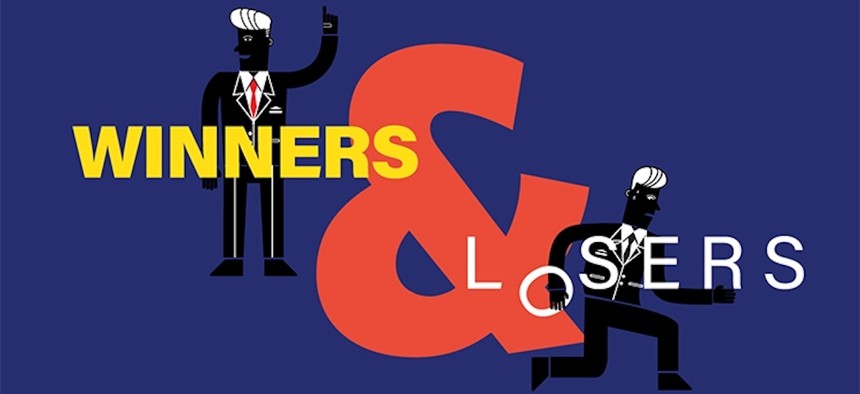 Political watchers across the ideological spectrum had been bracing themselves for it, and it finally happened: Donald Trump got involved in Pennsylvania's race for governor. Trump didn't make an endorsement, per se, but he did lay into one candidate (hint: Bill McSwain probably isn't having a great week), while prompting another to reconsider dropping out of the race. Given the way a single statement from Trump upended the GOP primary race, any endorsement he makes is likely to have an earth-shattering impact. 
Scroll down for more of this week's winners and losers!
WINNERS:
Kenneth Mash -
Kenneth Mash is returning to the helm of the Association of Pennsylvania State College and University Faculties, the statewide union representing faculty at state-owned universities. Mash will replace Jamie Martin, who chose not to run for reelection to receive medical treatment. Mash previously led the union from 2014 to 2020, and Martin said there is "no better person to guide us through our next, challenging negotiations – especially with consolidations, the threat of retrenchment and funding issues at the forefront."
Enid Santiago -
We're in for a rematch in the Lehigh Valley. Enid Santiago, a Democratic candidate for the 134th House District seat, will be on the ballot after a judge threw out a challenge to Santiago's nominating petitions yesterday. Santiago lost to four-term incumbent Peter Schweyer by just 55 votes in 2020. The court decision may be appealed, but as of now, it's game on in Allentown.
Randy Robertson -
The people of Luzerne are looking for an upturn. On Tuesday night, the Luzerne County Council voted to hire Randy Robertson as its new top manager. A Kentucky-native, Robertson will finish out a special project contract in Durango, Colorado before entering town to serve as county manager. Council agreed to pay Robertson a $181,500 salary. He previously served as city manager of cities in Maryland, Alaska, Alabama, Tennessee and Kentucky.
LOSERS:
Bill McSwain -
Republican candidates for governor have been jockeying for the coveted endorsement of former President Donald Trump, who had yet to weigh in on the state's race for governor until this week. But McSwain got about the furthest thing possible from an endorsement, with Trump criticizing the former U.S. attorney for not pursuing debunked claims of widespread voter fraud following the 2020 election. Instead, McSwain got this: "Do not vote for Bill McSwain, a coward, who let our Country down." Yikes.
Frank Snyder -
The newly-elected president of the Pennsylvania AFL-CIO didn't have much time to celebrate his victory, with multiple accusations of workplace harassment surfacing after Frank Snyder was elected the union's new president in late March. The national AFL-CIO is reportedly hiring a third party to investigate the claims, and Bloomberg reported that there are more than a dozen current and former AFL-CIO staffers who claim to have witnessed Snyder allegedly subject women to "humiliation, bullying, and degrading language."
Thomas Richard Glazewski -
Odds are you're not overjoyed looking at the gas pump numbers rising up. Thomas Richard Glazewski took his displeasure to another level. The Manor Township man was arrested and charged with resisting arrest, disorderly conduct, harassment and criminal mischief after putting satirical stickers of President Joe Biden onto gas pumps at a local Turkey Hill. Glazewski reportedly yelled "I did that!" as the stickers stuck, before he was tackled by police in the parking lot. Talk about sticker shock.