Winners & Losers
This week's biggest Winners & Losers
Who's up and who's down this week?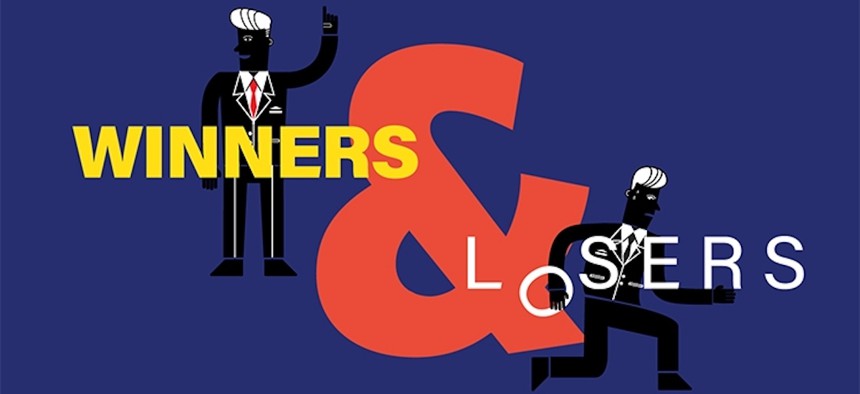 Celebrities have made their way into politics running for office around the country. In Georgia, there's football great Herschel Walker, and here in the commonwealth, Dr. Mehmet Oz has his eyes on Sen. Pat Toomey's coveted seat in Congress. But who else did we almost see on the ballot? How about ESPN commentator and television personality Stephen A. Smith. 
Smith, who spent more than 15 years covering the 76ers, said on former Sixer J.J. Reddick's podcast that former Gov. Ed Rendell approached him a decade ago about running for U.S. Senate. It looks like we just missed the timeline where Smith and Lynn Swann were the faces of Pennsylvania politics. 
Scroll down for more of this week's Winners & Losers!
WINNERS:
Scott Martin -
State Sen. Scott Martin will now have a larger role in overseeing the environmental needs of the Chesapeake Bay. The Lancaster County state senator was announced as the new chair of the Chesapeake Bay Commission's Pennsylvania delegation this week, a promotion that probably left Martin in a buoyant mood.
Brendan McPhillips -
As Lt. Gov. John Fetterman returns to the campaign trail in his run for U.S. Senate, he'll have a familiar face by his side. Fetterman announced Brendan McPhillips as his new campaign manager this week. McPhillips, who ran President Joe Biden's 2020 campaign operation in Pennsylvania, also ran Fetterman's first run at the Senate in 2016. Fetterman also officiated McPhillips' wedding to his wife, Jan Slusser, a former chief of staff to Philadelphia Mayor Jim Kenney.
Thomas Neafcy -
Who says write-in votes don't matter? Thomas Neafcy, the former Limerick Township Supervisor, is set to face off against state Rep. Joe Ciresi once again in the race for the 146th legislative district. Neafcy, who lost to Ciresi in 2020, earned the Republican nomination by garnering the most write-in votes on Election Day. Neafcy's new campaign slogan could be "right on with the write-in."
LOSERS:
Mike Regan -
The Cumberland County Republican Party has voted to censure state Sen. Mike Regan over Regan's support for two legislative candidates that ran against committee-backed candidates, according to a report from PennLive. Regan received a letter from the local party accusing him of taking actions that "undermine" the committee's work, but the GOP state senator doesn't seem to care. He told PennLive that the censure "means probably about as much as a cloudy day."
Tara Zrinski -
Weeks after the polls closed in the state's primary election, Democrat Tara Zrinski conceded in a race for state Senate after learning that a lawsuit over mail-in ballots wouldn't save her primary campaign, WFMZ reports. However, the election loss isn't a total loss in Zrinski's eyes, as she said the lawsuit settlement means that more votes will be counted in Lehigh Valley moving forward.
Kenelm L. Shirk III -
Shirk III, a former attorney and the former solicitor for Akron Borough, was recently sentenced to 16 months and 20 days in prison for threatening to kill members of the U.S. Senate. The Lancaster County man was arrested in January while headed to Washington D.C. with two handguns, an AR-15 rifle and hundreds of rounds of magazines in his vehicle. It's safe to say he won't be shirking responsibility for this one.