Winners & Losers
This week's biggest Winners & Losers
Who's up and who's down this week?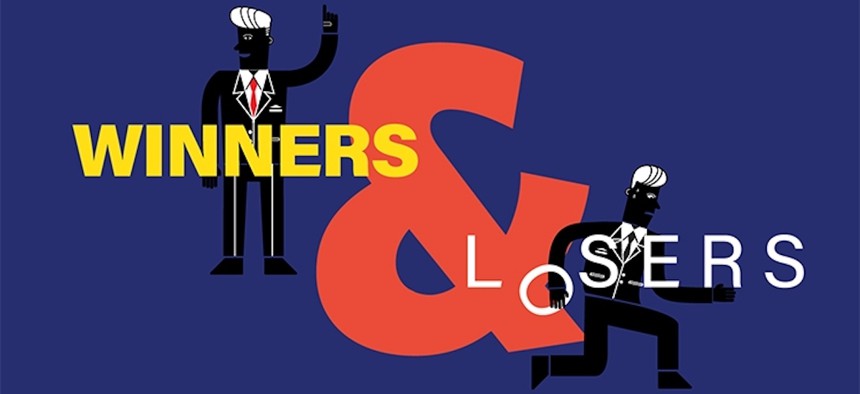 Republican gubernatorial candidate Doug Mastriano recently said during a campaign stop that he wants to make Pennsylvania the "Florida of the north." Based on recent events in the commonwealth, we might be closer to the Sunshine State than you might think. This week, two pet alligators were reported missing and are feared to have been stolen from their backyard enclosure in Lebanon County. And that's not all. An alligator from York is currently leading a popularity contest for America's Favorite Pet Animal Kingdom. Known as WallyGator, the alligator is a licensed emotional support animal at a reptile rescue.  We wonder if the infamous Pennsylvania man will make an appearance soon, too. 
Scroll down for more of this week's Winners & Losers!
WINNERS:
Leslie Rossi -
State Rep. Leslie Rossi has made a name for herself as the owner of the "Trump House," a red, white and blue home in Unity, Westmoreland County, with a 14-foot tall cutout of former President Donald Trump. Rossi and Phantom Enterprises earned a win in court this week after a lawsuit stemming from a car accident in front of the tourist attraction was tossed out. The lawsuit claimed the driver in an auto accident that resulted in two injuries was distracted by the attraction and couldn't find a properly identified driveway, but the Superior Court decision said the owners are not liable for a crash. It looks like in this case, the house won.
Thomas Hicks -
Election operators can breathe a little easier after a poll worker recruitment effort in the commonwealth drew more than 1,100 applicants. The U.S. Elections Assistance Commission, led by chair Thomas Hicks, helped organize the Help America Vote Day, where applicants from 58 out of the commonwealth's 67 counties filed paperwork to become a poll worker. Kudos to all involved who make our elections run more smoothly.
Chris Layaou -
After fighting wildfires in Idaho for the last couple weeks, the Pennsylvania Wildland Fire Crew returned home to the commonwealth. Chris Layaou, who's been on the wildfire crew since 2012, was among the firefighters battling the largest active fire in the U.S. in Salmon, Idaho. The 20-person crew was welcomed back in Harrisburg after being gone since Aug. 5.
LOSERS:
Rachel Tripp -
An Oz campaign that's had its share of ups and downs may have reached a new low this week after a staffer said Oz's opponent, Lt. Gov. John Fetterman, wouldn't have suffered a stroke had he "ever eaten a vegetable in his life." The comments, made by Rachel Tripp, an aide on Dr. Mehmet Oz's team, drew the ire of many as a nasty moment in an already contentious online campaign. Amid the backlash, Tripp said she does not speak for Oz and that the comments were meant not as ridicule, but as advice.
Doug Mastriano -
Just when you thought this election cycle couldn't get any weirder, we have fake pollsters. The Philadelphia Inquirer reported this week that a high school student from Connecticut pranked Republican gubernatorial candidate Doug Mastriano into retweeting a fake poll showing him ahead of Democratic opponent Josh Shapiro. What's even more curious is that Mastriano's campaign advisor, Jenna Ellis, left the posts up for five days even after much of Twitter became skeptical of the Carleton Polling account and its numbers.
Mary Gay Scanlon -
Four House Democrats violated a federal conflict-of-interest law with late financial disclosures, with U.S. Rep. Mary Gay Scanlon among them. Scanlon's husband reportedly sold four stocks in February 2021 worth up to $95,000 and failed to report it until a year-and-a-half later. The Delaware County Democrat is required by law to report any financial trades done by her or her spouse within 45 days of making them. Expect the calls for congresspeople to be barred from trading stocks to get even louder.