Winners & Losers
This week's biggest Winners & Losers
Who's up and who's down this week?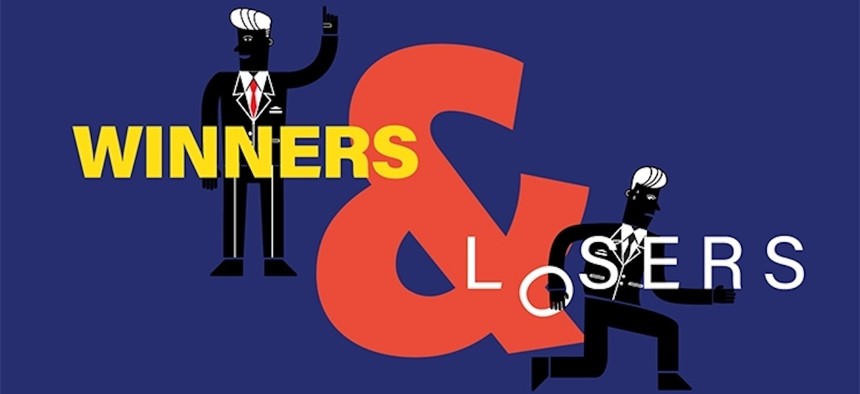 Some say they're tired of seeing politics work their way into sports. Well, those people can thank one minor league baseball account for putting its cleat down this week. The Harrisburg Senators – not to be confused with lawmakers in the state Capitol – went viral this week after someone on Twitter tagged them in a rant related to voting laws. The Double-A affiliate for the Washington Nationals had the perfect reply to a disgruntled Twitterer, simply stating, "ma'am we are a baseball team." Whether you're more interested in ballot boxes or batter's boxes, it's going to be a feverish fall in the commonwealth.
Scroll down for more of this week's Winners & Losers!
WINNERS:
Debra Todd -
Following the death of Pennsylvania Supreme Court Chief Justice Max Baer over the weekend, Justice Debra Todd was named the next chief justice of the court, due to her seniority on the bench. While Baer's sudden death is most unfortunate, it's worth noting that Todd's ascension is historic: She is the first woman to hold the position of chief justice of the state Supreme Court in Pennsylvania history.
Robert Evanchick -
It's been an interesting week for the Pennsylvania State Police, led by Col. Robert Evanchick. On Wednesday, PSP revealed human remains discovered 10 years ago in Luzerne County were identified as a Wilkes-Barre teenager who went missing in 1969. The next day, police announced charges against 11 individuals for alleged cruel treatment of turkeys at seven farms in the state. It leaves us wondering: Wattle he do for an encore?
Tim Holden -
Booze is big business in Pennsylvania – and that was especially true over the course of the last fiscal year. The Pennsylvania Liquor Control Board, led by Chair Tim Holden, announced this week that the state's liquor sales broke a record last year. Shot: Sales at state-owned liquor stores surpassing $3 billion. Chaser: Net income from liquor sales came in at $330.9 million, which was another record for the PLCB.
LOSERS:
Doug Mastriano -
GOP gubernatorial nominee and state Sen. Doug Mastriano may have bought his first TV ad of the general election this week, but that's about where the good news ended. A professor at a Canadian university questioned the university's decision to give Mastriano a doctorate, saying Mastriano was awarded the honor on "very shaky grounds." He's also one of the few big-name Pennsylvania Republicans that has not received a donation from former President Donald Trump's Save America PAC, as reported by Go Erie, despite being endorsed by him.
Mitchell Spivack -
If you were unaware, a Northeast Philadelphia pharmacy once sold more OxyContin than any drugstore in the country. The owner of that store, Mitchell Spivack, was sentenced to three years and six months in prison this week related to bogus insurance claims. Spivack reportedly ran his pharmacy as a "no questions asked" business for many addictive drugs. On top of his sentence, he's been ordered to pay more than $4 million to settle claims of defrauding the government. Now, that's one tough pill to swallow.
Joe Daniels -
The America250 Commission is, as the kids say, not "keeping it 100." The organization, which has been tasked with planning the country's semiquincentennial celebration in Philadelphia in 2026, has been beset by controversies related to a sexist and toxic work environment and the misspending of federal funds. In the wake of these rolling crises, America250 Commission CEO Joe Daniels just resigned from his position. With less than four years to go before the nation's biggest party, this party planning committee is making Dunder Mifflin's committee look like a well-oiled machine.