Winners & Losers
This week's biggest Winners & Losers
Who's up and who's down this week?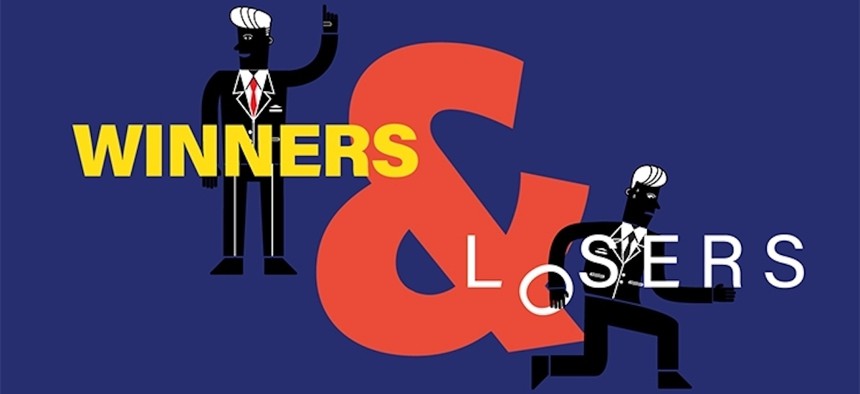 If there was ever a week to take stock of Pennsylvania's winners and losers, this would be it. Democrats saw success at the top of the ticket, and may even turn the state House blue if results in a few close races tip in their favor. Republicans, meanwhile, held onto their majority in the state Senate, with a few GOP state representatives getting promotions to the General Assembly's upper chamber. While some results from this week's elections are still being determined, the midterm results also give Pennsylvanians a lot to chew on as we move closer to 2023. Oh, and a break from all the campaign ads is a nice win for the rest of us, too. 
So without further adieu, scroll down for more of this week's Winners & Losers!
WINNERS:
Josh Shapiro & John Fetterman -
This week Democrats at the top of the Pennsylvania ticket were able to fend off a red wave that ultimately never really made it to the shore. Attorney General Josh Shapiro handily defeated GOP state Sen. Doug Mastriano in the state's gubernatorial race, while Lt. Gov. John Fetterman knocked off Dr. Mehmet Oz in one of the most closely watched races in the country. Shapiro will have to work within the confines of a divided government in Harrisburg, while it's unclear what control of Washington will look like next year. Still, the wins promise that these two politicians aren't going anywhere for the next few years.
Allegheny Accolades -
Several candidates around the commonwealth, particularly those in the Pittsburgh region, earned historic victories which will be a "first" for Pennsylvania. State Rep. Austin Davis is set to become the state's first Black lieutenant governor, state Rep. Summer Lee is the first Black woman to be elected to Congress from the state, and state House candidate Arvind Venkat is slated to become the first Indian American to serve in the state House. They all have a message for western Pennsylvanians: youse really showed out.
The Senate GOP -
Not only did four Republican state representatives – Rosemary Brown, Frank Farry, Tracy Pennycuick and Greg Rothman – get elected to the state Senate this week, but the GOP held onto control of the state Senate, promising that Gov.-elect Josh Shapiro will have at least one chamber pushing back on his agenda next year. Control of the Senate is especially critical as both parties wait to see who will control the state House in 2023. If you thought this year's election got contentious, just wait until lawmakers gavel back in next year.
LOSERS:
Doug Mastriano & Dr. Mehmet Oz -
This year's midterm election cycle showed a lot of promise for Republicans, given that President Joe Biden's approval ratings were in rough shape and inflation is making things difficult for families across the country. Ultimately, however, voters chose to reject the GOP's statewide candidates in Pennsylvania – giving Oz and Mastriano time to think about what's next in their respective careers. It's uncertain what Oz's political future holds, but it appears Mastriano, who has yet to formally concede – is on to greener pastures – literally.
Howard Kohr -
State Rep. Summer Lee's run for Congress wasn't without obstacles. One group in particular, the American Israel Public Affairs Committee, poured millions of dollars into the race to fund attack ads and mailers against Lee, both during the primary and midterm elections. AIPAC, overseen by CEO Howard Kohr, was ultimately unsuccessful. Addressing supporters Tuesday night after her win, Lee said they won't let "dark money and outside folks" tell western Pennsylvanians what to do.
Chris Sainato -
In an otherwise successful night for Democrats in the midterm elections, one longstanding lawmaker was upset by a Republican challenger. State Rep. Chris Sainato, a 14-term Democratic incumbent and one of the last Democratic legislators in rural western Pennsylvania, was ousted by Republican newcomer Marla Gallo Brown, a former business executive. Brown will now represent the 9th state House district, an area in Lawrence County that's been in Democratic hands for the last 28 years.