News & Politics
Shapiro claims victory as Mastriano stops short of conceding
The AP and other media outlets called the governor's race for Shapiro Tuesday night.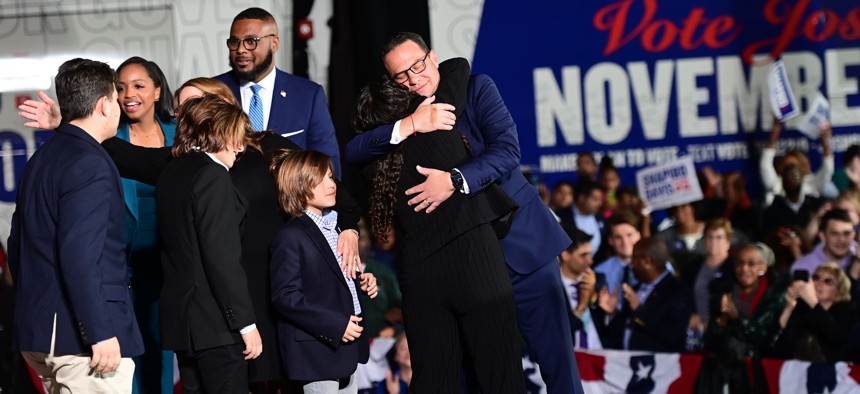 In a reprise of 2020, the country's eyes turned once again to Pennsylvania on Election Day, waiting to see who would emerge victorious in two of this year's most consequential midterm contests. 
Several outlets called the race for the commonwealth's executive office for Democratic Attorney General Josh Shapiro, with the Associated Press confirming his victory over Republican state Sen. Doug Mastriano shortly after midnight.  
Addressing a crowd of supporters at the Greater Philadelphia Expo Center in the Montgomery County town of Oaks, Shapiro and his running mate, state Rep. and lieutenant governor candidate Austin Davis, framed the race as a referendum on everything from reproductive and voting rights to the importance of public education and organized labor. 
Davis took the stage shortly after the race was called to speak to the ecstatic crowd. Davis, who will be the commonwealth's first Black lieutenant governor, didn't downplay the historic nature of the victory.  
"I can't even put into words what this moment means for me, my family and our shared history," said Davis, a Democrat from Allegheny County. "Pennsylvanians have chosen unity over division, love over hate and progress over extremism."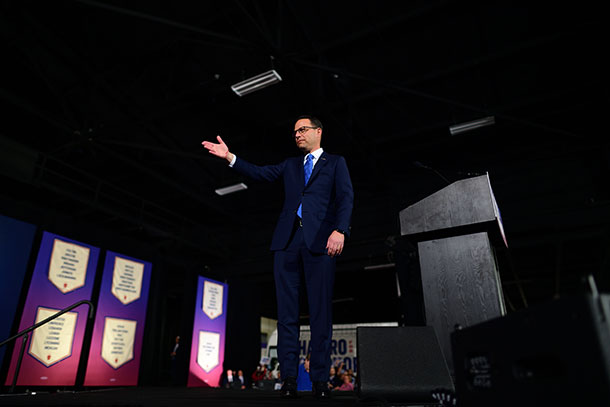 Davis and Shapiro shared messages of hope for all Pennsylvanians from all walks of life. Shapiro thanked supporters from both sides, adding that the race was about "common love" for the commonwealth. 
"You chose to take off the red jersey and the blue jersey and wear the Pennsylvania jersey, a jersey that brings us together," Shapiro said. "What we agree on is that we have to keep working at it together. We have to keep coming together to make progress."
Halfway across the state, supporters at Mastriano's watch party anxiously awaited results in a race where he has trailed in the polls from the beginning.  
Mastriano took the stage in Camp Hill to thank supporters Tuesday night, but stopped short of conceding to Shapiro. However, he suggested he would accept the election results, urging patience as results continue to come in.
"In this constitutional republic that we have, the people get the last word," Mastriano told his supporters. "So, we're going to wait patiently to see what the people of Pennsylvania said, and what the people of Pennsylvania say, we will, of course, respect that.
"It's been a fantastic run across the state. You guys brought us to this party here," he added. "It's a people's movement and it's not going anywhere."
State Rep. Carrie Lewis DelRosso, Mastriano's running mate, also asked supporters to remain patient. "This is the time where we have to pay attention and wait," she said. "We gotta hunker down and we gotta wait it out."
Mastriano rose to prominence as a vocal critic of the state's COVID-19 mitigation measures, advocating instead for a more localized approach. COVID-19 policies remained a central tenet of Mastriano's gubernatorial campaign, with the GOP nominee pledging to ban vaccine and mask mandates.  
He later received national attention for promoting false claims about the state's 2020 election results. In addition, he was subpoenaed by the U.S. House committee investigating the Jan. 6, 2021 attack on the U.S. Capitol, which sought information on his involvement in a plan to send alternate presidential electors to Congress. 
You chose to take off the red jersey and the blue jersey and wear the Pennsylvania jersey, a jersey that brings us together.
– Josh Shapiro
Mastriano dominated the Republican gubernatorial primary in May, winning 44% of the vote – far ahead of the second-place finisher, former U.S. Rep. Lou Barletta, who received 20% of the vote. The primary field also included former U.S. Attorney Bill McSwain, Delaware County businessman Dave White and Jake Corman, the president pro tempore of the state Senate, among others. Mastriano has garnered criticism for his embrace of false claims and theories about the 2020 presidential election results, as well as for his presence on the U.S. Capitol grounds on Jan. 6. He also polarized members of his own party during the primary, prompting some candidates, like Corman and former U.S. Rep. Melissa Hart, to drop out and throw their support behind Barletta in the hopes of dashing Mastriano's chances of winning the GOP nomination. 
On the campaign trail, Mastriano vowed to eliminate mail-in voting and implement universal voter ID requirements. He has said he would sign legislation that bans abortions once cardiac activity is detected – legislation that he has sponsored as a state senator. 
He has also sponsored legislation to implement a "Parental Bill of Rights" in Pennsylvania, a proposal that would ban schools from teaching "sexually explicit, obscene, and racist principles." Critics have said the legislation is homophobic, though Mastriano pledged to sign such a proposal if elected. 
Tuesday night, supporters said they backed Mastriano for a range of reasons.
Kristofer Sommerfeld, a Greencastle resident, said he admired Mastriano for how he stuck up for business owners during the early stages of the pandemic. "Doug was really trying to fight for our rights and our freedoms," Sommerfeld said.  
We're going to wait patiently to see what the people of Pennsylvania said, and what the people of Pennsylvania say, we will, of course, respect that.
– Doug Mastriano
Sommerfeld also said he appreciated how Mastriano wears his faith on his sleeve. "He really does put God first. Being a nation founded on Christian principles, that's really influenced my wife and I with how we vote. So we've been supporting him ever since we could."
Tim Quade, another Mastriano supporter, said the Republican nominee would take on corruption and eliminate mail-in ballots – two of the many reasons he supported Mastriano. "Ninety percent of our government is corrupt and it sickens me," Quade said. "Doug Mastriano is a very bright light that wants to go against that." 
Shapiro, who ran unopposed in the Democratic gubernatorial primary, made a name for himself long before he entered the race. 
Shapiro first served as a member of the state House of Representatives before chairing the Montgomery County Board of Commissioners in 2011. 
After becoming the state's attorney general in 2017, Shapiro spearheaded a two-year investigation into child sexual abuse within the Catholic diocese. The grand jury report made international news, resulting in more than 1,000 child victims being identified and more than 300 priests having allegations levied against them. It also prompted a number of reforms to Pennsylvania's statute of limitations law for sex abuse crimes.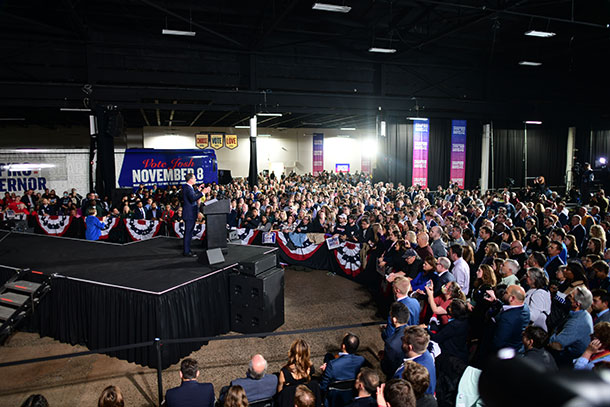 Shapiro also used his role as attorney general to challenge many of the Trump administration's initiatives, including the ban on travel from Muslim-majority countries and attempts to change the state's election results and procedures. 
During the campaign, Shapiro repeatedly described his opponent as "too dangerous" for Pennsylvania, referencing Mastriano's ties to former President Donald Trump, conspiracy theorists and numerous other controversial individuals throughout the campaign. He framed Mastriano's views on abortion and voting rights as extreme, even as Mastriano attempted to pin Shapiro as an extremist and continuation of Democratic Gov. Tom Wolf's policies. 
Shapiro supports lowering the corporate tax rate, eliminating the state's cell phone tax and issuing gas tax refunds to commonwealth drivers. When it comes to voting, he has expressed support for implementing automatic voter registration, allowing in-person early voting and allowing counties to pre-canvass ballots prior to Election Day. 
At Shapiro's watch party, local Democratic party and organized labor leaders came in expecting a celebration. His early lead in the polls fluctuated throughout the months-long campaign, but he never trailed. 
Among the union supporters in attendance were members of SEIU and the Pennsylvania Association of Staff Nurses and Allied Professionals. Selena Hodge, political and community chair for PASNAP, said Shapiro has been a strong supporter of health care workers and addressing workplace violence.
"We can't wait for him to go into Harrisburg and turn some health care issues around," Hodge said. "Gov. Wolf was always supportive and we know that ball will keep rolling in a positive way with Josh."