News & Politics
Shapiro unveils plan to cut cell phone tax, issue gas tax refunds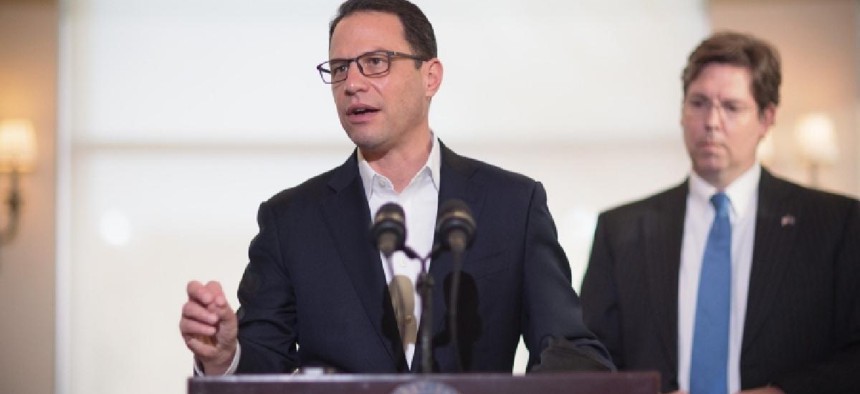 Pennsylvania Attorney General Josh Shapiro on Thursday released a new plan designed to offer financial relief to Pennsylvania taxpayers as consumers currently grapple with higher prices on everything from food to energy. 
"I know Pennsylvanians are hurting right now – and I believe the legislature should take up this plan immediately – but if they don't, I'll be ready on day one as governor to bring people together and put money back in your pockets," Shapiro, the presumptive Democratic nominee for governor, said in a statement. 
Shapiro's plan offers a three-pronged approach to reducing tax burdens on Pennsylvanians by eliminating a gross receipt and sales tax on cell phone service and expanding the state's rebate program for homeowners and renters. 
Shapiro said the elimination of the cell phone tax would save taxpayers 11% on their monthly cell phone bills, and that increasing caps for the state's Property Tax and Rent Rebate Program would make an additional 275,000 residents eligible for rebates. 
The third piece of the plan suggests sending a gas tax refund to drivers in the state. The refund would be $250 per personal passenger vehicle, with up to four refunds available per household. The refunds would be funded through unspent American Rescue Plan dollars currently held by the state. 
The push from Shapiro comes as the entire nation is currently experiencing major price increases that have left consumers feeling the effects. According to February data from the U.S. Bureau of Labor Statistics, the consumer price index for all items rose 0.8% in February, and rose 7.9% over a 12-month period before a seasonal adjustment.
Over that same 12-month stretch – from February 2021 to February 2022 – the index for food also rose by 7.9%, while the index for energy rose by 25.6%, according to unadjusted data. Last February alone, the index for food rose by 1%, and the index for gasoline rose by 6.6%.
Shapiro's plan raised eyebrows in some Republican circles, with one western Pennsylvania Republican leader viewing the proposal as a political ploy designed to boost Shapiro's electoral prospects. 
"It's a purely political move by him to try to buy support in his campaign by promising people money," said Sam DeMarco, chair of the Allegheny County Republican Party. "It doesn't get any more blatant than that."

DeMarco told City & State that incumbent Gov. Tom Wolf and state lawmakers should work to reduce Pennsylvnaia's 9.99% Corporate Net Income Tax rate, reform the state's regulatory processes and broaden the tax base. "If you broaden the tax base, you have more people and businesses paying into it – you'll generate more revenue. And that's how we'll be able to pay for tax relief," DeMarco said. 
DeMarco said he doesn't believe Shapiro's three-pronged tax plan would come to fruition if he's elected in November, calling it "disingenuous."
"This is just a naked ploy to try to pivot to the center to win votes by promising people something he'll probably never, ever be able to deliver on," he said.