Winners & Losers
City & State's biggest Winners & Losers of 2022
Who's up and who's down this year?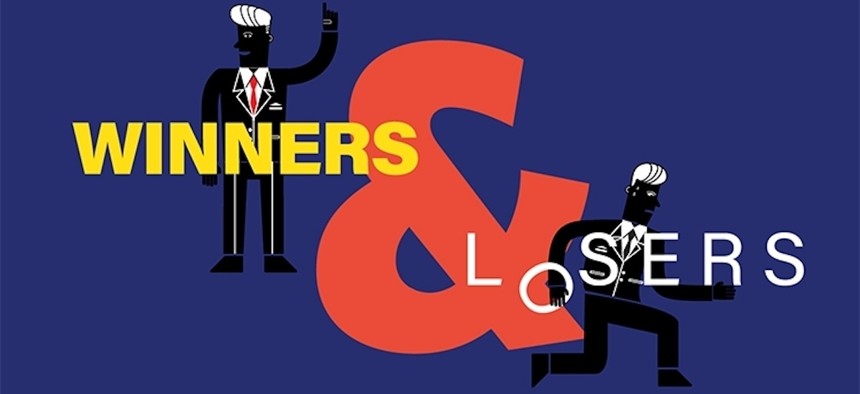 The past year marked a momentous one for many Pennsylvania leaders, while others probably wish they could completely forget 2022. Thanks to midterm elections, legislative investigations and monumental feats, it's going to be hard to forget 2022 any time soon.
But before we close the book on another year, here are City & State's Winners & Losers for 2022!
WINNERS:
John Fetterman & Josh Shapiro -
In a midterm election year that many thought would result in a red wave across the U.S., Democratic candidates in Pennsylvania did particularly well, holding the governor's mansion and flipping a U.S. Senate seat from red to blue. U.S. Sen.-elect John Fetterman beat celebrity physician Dr. Mehmet Oz in the state's U.S. Senate race, while Attorney General Josh Shapiro defeated state Sen. Doug Mastriano by more than 14 points to become the state's next governor. It was a good year to run statewide as a Democrat.
Kim Ward -
Say hello to a new state Senate, along with its newest leader. Key departures in Harrisburg have shuffled up leadership and led to another major milestone for state Sen. Kim Ward, who was elected as the state's first female Senate President Pro Tempore this year. This comes just two years after Ward became the chamber's first female majority leader. A 2023 resolution for Ward? Progress.
Leanne Krueger -
Democrats and Republicans are still fighting a court battle over which party is entitled to the House majority, but there's no denying that state Rep. Leanne Krueger – as chair of the Pennsylvania House Democratic Campaign Committee – helped Democrats secure the seats needed to win a slim, one-seat majority in that chamber. But the majority may prove to be temporary, as vacancies in the state House have since complicated the leadership picture. Krueger, along with PA HDCC Executive Director Trevor Southerland, will remain synonymous with Democrats' success in 2022.
LOSERS:
Doug Mastriano & Mehmet Oz -
The midterm elections did not go as planned for Republicans in 2022. Rather than surf into 2023 on a red wave, Mastriano and Oz, the state's GOP nominees for governor and U.S. Senate, got stuck in a blue rip current, losing to Democrats in their respective races. Oz has been radio silent since conceding to Fetterman in November, while Mastriano remains a state senator in Harrisburg, where he pledged to remain active.
Jim Kenney -
Philadelphia Mayor Jim Kenney likely won't be leaving office on a high note after the 2022 he had. His last full year leading the city was clouded by another year of gun violence and an inconsistent, and at times seemingly nonexistent response from city and law enforcement officials. The lowest point came on July 4 after two police officers were struck by stray bullets during holiday festivities, when Kenney infamously said he'll "be happy" when he's no longer mayor.
Scott Perry -
The fallout from Jan. 6, 2021 has continued to follow central Pennsylvania Congressman Scott Perry. Perry has been a focal point of a House select committee's investigation into the Jan. 6 insurrection and efforts by former President Donald Trump's allies to overturn the presidential election. The FBI seized Perry's phone earlier this year, and more recently, his text messages with Trump allies revealed several baseless conspiracy theories Perry pushed in the scheme to question the 2020 election results. Regardless of the investigation's results, Perry's likely going to be answering texts with "new phone, who dis?" for the foreseeable future.