Jim Kenney
UPDATE: Kenney's comments following Fourth of July shooting spark outrage among local officials
Some City Council members have called for the mayor's resignation. Kenney sought to clarify his comments Wednesday afternoon.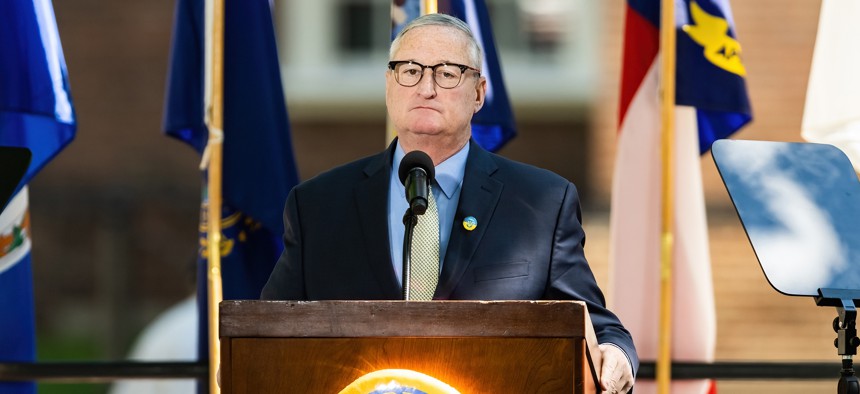 The holiday weekend had anything but a quiet ending in the City of Philadelphia, where two police officers were shot during Fourth of July festivities and Mayor Jim Kenney's comments in the aftermath created further disapproval of how the city and its leader are handling ongoing gun violence. 
Chaos erupted Monday night along the Benjamin Franklin Parkway when gunfire rang out during Independence Day festivities. While talking with reporters following the shooting that left two police officers injured, Kenney said he's "waiting for something bad to happen all the time" and that he'll be "happy" when he's no longer mayor because he can enjoy large events again. Those remarks sparked outrage among residents and local officials, some of whom have called on Kenney to resign. 
"There's not an event or a day where I don't lay on my back at night, looking at the ceiling and worry about stuff," Kenney said when asked about public safety concerns. "So, everything we have in the city over the last seven years, I worry about. I don't enjoy (the) Fourth of July. I didn't enjoy the (2016) Democratic National Convention. I didn't enjoy the NFL Draft. I'm waiting for something bad to happen all the time … So, I'll be happy when I'm not here – when I'm not mayor, and I can enjoy some stuff."
Mayor of Philadelphia, Jim Kenney (D): "I'm waiting for something bad to happen all the time, so I'll be happy when I'm not here, when I'm not mayor and can enjoy some stuff," when asked about his resolve to address incidents like tonight. @CBSPhilly pic.twitter.com/863h58igNA

— Joe Holden (@JoeHoldenCBS3) July 5, 2022
Kenney's comments quickly garnered backlash from residents, local officials and media members. Two city councilmembers, Derek Green and Alan Domb, tweeted Tuesday morning that Kenney should resign.
@JimFKenney We are all exhausted by the level of gun violence in our City. However, our City needs someone now with the passion and vision to lead us forward. Resign. https://t.co/Njs8YHFvIA

— Councilmember Derek Green (@CouncilmanDerek) July 5, 2022
Philadelphia is in a crisis and needs a mayor who wants the job and all its responsibilities. It is beyond time for @PhillyMayor to resign for the good of the city and its residents. https://t.co/coZyOTRBQH

— Allan Domb (@TeamDomb) July 5, 2022
Your time is almost up.

Governing is hard & can be stressful & I appreciate the honesty.

Things would be a lot easier if you have people around you that actually want to serve.

https://t.co/BsGbENiYTY

— Marcus McKnight (@marky_phl) July 5, 2022
Another City Council member, Helen Gym, while not calling for Kenney to resign, said the city must "resist hopelessness."
"Jim Kenney may be defeated but this city won't be. There are thousands of lives on the line in the remainder of his term and a generation of youth who are looking to us to be the cavalry that Harrisburg and Congress refuse to be. We must deliver and we must act," Gym said in a statement. 
City Council member Katherine Gilmore Richardson went a step further, urging Kenney to take the "In or Out" pledge to apologize for his comments and reaffirm his commitment to the city. 
The pledge calls for Kenney to apologize to the citizens of the City of Philadelphia for his statement, affirm his interest in serving as the leader of this city for the next 18 months or not; and submit an operational plan for the next 18 months to address gun violence and quality of life issues. 
In response to the backlash, Kenney issued a statement clarifying his remarks from an "overwhelming moment of frustration." 
"Let me be clear, I'm incredibly grateful to be mayor of this great city and for the people who elected me to lead," Kenney said in a statement. "I ran for Mayor with the goal of helping every Philadelphian reach their potential. As mayor, I feel personally responsible for the well-being of every Philadelphian, and it's a weight I carry with me every day—every waking moment."
Kenney spoke with reporters early Tuesday morning outside Thomas Jefferson University Hospital, where the two officers are being treated.