News & Politics
See who Pennsylvania's congressional delegates invited to the State of the Union speech
Several Pennsylvanians will be in Washington for President Joe Biden's third address to a joint session of Congress.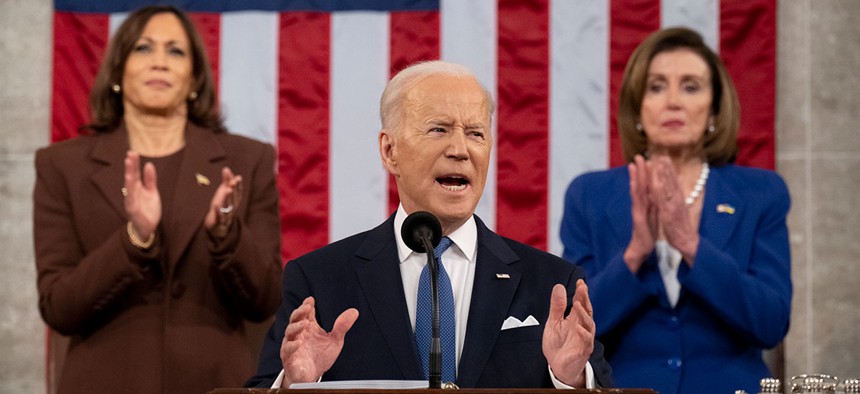 President Joe Biden will speak to a joint session of Congress tonight at 9 p.m. for his second State of the Union address, where he is expected to discuss the economy, infrastructure and the future of the nation. He'll be joined in the House of Representatives chamber by members of Congress from both sides of the aisle – as well as special guests, including his own invitees and those brought by members of Congress. Below, we take a quick look at the people that will be attending tonight's State of the Union address and the lawmakers and officials that invited them. 
Mitzi Colin Lopez
Guest of First Lady Jill Biden
Biden invited a guest list of 20 people to the State of the Union, including one Pennsylvanian. One of Biden's guests is Mitzi Colin Lopez, a Chester County resident and DACA recipient who was brought to the U.S. when she was 3. She is an immigration reform advocate and met with President Joe Biden in 2021 to share her experiences as a DACA recipient, according to the White House. Her attendance on Tuesday will give her a major stage to continue advocating for the program. "I am proud to advocate for DACA, but I also want to give a voice to the millions of people like my parents who have tried everything they can to gain status but it's just impossible," she said in a statement via The Immigration Hub.
Sara Harvey
Guest of U.S. Rep. Brian Fitzpatrick, 1st Congressional District
Fitzpatrick's guest is Sara Harvey, a cancer survivor and resident of Bucks County. Harvey, who had her eye surgically removed after being diagnosed with Retinoblastoma, worked with Neshaminy School District in Bucks County to raise close to $4,000 for a fund to combat childhood cancer. In a statement, Fitzpatrick said Harvey is a "warrior who not only beat cancer but works tirelessly to raise money for research and treatment." 
Chris DeShields
Guest of U.S. Rep. Brendan Boyle, 2nd Congressional District
SEPTA bus operator Chris DeShields will be Boyle's State of the Union guest – which Boyle told The Philadelphia Inquirer was his way of saying "thank you" for DeShields' heroism. In January, while driving on his route in Fishtown, DeShields broke up an attempted carjacking by using his bus to scare off robbers attempting to steal a vehicle. According to a separate report, DeShields angled his bus across a street to box in the carjackers, prompting them to flee the scene. Boyle tweeted that bringing DeShields to the State of the Union is a way of recognizing DeShields for his courage. 
Stefanie Seldin
Guest of U.S. Rep. Dwight Evans, 3rd Congressional District
Stefanie Seldin, the president & CEO of Rebuilding Together Philadelphia, will be Evans' guest at this year's State of the Union. With the help of 1,000 volunteers, the nonprofit helps repair roughly 125 homes in Philadelphia per year, according to Evans' office. The congressman said that he chose to invite Seldin to "highlight the valuable work that she and Rebuilding Together Philadelphia do in our communities." Evans said inviting Seldin also shines a spotlight on investments in affordable housing passed during Biden's administration. 
Kelsey Leigh
Guest of U.S. Rep. Madeleine Dean, 4th Congressional District
Dean's guest at this year's State of the Union will be Kelsey Leigh, an abortion patient advocate who had an abortion after fetal anomalies were discovered during her pregnancy in 2016. Dean met Leigh in Harrisburg during her time as a state representative, and said in a statement that Leigh is a "fierce advocate for access to abortion" and added that she is proud to "highlight Kelsey's story and work" on abortion access at the State of the Union.
Randy Butler
Guest of U.S. Rep. Mary Gay Scanlon, 5th Congressional District
Butler, who is the director of program operations and impact at Philadelphia Youth Basketball and program director of the organization's HoopHers Girls Empowerment program, is Scanlon's guest at this year's State of the Union. "One of my top priorities in Congress is to set our children and youth up for success," Scanlon said in a statement. "Randy leads the way in demonstrating what success looks like with sports-based youth development programs in our communities, and I'm thrilled she will join me for President Biden's speech …"
Jessica Goldenberg
Guest of U.S. Rep. Chrissy Houlahan, 6th Congressional District
Houlahan's guest for this year's State of the Union is Jessica Goldenberg, a Wynnewood resident who worked in clinical research but had to leave her job after her son was born because she couldn't secure enough leave. Houlahan said she is privileged to be bringing Goldenberg to the State of the Union with her. "Her story is a reminder of why paid leave is so essential in supporting parents," Houlahan said in a release. "No family should have to experience what she, and so many others, have endured at such an important moment in their lives."
Nick and Natalie Gruber
Guests of U.S. Rep. Susan Wild, 7th Congressional District
Wild invited Nick Gruber, a deputy chief at the New Tripoli Volunteer Fire Company, and his wife Natalie as her State of the Union guests. Nick is the son of Marvin Gruber, one of two New Tripoli volunteer firefighters who died responding to a house fire last year. Wild, in a statement, said she hopes the appearance can "raise awareness of the issues firefighters face so that meaningful legislation and investment can take place to prevent future tragedies."
Chris Barrett
Guest of U.S. Rep. Matt Cartwright, 8th Congressional District
Cartwright invited Chris Barrett, president and CEO of the Pocono Mountain Visitors Bureau, as his guest. Barrett is an advocate for passenger rail service between New York City and Scranton, and Cartwright called him a "tireless advocate" for the cause, which they both share an interest in. Barrett said: "It is an honor and privilege to be part of this monumental occasion, at a monumental time in the proposal to reinstate passenger rail service."
John Moran Jr.
Guest of U.S. Rep. Dan Meuser, 9th Congressional District
John Moran Jr, the president and CEO of Moran Logistics in Watsontown, will be Meuser's State of the Union guest, according to a spokesperson for his office. Moran Logistics is a logistics company that operates more than 5 million square feet of storage space in the state, according to its website. 
Mark Houck
Guest of U.S. Rep. Scott Perry, 10th Congressional District
Perry is bringing Mark Houck, an anti-abortion activist who was acquitted last month of charges related to an altercation with a Planned Parenthood volunteer, as his guest at Biden's address. In an email to City & State, Jay Ostrich, a spokesperson for Perry said the congressman is "privileged" to have Houck as his guest, calling him an "innocent victim of President Biden's reprehensible abuse of power." Ostrich added: "He feels it's important for the President to see up close the faces of those Americans he is sworn to protect but sought to demolish simply because they dared to oppose his radical agenda."
Dave Sunday
Guest of U.S. Rep. Lloyd Smucker, 11th Congressional District
York County District Attorney Dave Sunday was the guest of Smucker during this year's State of the Union address. In a series of tweets, Smucker praised Sunday as someone who actively works "on the frontlines of keeping our community safe, supporting our police, and working hand-in-hand with law enforcement and community organizations to combat the fentanyl and opioid crisis."
Nila Payton
Guest of U.S. Rep. Summer Lee, 12th Congressional District
Lee – the first Black congresswoman in Pennsylvania history, chose to invite Nila Payton, a senior administrative assistant at UPMC and SEIU Healthcare Pennsylvania activist, as her first State of the Union guest. In a tweet, Lee said she is "honored" to have Payton join her during Biden's address, and she vowed to stand by other workers fighting to unionize: "Solidarity forever," she tweeted. 
Kelly kin
U.S. Rep. Mike Kelly, 16th Congressional District
A spokesperson for Kelly said that the congressman will be bringing one of his sons as his guest. 
James "Hutchie" VanLandingham
Guest of U.S. Rep. Chris Deluzio, 17th Congressional District
Deluzio's first State of the Union guest will be James "Hutchie" VanLandingham, a Pittsburgh Post-Gazette worker currently on strike who has worked in the newspaper's mail room for 28 years. VanLandingham is a member of the Communications Workers of America, and has been striking for the last four months. "Hutchie and all workers at the Post-Gazette deserve better," Deluzio said in a statement, adding that VanLandingham's attendance puts "workers' rights and the labor movement in front of the President and in the national spotlight."
Dennis Horton
Guest of U.S. Sen. John Fetterman
As lieutenant governor of Pennsylvania, Fetterman pushed hard to get commutations for Dennis Horton and his brother, Lee, who were charged with second-degree murder and later had their sentences commuted by then-Gov. Tom Wolf. Now, Fetterman is bringing Dennis to the State of the Union with him, with hopes that it will inspire action on criminal justice reform. "The incarceration of Dennis and Lee for a crime they did not commit is a stark reminder of the work we need to do to make our criminal justice system more equitable and fair," the senator said in a statement. 
The offices of U.S. Sen. Bob Casey and U.S. Reps. Lloyd Smucker, John Joyce, Guy Reschenthaler and Glenn "GT" Thompson could not immediately be reached for this story.