Energy
Leaders convene in Pittsburgh for City & State's 2023 Energy Summit
The summit included experts from the public and private sectors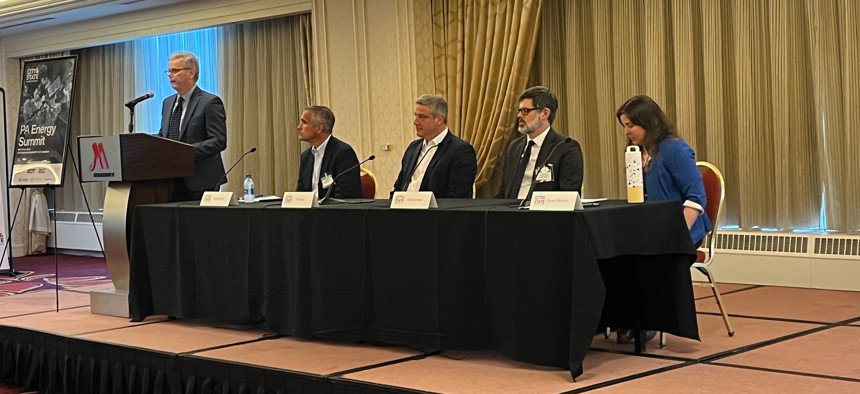 Leaders from throughout Pennsylvania's energy sector gathered in Pittsburgh for City & State's 2023 Pennsylvania Energy Summit – an event that sparked plenty of conversations around energy production, renewable energy goals, and how the state can harness resources like natural gas while minimizing the impact of emissions. 
The day-long event featured discussions about how to expand the state's energy infrastructure and reduce carbon emissions – and how to develop the workforce needed for new energy projects. 
The summit included participants like Gladys Brown Dutrieuille, chair of the Pennsylvania Pennsylvania Public Utility Commission; Tim Ryan, co-chair of the Natural Allies for a Clean Energy Future Leadership Council and former member of Congress; and energy experts in both the public and private sectors. 
Dutrieuille, who gave keynote remarks to kick off the summit, urged Pennsylvanians to take advantage of a free tool to both stay safe and keep electricity services uninterrupted when doing work around their property. She said that before digging or excavating land, people should use the Pennsylvania One Call System to ensure that underground power lines aren't disturbed. 
Pennsylvanians can take advantage of the system by calling 811, said Dutrieuille. 
"We've seen too many, not only impacts to service, but impacts to life," Dutrieuille said. "That might be boring, but it's essential."
Ryan, who joined Natural Allies this year after serving 10 terms in Congress, stressed the importance of meeting short-term energy goals. 
"We have got to be on track to meet our climate objectives here in the next five, six, seven years. If you miss those first goals, then your 2050 goals are out the window," Ryan told attendees during the day's second panel, which focused on the future of clean energy production. 
Thursday's discussions also examined the topic of environmental justice, as well as some of the challenges to creating and passing new energy policies. 
Different interpretations of what clean energy actually is can make it difficult for lawmakers to reach a consensus on energy policy, said Emily Eyster, the Democratic executive director for the state Senate Environmental Resources and Energy Committee. 
"We see the shift towards clean energy, but nobody agrees on what 'clean' is," Eyster said.
Grid reliability and electric vehicle infrastructure were also topics of discussion during the summit. 
Aurora Sharrard, executive director of sustainability for the University of Pittsburgh, said that energy policy needs to be developed with an eye toward the future. 
"There's no fighting the science and the math of greenhouse gas emissions," Sharrard said, citing a recent report from the Intergovernmental Panel on Climate Change, which warned that there is a "rapidly closing window of opportunity to secure a liveable and sustainable future."
"A child born today – there's no going back. They're going to have a warmer planet and they're going to have an extremely warming planet by the time they're 70 because the emissions that we're putting in the atmosphere today are still going to be there," Sharrard said. "So a clean energy future looks at what we're doing today and broadens, deepens and speeds up all of that at a different scale than we're doing right now."
The day's third panel focused on educational opportunities in the energy sector, and Destenie Nock, an assistant professor of civil and environmental engineering, urged recruiters and those seeking to fill in-demand energy jobs to look to high schools in rural and economically disadvantaged areas to attract talent. 
"I think that a lot of high schools are being missed," Nock said. "People just assume that there's no rock stars in those high schools – but there are rock stars everywhere."
Panelists also discussed items on their wishlist to improve energy production and reduce emissions moving forward. 
Ryan listed permitting reform as a top goal, while Sharrard said improving energy efficiency and making energy sources cleaner should be major priorities. 
Mike Starck, the head of fuel cell initiatives for EQT New Ventures, urged people to contribute to lowering emissions by focusing "on those things that you can control."
"The best thing that we can do as natural gas producers is to produce the cleanest natural gas available, reduce methane emissions – focus on the things you can control, and then start putting points on the board to show that you're doing what you said," Starck said. "Because if we can all do that – take those small steps forward – it's going to at least point us in the right direction."