Personality
Shapiro's first four months 'by the numbers'
Here are the governor's biggest moments from his short time in office.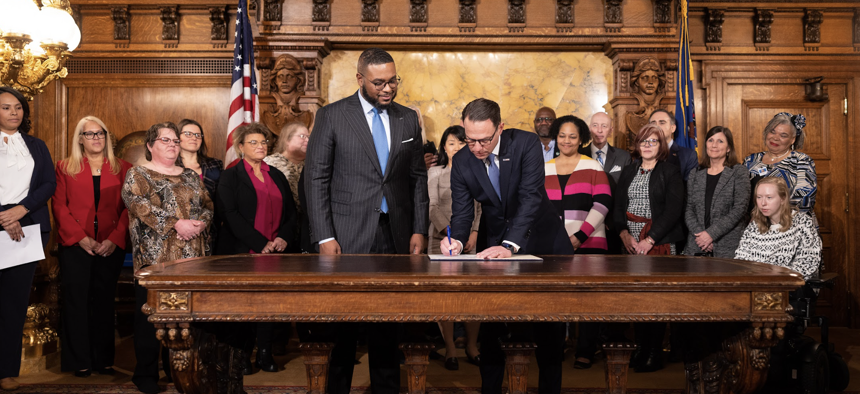 What's just four months out of a four-year term? It ain't much, but since his inauguration on Jan. 17, Shapiro has dealt with disasters, derailments and a diverse set of policy priorities as he looks to establish himself as a bipartisan leader working in a divided General Assembly. He marked 100 days in office at the end of April and is pushing the end of Q1 in the first year of his term. 
Here are some of the big takeaways from Shapiro's first four months in office. 
Bills signed:1
If you asked Shapiro back in January when he would sign his first bill into law, I'm not sure his answer would've been "It's gonna be May." But alas, the governor broke out his executive pen in the state Capitol on May 1 to sign his first bill – a bipartisan effort to require insurers to cover one breast screening per year for women at high risk for cancer.
Executive orders signed: 6
The executive pen didn't have a total dry spell from January to May. On his first full day as governor, Shapiro signed an executive order removing college degree requirements for government workers. Since then, he's signed five more executive orders, including a new gift ban policy, the creation of two new offices and state permitting and licensing reforms.
Price tag of first proposed budget: $44.4 billion
Shapiro's first budget proposal is ambitious, calling for a big increase in public education spending without relying on one-time funds. His budget's fiscal projections include a 20% tax on marijuana products in the near future, leaving many to wonder when he'll pull the cannabis card to bring in more bucks. 
Appointees confirmed: 6
The slow start to the legislative session means there was a wait for several of Shapiro's secretaries to be confirmed by the state Senate, despite some bipartisan picks and holdovers from former Gov. Tom Wolf's administration. Thus far, State Police Commissioner Chris Paris, Adjutant General Mark Schindler, Transportation Secretary Mike Carroll, Community and Economic Development Secretary Rick Siger, Aging Secretary Jason Kavulich and Agriculture Secretary Russell Redding have all been confirmed and dropped the "acting" before their title.
First Pitches: 2
On Day 80 in office, Shapiro tried his best to hit 80 miles per hour on the radar gun, throwing out the first pitch at the Pittsburgh Pirates game on April 7. And just days later at the Harrisburg Senators' home opener, Shapiro's arm was put to the test again as he threw out the first pitch for the Washington Nationals' Double-A affiliate. 
MSNBC appearances: 2
Shapiro is no stranger to the spotlight. Along with his gubernatorial campaign came Shapiro's rise to becoming a national figure in the Democratic Party – and signs he could have his sights set on a higher office. After numerous appearances on MSNBC's news programs over the years, Shapiro continues to spread his message on the airwaves, appearing twice on the national cable channel since his inauguration.