News & Politics
Leslie Richards on aging transportation systems in an ever-changing transit world
SEPTA General Manager Leslie Richards discusses modernization, federal funding and adjusting to a new commuter world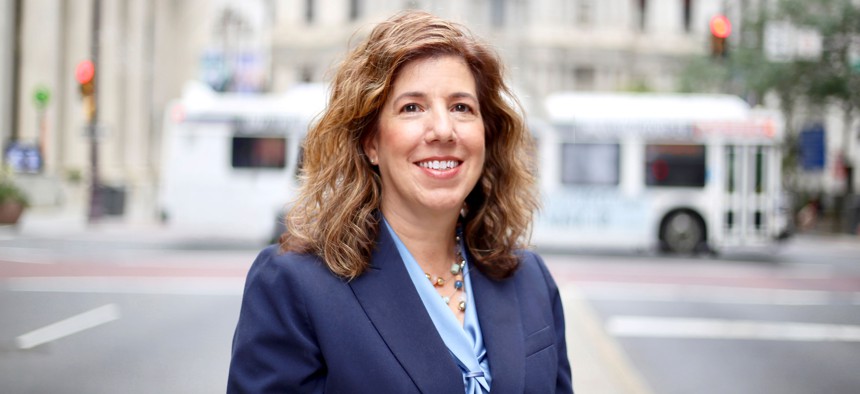 Leslie Richards knows a thing or two about public transportation. Going from Department of Transportation Secretary under then-Gov. Tom Wolf to General Manager of the Southeastern Pennsylvania Transportation Authority, Richards is used to dealing with aging transportation systems in an ever-changing transit world. 
Now, with the pandemic changing the way people move and a bevy of federal funds set to put many projects in motion, SEPTA is at a crossroads. City & State spoke with Richards to get an idea of her vision for the transit authority, its modernization efforts and how it can help build a more equitable Philadelphia region. 
This interview has been edited for clarity and length.
Can you speak on the importance of transit funding? 
Most recently, SEPTA got the largest grant – I think – in our history. That $80 million grant was only possible through the Infrastructure Investment and Jobs Act. And for an old system like SEPTA to be able to move forward on these types of projects, when we already have a backlog of over $5 billion on projects, is huge. 
We also just got a $25 million RAISE grant that's helping us upgrade some of our infrastructure, our platforms, our stations and for our trolley modernization. Our entire rail system carries the same number of passengers as our regional rail system. It's about 18% to 20% of passengers, that's a significant number and that goes into some of our most disadvantaged neighborhoods. 
How has your vision for SEPTA changed for both the near term and the long term?  
The COVID-19 pandemic changed everything as far as who's using us, when people are using us and how they are using us. It was very clear that we had to think about where we needed to be in the future knowing that our ridership was going to go down and not knowing when or how it was going to come back. We already had ridership decreasing before the pandemic, but this really allowed us to focus on challenges in ways that we wouldn't have been able to focus on before the pandemic. 
Right now, we're working on multiple projects at SEPTA, especially the bus revolution and looking at all of our bus routes – all of our schedules need to be revised and we need a plan for how often we do it. 
How do you see projects in terms of equity and providing adequate service to all populations?  
Before, a transit project would be done just because it was needed. Now, when we look at a project, we think, how does it impact the community? How is it going to impact our ridership? How are people going to make decisions? For those who have options of working remotely, is this going to encourage them to never get back on SEPTA? 
We have to learn how to be flexible. We have to learn how to be nimble. We have to make sure we're providing the quality of service that they require as well, but that we continue to get ridership from people who do have a choice because we know every person we get on our system helps our environment and helps reduce congestion. It's really an instrumental piece in building an equitable future here. 
What role do unions play in equitable economic development? 
First of all, SEPTA has 15 different unions that we work with. We probably have about 7,500 union members, so a large majority of our more than 9,000 employees are union workers. 
Unions have shown up for us in a big way throughout the pandemic and they continue to with the I-95 collapse. We had a scrambling of frontline workers figuring out what new positions they could help us with as we increased service along I-95 and as we tried to add extra vehicles as well as extra scheduled trains running. With the majority of our employees being union workers, we wouldn't be able to do the work we do without them.