Education
A Q&A with Dave Argall
The Republican state senator and chair of the chamber's education committee discusses the education funding trial and the state's path forward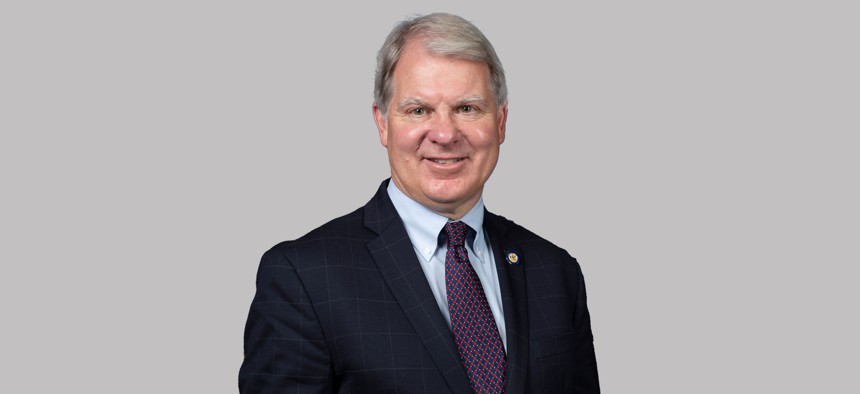 Lawmakers in Harrisburg will begin the process of fixing the state's now-unconstitutional public school funding system with a series of Basic Education Funding Commission public hearings this fall. One of the key players in funding talks will be state Sen. David Argall. 
City & State spoke with Argall, the Republican chair of the Senate Education Committee, to see what he's heard from constituents about investing in public education and how the state can chart a path forward. 
The interview has been edited for length and clarity. 
What concerns have you heard from constituents and in public hearings about the major issues related to public education and how they should be addressed?
I think everyone understands it's going to be very difficult. The challenge in Pennsylvania is simply our complexity. We have large school districts, we have small school districts and we have school districts with very, very considerable tax bases. We have poor school districts. We have rural school districts, we have suburban school districts, we have city school districts – it's difficult to find one solution that fits all of their needs.
Several school districts that I represent – I represent 20 school districts overall – were part of the lawsuit. I think the feeling there is, 'Okay, we were successful, but what happens next?'
Can you talk about the role technology plays in an equitable education system?
One of the things that we learned during COVID was that broadband is not a luxury. It's really important for students' education. 
COVID laid bare a lot of the issues we're seeing in the education system now. Can you speak to what we're seeing in terms of students falling behind and what's needed to help them catch up?
Everyone is frustrated. We have never spent as many dollars as we are currently on public education in Pennsylvania, and yet, we keep hearing that we're falling behind, we're not doing as well as other states and we're not doing as well as other nations … In some cases, perhaps the solution is indeed more money. In other cases, more money may not be the answer. We're trying to proceed deliberately here … Some public hearings have been held and some are yet to be held. 
What about property taxes and their impact, particularly in rural or lower-income school districts?
I've said it many times: I can't walk my dog without someone complaining to me about their school district property taxes. But that's not true for every senator in every district. I think if every school district had the same property tax issues that I face, I suspect we would have passed legislation on this 20 or 30 years ago. 
I had people complaining to me about property taxes when I was a college intern in the 1970s. This is an old issue, but we have made some progress. My grandfather taught in the 1920s in a small, rural, one-room schoolhouse. They paid him partially in vegetables. We don't do that anymore but we still have a lot of problems waiting to be addressed. 
Will resolving the property tax issue be a priority in funding discussions?
I am a strong proponent of lessening the impact of the property tax. I've tried to completely eliminate it but we did not have the votes for that. I'm hopeful we can find a way to at least lessen the pain of what is a very unfair and archaic property tax system that dates back to the 1830s. We have to find a better way to fund our public schools. 
What other education issues need to be prioritized?
The teacher shortage is real. It's much worse in some areas than others and in some disciplines than in others. That is another one of the important issues on our plate right now. 
When I was policy chair, we had 10 different public hearings from the Ohio border to the New Jersey border – all across Pennsylvania – on school violence and the issue of mental health came through loud and clear. We need stronger windows, yes, and we need better locks on the front door – but in every single hearing, they talked about mental health needs.