Education
A Q&A with Tony Watlington
City & State spoke with the Philadelphia School District superintendent to hear about his five-year strategic plan and his message to lawmakers as they consider the future of public education funding.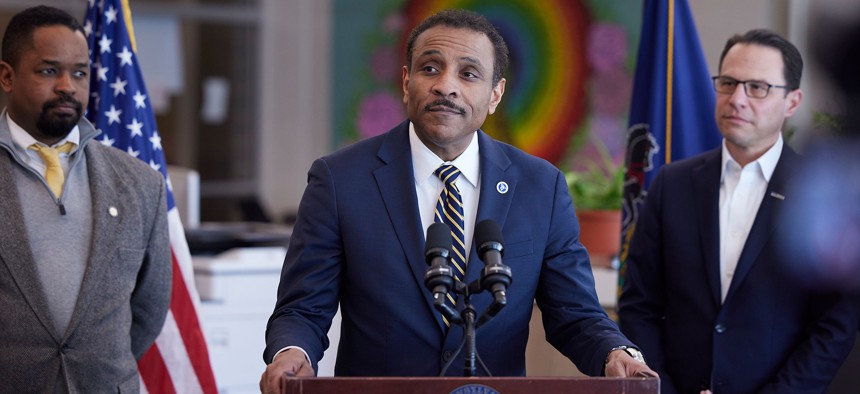 More than a year into the job, School District of Philadelphia Superintendent Tony Watlington has taken on the challenge of redirecting the state's largest school district amid ongoing facility issues, safety concerns, and now, a fresh focus on funding. 
City & State spoke with Watlington to hear about the district's new strategic plan and his message to lawmakers as they consider the future of public education funding. 
What is the district's five-year strategic plan – and how did you determine its priorities?
Our aspiration under our new strategic plan – titled Accelerate Philly – is to position our district to be the fastest-improving large urban school district in the country. 
We feel like we have the strategies to absolutely make it happen. How will we measure that? We have three key indicators nationally – as we compare with other large urban districts. Number one is the NAEP test, often referred to as "The Nation's Report Card," in reading and math. It's administered every couple of years in all 50 states to a subgroup of students in 26 urban municipalities. The second metric is how we compare to other large urban districts in terms of our four-year graduation rate. And the third is how we compare other districts in terms of our dropout rates – things we can compare somewhat apples to apples. 
We're excited after year one here that teacher and student attendance are up. The number of kids who dropped out of school is down and we are predicting that we're going to have some other good news in terms of the four-year graduation rate and, hopefully, in terms of academic achievement. 
For those students who can't wait for your five-year plan, what kind of immediate changes can they expect?
I think if you're a senior, graduating on time – within four years and not five, six or not at all – is important. Secondly, since the single most important factor in student academic growth is having a highly qualified, well-supported and stable teacher over time, strategies in this strategic plan will beef up the level of professional learning and support that we're providing to teachers so that they can better educate kids right now. 
On the parent side, we will launch a Parent University that provides some really robust supports for parents so they can not only be children's first teachers but be better equipped to support them on their educational journey. That won't happen this fall but it's something that will certainly happen by the beginning of next year.
What have you brought from past roles to your current one?
Having worked in a lot of jobs in a school, including as a bus driver, custodian, teacher, assistant principal, principal and curriculum coach at the district level, it has taught me a few things. No. 1, you really have to understand a school district from multiple perspectives top to bottom. It makes you more sensitive to the importance of all the people in the school district and the work they do. 
It's also taught me really how to look for the return on investment for every dollar that we spend at every level across the organization in order to identify what's really working and what data supports that. 
And third, having worked in a number of roles has helped me understand that people are our most important resource. We spend 75% or higher of our budget on people and their benefits. What we don't always do a good job of is ensuring they have good onboarding and appropriate training every year to make sure they do the best possible job they can do. 
What is the crux of your message to lawmakers regarding public education funding?
The number one thing that I would say to lawmakers is that in the School District of Philadelphia, we know exactly what to do to get better faster, to significantly improve student outcomes in terms of achievement, and we have an aggressive five-year strategic plan that outlines how we intend to do it. We fully intend to be good stewards of the public's tax dollars. We are going to execute well, and if we are funded appropriately, the children of Philadelphia will absolutely benefit.