As tax hike looms, Philly City Council ponders trimming tax abatement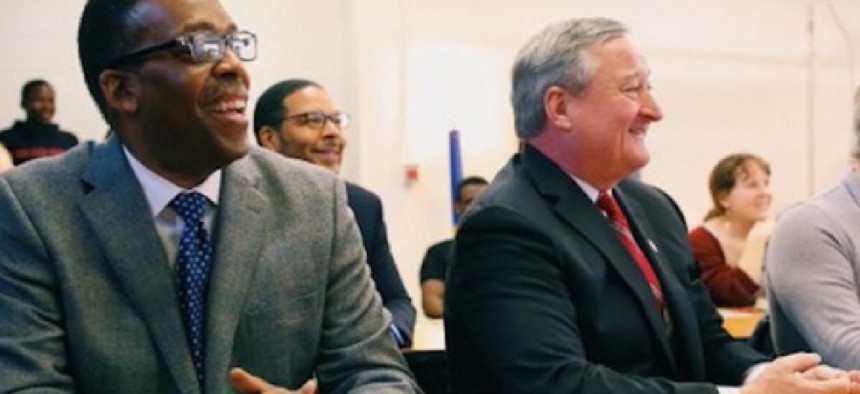 No one in Philadelphia City Council is sure how big of a tax hike Mayor Jim Kenney's administration will seek next year, but many are already convinced it's a near-certainty. 
Senior officials, like Deputy Mayor for Policy and Legislation Jim Engler, have acknowledged publicly that are considering a property tax hike amongst other measures to pay down $701 million in new school district obligations projected through 2022. Kenney is now tightly linked to the district's future due to his strong support for dissolving the state-imposed School Reform Commission and return local control of schools to the city, and likely has little interest in begging Harrisburg for a bailout so soon.
To many staffers and lobbyists in council the question is already "how much" – with wild guesses ranging anywhere from 5 percent to 30 percent. But the administration has given few details about its intentions to date.
"The Mayor will announce in his (February) budget address what he plans to ask for the District and how he hopes to fund it," said Kenney spokesperson Lauren Hitt, on Monday. "We don't anticipate doing so before then."
Soon-to-be-former-SRC member Bill Green, a longtime rival of mayor's, pegged the district's needs for 2018 at roughly $150 million on top of its current $2.9 billion budget. He said that officials could theoretically dip into the school district's reserve funds to delay an increase, betting that Kenney would seek a hike after his reelection bid in 2019.
"It's an 11 percent tax increase in 2018 or a 17 percent plus increase after the primary in 2019," he said. "What do you think they will do?"
Another top school official also predicted a property tax increase "somewhere south of 20 percent," based on early discussions with administration figures. The SDP referred all questions to the city.
Elected officials have historically tended to favor upping Philly's comparatively low property tax rate over other municipal taxes, like the wage tax. However, former Mayor Michael Nutter went to that well multiple times in recent years and Kenney is still feeling the heat from his 2016 soda tax proposal.
But he could face more than just public blowback from proposing a real estate tax increase. 
This week, sources said Council President Darrell Clarke intended to use any revenue proposal as an opportunity to "revisit" the city's 10-year property tax abatement, which was implemented in 2000 to spur real estate investment and development.
Figures like Clarke have made little secret of their interest in tweaking the terms of the abatement on newly constructed or rehabbed properties, which is regarded by its critics as a handout to wealthier, developing neighborhoods in and around Center City.
Kenney's office says he's open to revisiting the terms of the abatement, but the perk is clearly popular among its recipients and is still viewed by some as a necessity to spur development in an impoverished city. Real estate mogul and Councilman Allan Domb has even called for its expansion. 
Clarke's allies have been unsure if they have the 12 votes needed to pull it off. While one council member said total abolition was off the table, blunting a proposed tax hike by limiting the term or geographic scope of the current citywide abatement was not.
The mayor will also face challenges beyond the school district next year. The Pennsylvania Intergovernmental Cooperation Authority, the city's fiscal watchdog, noted that Philadelphia enjoys a growing tax base, it also faces some $200 million in increased labor costs from new union contracts by 2022 – which Kenney supported. 
Hitt said the city did not expect its own budget to be in jeopardy next year, but it was too early to say for sure. 
"(The city) doesn't expect a shortfall this year, but it's too early to project for next year since we haven't yet completed our revenue and fixed-cost estimates," she said.