Environment
Pittsburgh could join other municipalities in lawsuit over plastic bag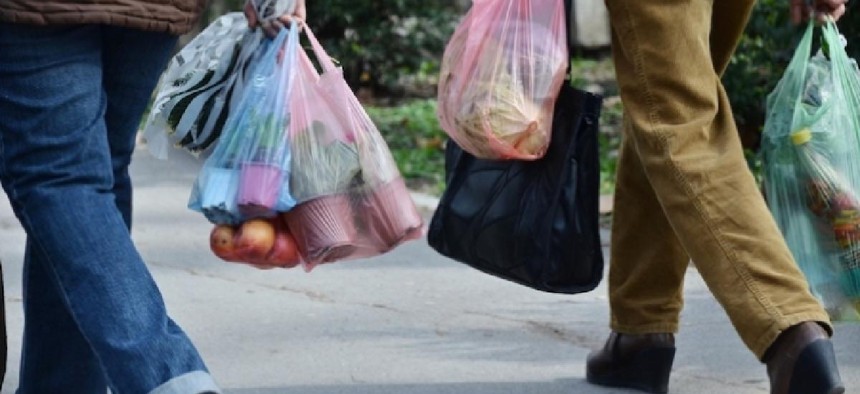 Pittsburgh may soon join the list of municipalities challenging a statewide moratorium on single-use plastic bag bans or fees. 
Erika Strassburger, Pittsburgh city councilwoman, introduced a resolution last week to begin the process of banning plastic bags in the city and said the city will join the likes of Philadelphia, West Chester, the township of Lower Merion, and the borough of Narberth in their suit against the preemption on plastic bag bans. 
The preemption was implemented by Senate President Pro Tempore Jake Corman (R-Centre) as a provision within the state's budget nearly two years ago. It was originally set to last one year while the state conducted studies on the potential environmental and economic impacts of plastic bag bans, but due to the pandemic, it was extended for another year. 
From a policy standpoint, municipalities and Democrats believe it's the Republican-led legislature overstepping its political boundaries. The lawsuit claims that as well, arguing it violates the state's environmental rights amendment and single subject rule of the Pennsylvania Constitution. 
"There is too much [preemption] in so many different issue areas, and frankly, it's insulting to us as local legislators," Strassburger said. "They imagine we do not have the capability to govern ourselves, and it's a problem with everything from adjusting and implementing new taxes to setting speed limits."
Rep. Greg Vitali, who attempted to remove the language from the fiscal code before implementation, has been a vocal opponent of the preemption. "Corman is abusing his authority. He is going way beyond what is proper for an elected official to protect some jobs in his district," Vitali said. "That is why municipal associations, township supervisors, and more have all come out against these attempts, because municipalities should have the right to protect their community."
Corman's office said he cannot comment on the issue because it "involves pending litigation in which the General Assembly is involved."
Supporters of the preemption argue that plastic bag bans could have conflicting environmental and economic impacts, and that the studies are required to get a full understanding of potential consequences. Critics of the preemption say that it's Corman trying to protect jobs in his district, which includes the Hilex Poly plastic bag manufacturer. Strassburger believes those two priorities don't have to be mutually exclusive. 
"I think that choosing between being environmentally friendly and supportive of jobs is a false choice," she said. "If you're doing it right and being inclusive with the conversations, we can find ways to honor the jobs that have produced fossil fuels and plastic, while finding a transition to a new way of operating society."
Strassburger said she's in discussions with businesses and other stakeholders about how to introduce the ordinance in Pittsburgh later this year. She stressed the importance of equity for everyone involved, suggesting bulk purchases or grants may be available for retailers to offset extra costs. 
"Just like the city does not want to be told how to operate, we trust that businesses know their customers and know what they want," she said.