Economic Development
Philly Councilwoman KGR is leading the charge on workforce development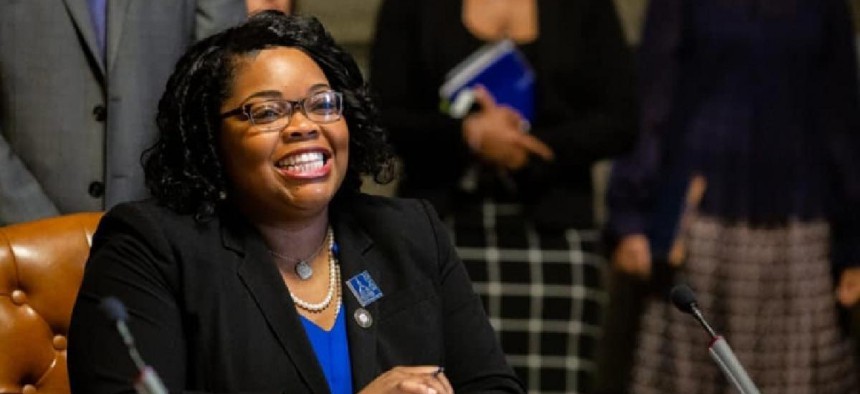 Coming out of the pandemic, cities like Philadelphia are making moves to provide training and employment opportunities to those looking to reskill or upskill. At-large City Councilwoman Katherine Gilmore Richardson is one local elected official attempting to lead the charge on workforce development by pushing to connect employees to new opportunities. 
Gilmore Richardson introduced a bill, passed out of committee June 10, that would require businesses to provide a "workforce development and career pathways information sheet" at the point of separation with an employee. 
City & State spoke with Gilmore Richardson on her workforce development initiatives and what she thinks the city should do to help workers get back on track following the pandemic. Her responses have been edited for length and clarity.
C&SPA: What were your motivations in advocating for workforce development initiatives? 
KGR: First of all, I'll say that I'm a former teacher. When I started working in Overbrook [High School], it was really the first time I saw young people not only wanting to go to college but having post-secondary career aspirations. It was a wonderful experience for me. Then I started working at Pennsylvania Hospital, and we were there for the transitional workforce development program for individuals looking to become certified nursing assistants. I remember we hired people all working in different areas in the hospital and it was just a wonderful experience to connect them with employment. 
But when it really came home for me was when I was running for office. Everywhere I went, people said, "It's great you're running for office, but do you have a job for me?" That was universal, everywhere I went across the city. That really deepened my interest and understanding of the fact that we really have to focus on workforce development in the city of Philadelphia if we're serious about lifting people out of poverty. Everybody talks about supporting families with sustaining jobs and wages, and the ability to get families out of certain circumstances. The only way we're going to be able to do that is through developing our workforce. 
A lot of things we have to do come from our education system. We have to take a really serious look at curriculum realignment in the district to look at job opportunities that we see, particularly post COVID, in our labor market indicators to ensure that our curriculum lines up with the job opportunities that will be in Philadelphia over the next five, 10, or 20 years. And then we can look at community college and our colleges as an opportunity to upskill individuals who may not need a college degree for their line of work, but you do need an opportunity to build skills and training so that they can vie for some of these high-wage paying jobs that are already here in this city. 
I also think it's important for us to really focus on how we are looking at all of these new burgeoning industries that are here. I hate to say coming because they're already here. We are a tech hub. We have immunotherapy companies setting up in Philadelphia and in our region. We have Hilco's refinery site setting up a logistical hub. So, there are a lot of opportunities to help individuals with family-supporting and sustaining jobs without having them go to college, and I think we have to capitalize on all those opportunities. 
C&SPA: The pandemic obviously revealed a multitude of issues in every area. What kind of workforce-related issues did it reveal in Philadelphia and how should the city try to address them?
KGR: This pandemic – in every facet of our lives – it just uncovered and unveiled so many things. Now, I think this is an opportunity for us to really look at workforce development differently, and really create the infrastructure and the support systems for our workforce development mechanisms here in the city to help Philadelphians thrive. One thing we have to do, which is at the forefront of my mind, is ensure that Philadelphia has the internal infrastructure and readiness for whatever comes out of the American Jobs Plan. Outside of the American Rescue Plan, the jobs plan is another opportunity for us to leverage federal dollars to help the City of Philadelphia. That's one thing I think we really need to be focusing on in the short term. 
In the long term, I think we need to take a really serious look at the fact that most of the jobs in the industries that are growing in Philadelphia over the last few years have been low wage. We need to look at how those low-wage jobs are growing and figure out a pathway for individuals to get into higher wage positions. I'll give you an example. We had a number of home health aides who, as part of the nature of their work, have to interact and go into patients' homes to help them in their home environments. A lot of the patients are in vulnerable states, health wise, and we were told not to go to other people's homes just by virtue of the pandemic. It really, detrimentally impacted the home health aide career. So we worked through our City Council leadership team and the New Normal Budget that funded a jobs program component, and then we came up with a New Normal Health Aid Program. We found that home health aides were overwhelmingly women of color, and they were disproportionately impacted by COVID-19 when the pandemic hit. With this program, we were able to partner with a workforce development provider and our development agency, which I think will play a really important role in everything we have to do to give them training. They go from being a home health aide, and are up-skilled and trained, to [being] a nurse assistant, and immediately go into a position that's nearly $6,000 more per year. 
It's that kind of granular work that we have to do to really move folks through to get into careers and employment. I think throughout COVID, it laid bare the need for us to be intentional about the work we're doing. We have to look at the data and research, and what it's telling us relative to our job market. Then we have to be intentional about the programs we create to fill in the gaps. 
C&SPA: You released a report in May following a hearing on Career and Technical Education. Could you elaborate on some of the most glaring needs that were affirmed during that hearing?
KGR: I think one of the glaring needs is that we need to take a serious look at our literacy rates in the City of Philadelphia, with adult education being a very important component of that. Another thing is, again, the curriculum realignment. We have a lot of manufacturing, logistical hubs, cell immunotherapy, and tech companies either here or coming to Philadelphia. If we want either our young people or our working population to be a part of that, we need to properly train and provide educational opportunities necessary for them to be involved with it ... 
C&SPA: Looking forward, what do you think the city can do to attract more companies and more workers?
KGR: I think the workforce is here. There's 1.6 million people in the City of Philadelphia, and everything that we've been told from the census numbers is that upwards of 25% of those individuals are living in poverty. I think we drill down and focus on those folks. How do we give them the opportunities to refill and upskill into these positions? I think the people here. I don't think we have a people problem, we just have to give the people the opportunity so that they can be a part of all of these industries that are either here or coming to the city. 
From the business side, again, I think it's about us being more intentional about working with them. We also need internal infrastructure from the city so businesses know that we care about workforce development. That's why I would not stand for us eliminating the Office of Workforce Development in last year's budget cycle because I knew that it will be an important component in how we are able to move more Phildelphians into family-supporting and sustaining jobs and careers.