Transportation
PennDOT panel recommends fee hikes to replace the state's gas tax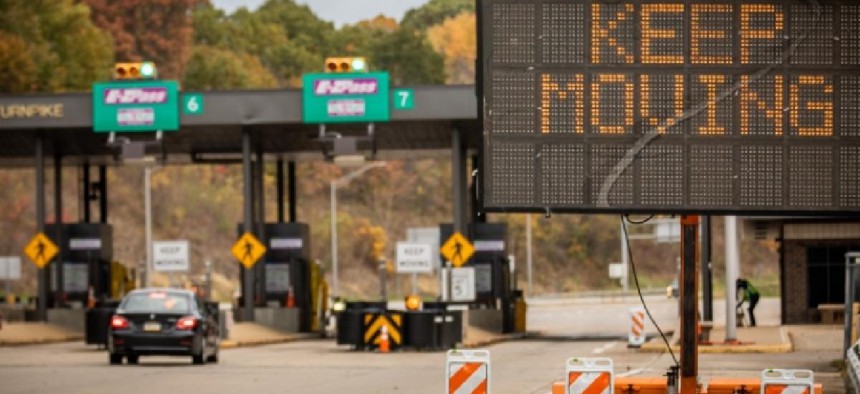 A bipartisan commission convened by Gov. Tom Wolf is recommending that lawmakers approve a slate of transportation funding recommendations to replace the state's gas tax, including a user fee for miles traveled, a package delivery fee and an electric vehicle fee. 
The commission's report, released Friday, which was sent to the governor after five months of meetings and deliberations, is designed to offer policymakers a slate of options to replace a transportation funding stream that has been beleaguered by a decline in gas tax revenue. 
The Transportation Revenue Options Commission, known as TROC, is asking lawmakers to approve new funding sources to cover the Pennsylvania Department of Transportation's $8.8 billion budget, plus an additional $9.35 billion in unfunded transportation needs to ensure the state's transportation systems stay up-to-date. 
TROC said the $9.35 billion funding gap needs to be addressed in order to afford billions of dollars in highway improvements and repairs, as well as improvements to highway facilities and investments in multimodal transportation options. 
Some of the funding recommendations made by the commission include:
A mileage-based user fee (MBUF) that would charge drivers for the amount of miles traveled in a particular vehicle
A toll on corridors of highways and expressways, as well as a toll on managed lanes
The elimination of funding transfers from the Motor License Fund to the Pennsylvania State Police
New or increased fees for vehicle registration, electric vehicles, vehicle rentals, vehicle leases and package deliveries
An increase in both the vehicle sales tax and jet fuel tax
Indexing the state's current gas tax to inflation
PennDOT Secretary Yassmin Gramian, who chaired the commission, said in a letter to Wolf that the mileage-based user fee could be the most lucrative, long-term funding source for state transportation needs. 
The mileage-based user fee, Gramian wrote, "presents the most promising long-term solution in Pennsylvania and nationally for aligning transportation revenue with the needs of the system." However, Gramian said it could be years until a MBUF would bring in significant revenue for the state, and that's assuming it's approved by policymakers. 
"In the meantime, we need bold action to meet the system's improvement and maintenance needs, and to prepare the way for MBUF."
The commission separated its recommendations into three separate phases, encompassing short-, medium- and long-term solutions. Funding options available in the short-term and near-term include a mileage-based user fee for electric vehicles, increased vehicle registration fees, an electric vehicle fee, corridor and managed lane tolling, a vehicle lease fee and a package delivery fee. 
Gramian said in her letter to Wolf that such solutions are needed until the state could develop and implement a full-scale mileage-based user fee to replace the gas tax in its entirety, which could generate $8.9 billion if the state adopts an 8.1 center-per-mile model. 
According to the report, state gas tax revenue has been decreasing due to improvements in fuel economy and a gradual switch to electric vehicles. That development prompted Wolf to commit to phasing out the gas tax. 
However, the array of funding options outlined by the commission is already facing steep odds in the General Assembly, imperiling Wolf's efforts to move away from the gas tax. 
GOP state Rep. Stan Saylor, who chairs the House Appropriations Committee, told the Associated Press: "I don't think it will be received well at all right now." House Majority Leader Kerry Benninghoff, also a Republican, said in a statement that the proposed fees are coming at the wrong time, given that the federal government is currently working on an infrastructure package and the state is trying to plot an economic comeback following the effects of COVID-19 shutdowns.
"Before we go imposing multiple tax increases on Pennsylvanians who are already paying too much and receiving too little in return, raising the cost of commerce and energy, and prohibitively pricing Pennsylvania out of its status as the Keystone State, we should first see what comes out of ongoing federal discussions and how our continued economic recovery progresses," Benninghoff said.