Energy
Energy storage is seen as crucial to meeting renewable energy goals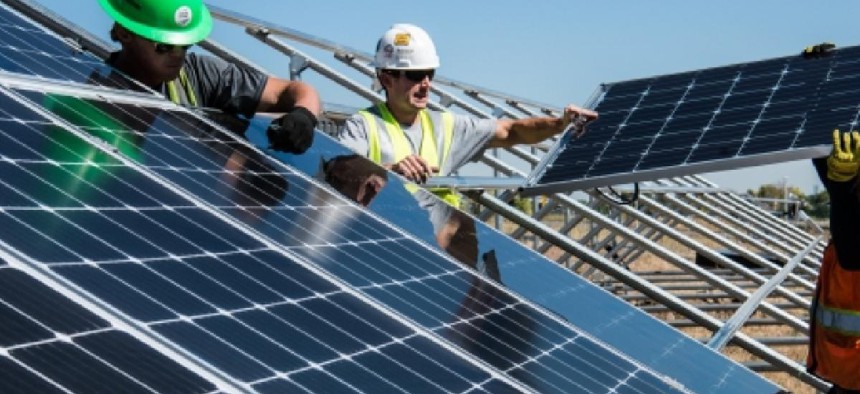 Pennsylvania should expand its energy storage capacity to help the state transition to a "cleaner, more resilient electric grid," according to a Department of Environmental Protection (DEP) report.
The report, released in April, outlined the role of energy storage in developing a greener electric grid and identified policies and programs the state can pursue to advance its energy storage capabilities. 
With renewable energy like solar and wind power not considered on-demand sources, energy storage will be crucial in the state's ability to meet its renewable energy goals. Storing energy efficiently can curb concerns over the solar and wind energy's strength to meet energy demands when it's not sunny or windy. 
The DEP's new Energy Storage Consortium is set to meet for the first time on Sept. 28 to discuss policy and market strategies to help the advancement of energy storage. It's among the first steps the state has taken to identify ways to expand energy storage and the renewable energy market. 
"Pennsylvania's climate continues to get warmer, and we've already started seeing the impacts, with increasing swings in temperature and extreme weather," DEP Secretary Patrick McDonnell said in a statement. "Solar-plus-storage can help in two ways: It can help slow down climate change by incorporating more clean renewable energy into Pennsylvanians' daily electricity use, and it can also make the grid more reliable during extreme weather events, better protecting Pennsylvanians' health and safety as well as critical facilities."
DEP's assessment lists several recommendations, including establishing a storage procurement goal, making changes to the utility planning and procurement process for energy storage, streamlining state and local permitting, updating the interconnection process for distributed energy resources and supporting research and development of new energy storage technologies. 
The state currently has 22 operational and/or planned utility-scale energy storage projects, such as pumped hydro, lithium-ion batteries and thermal storage. Pairing large-scale solar development projects with battery storage can increase the state's renewable energy generation. According to the DEP, if 25% of its 11 gigawatts solar target is paired with 1.5 gigawatts of battery storage, consumers could save up to $273 million in wholesale electricity costs and environmental impacts. 
Gov. Tom Wolf announced plans in March for an initiative to have nearly 50% of the state government's electricity go through seven new solar energy arrays around the state, totaling 191-megawatts. 
"Pennsylvania has been a national energy leader for more than 100 years. As
we continue to diversify our grid with clean, renewable sources of energy, we want to
maintain Pennsylvania's leadership position and bring the associated economic, health
and environmental benefits to all Pennsylvanians," Wolf said following his announcement. 
Green energy has been a point of contention in the legislature in years past and it reached a boiling point this year with Republican efforts to reject Wolf's executive order to place the commonwealth in a regional cap-and-trade program, known as RGGI. 
Members of the Senate Environmental Resources & Energy Committee couldn't be reached for comment. 
Pennsylvania is among the nation's leaders in energy production, largely due to its growing natural gas industry. Republicans have argued that shifting toward renewable energy will threaten both existing jobs and the grid's reliability. 
If the state can develop effective energy storage technologies, those concerns might be put away.