General Assembly
House Dems unveil plan to legalize adult-use marijuana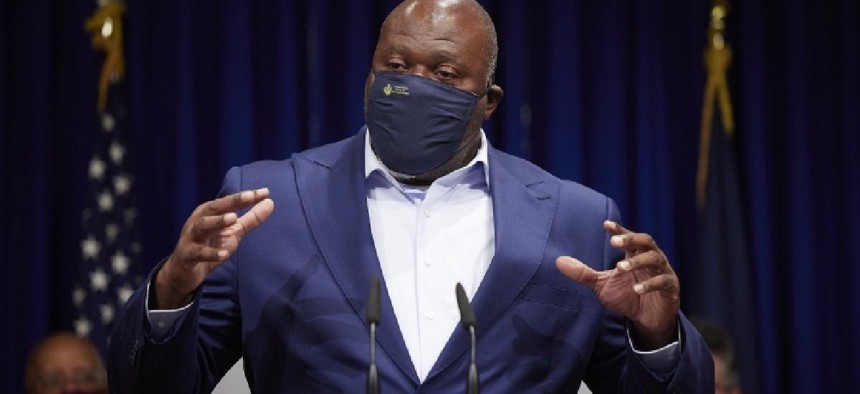 Two Democrats in the Pennsylvania House of Representatives on Tuesday unveiled a new plan to legalize marijuana for recreational use, citing the proposal's potential to bring in new revenue while also righting wrongs in the state's criminal justice system.

The proposal, introduced by state Reps. Jake Wheatley and Dan Frankel, would legalize recreational marijuana in Pennsylvania for adult-use, automatically expunge marijuana-related offenses and release non-violent offenders from prison. 
Wheatley said the legislation, slated as House Bill 2050, will set the bar for what state-level cannabis legislation should look like. 
"We think we have the industry standard," Wheatley said, noting that his commitment to cannabis legalization stems from the impacts it could have in the criminal justice realm. "We really think there are components in our bill that frees up our criminal justice system so that our law enforcement agencies and spaces in our correctional institutions could be opened up and free to really go after more significant, impactful crime and activity."
Wheatley's bill would create a Cannabis Clean Slate program, which would automatically expunge certain pot-related offenses. That component earned the support of Brandon Flood, the state Board of Pardons secretary, who said the automatic expungement of marijuana records would help alleviate the application backlog at the Board of Pardons. 
"To the extent that we can divert those applicants from coming before our board and going through a more appropriate mechanism of removing that record, we're all for that," Flood said. 
Frankel, who is co-sponsoring the measure alongside Wheatley, said legalizing marijuana would actually lead to a safer substance than what is currently found on the street. 
"As products like fentanyl are increasingly found in our other outlawed drugs, it's becoming even more clear that we must regulate cannabis, not only for social justice reasons, but also to ensure the quality of the product," Frankel said. "The only way to make sure that cannabis is safe is to regulate it, monitor it and to take bad products off the market."
Frankel said some revenue from the taxation of cannabis would be directed toward substance abuse disorder treatment, as well as educational efforts about cannabis. 
The bill sponsors also framed the proposal as one that could be a boon for Pennsylvania farmers. Additionally, Wheatley and Frankel said tax revenue from cannabis would be directed toward grants to small businesses, as well as to businesses owned by women and minorities. 
Republican leaders in the General Assembly have expressed skepticism of the idea of legalizing marijuana for recreational use, though Republican state Sen. Dan Laughlin came out in support of legalizing it for adult-use earlier this year. 

Two of Pennsylvania's neighbors – New York and New Jersey – have already legalized adult-use marijuana. And a 2018 report from former Auditor General Eugene DePasquale suggested that Pennsylvania could bring in $581 million in annual revenue if the state legalized marijuana for recreational use.