General Assembly
Another GOP senator proposes legalizing adult-use pot in PA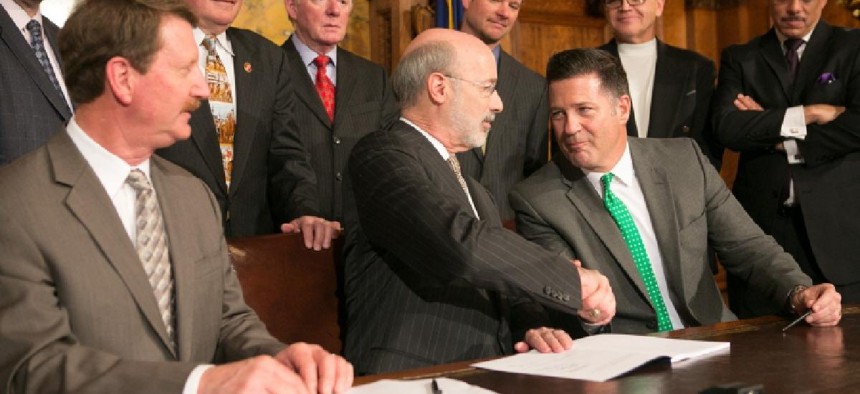 Republican support for legalizing recreational marijuana in Pennsylvania is growing. 
After state Sen. Dan Laughlin announced his support for legalizing adult-use marijuana earlier this year, state Sen. Mike Regan has also thrown his support behind the cause, and is sponsoring a separate proposal to legalize it in Pennsylvania. 
Regan outlined his proposal in a co-sponsorship memo that was circulated on Monday. His forthcoming legislation would direct tax revenue from marijuana sales toward law enforcement initiatives, including efforts to combat violent crime and the illegal drug trade. 
The proposal would direct revenue to local law enforcement agencies, as well as the Pennsylvania State Police. In his memo to colleagues, Regan says using marijuana revenue to fund the state police would cut back on the agency's reliance on Motor License Fund dollars, which could then be used for infrastructure improvements. 
"Independent estimates have forecasted that Pennsylvania could receive $1 billion annually in the form of tax revenue through the legalization of adult-use marijuana," Regan wrote in an op-ed detailing his support for marijuana legalization. "It is important that we use these dollars wisely."

Regan also stressed that Pennsylvania could experience "border bleed" since two of Pennsylvania's neighboring states have already legalized marijuana. 
"We will soon experience border bleed with Pennsylvanians contributing to the tax base of those states and helping to pay for their roads and bridges, while the commonwealth deals with the implications of purchases brought across state lines without the revenue or resources in our legal system to address them," he wrote. 
Regan's bill would legalize recreational marijuana for adults ages 21 and older. The legislation would establish a regulatory control board and remove criminal penalties for use and possession. 
The proposal would also allow marijuana users to buy and own guns, in contrast to current federal law, which bars marijuana users, including those with a medical marijuana card, from owning firearms. 
A spokesperson for Senate President Pro Tempore Jake Corman declined to comment on the measure. A spokesperson for Senate Majority Leader Kim Ward did not immediately respond to a request for comment. 

Support for marijuana legalization in the commonwealth has increased in recent years. According to an annual public health poll conducted by the Muhlenberg College Institute of Public Opinion, support for legalization has steadily increased since 2013, when just 33% of Pennsylvanians supported the idea. 
This year's poll found that 58% of Pennsylvanians support legalizing marijuana for recreational use, a finding that comes as more and more states around the nation contemplate legalization.
Supporters of recreational marijuana legalization applauded Regan's entrance into the debate. Lt. Gov. John Fetterman, who has made the subject a key focus of his time in office, called Regan's support "significant."
State Rep. Jake Wheatley, a Democrat who introduced his own legalization bill last week tweeted: "Welcome to the fray!!! Let's get it done!!" And Laughlin, the first Senate Republican to co-sponsor a legalization bill, also tweeted words of support. 
"No longer alone in my efforts from my side of the [aisle] to legalize adult use cannabis. We now have a fellow Republican willing to speak out. Thx Senator Mike Regan for joining the fight," Laughlin wrote.