Environment
Facing criticism, Shapiro stands by move to regulate RGGI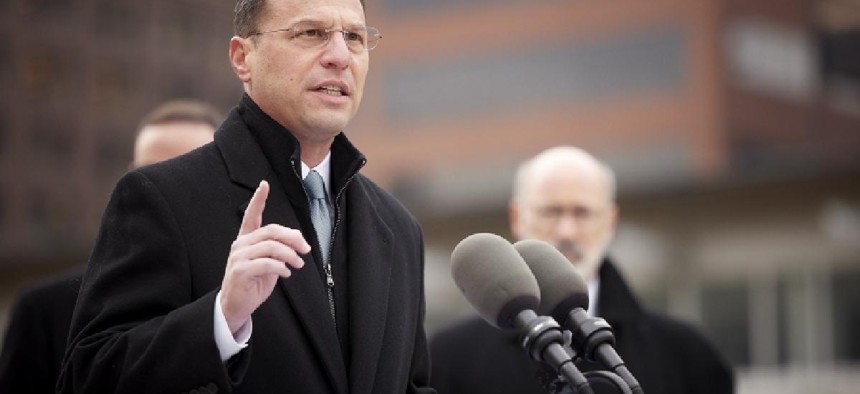 As Republicans lob criticisms at Attorney General Josh Shapiro over his stance on Gov. Tom Wolf's plan to cap carbon emissions from the state's electricity sector, the Democratic gubernatorial hopeful is standing by his office's decision to sign off on the controversial regulation. 
Shapiro's office determined in late November that the regulation, which would pave the way for Pennsylvania to join the Regional Greenhouse Gas Initiative – a multistate effort to curb emissions – met state requirements under the Commonwealth Attorneys Act. That decision came despite prior comments from Shapiro expressing reservations about the impact capping power sector emissions could have on the state's economy. 

In a statement, the attorney general's office said state law does not prevent the regulation from moving forward in the regulatory process and that the Commonwealth Attorneys Act does not give Shapiro the ability to block a regulation based on matters of policy. According to the act, the attorney general may object to a regulation if it is in "improper form" or "not statutorily authorized or unconstitutional."
"The Office of Legal Review analyzed the rule making packet and determined that existing state law does not prevent this regulation from being promulgated," a spokesperson for Shapiro's office said. "The rule of law is the foundation of all the work of our office. The scope of our review under the Commonwealth Attorneys Act is limited and we are prevented by law from rejecting a proposed regulation based on policy concerns."
The regulation, once it takes effect, would establish a carbon trading program in the state that places a cap on carbon emissions produced by power plants. Under the plan, emitters would be required to purchase allowances in order to be able to continue emitting carbon, and the number of available allowances would decrease over time. 
The Pennsylvania Department of Environmental Protection estimates that the program would reduce carbon emissions by 31% compared to 2019 levels. The state's CO2 budget would start at 78 million tons in 2022 and be lowered to 58 million tons in 2030.
The plan has angered lawmakers in the western part of the state who fear that the plan would force fossil fuel-fired power plants to prematurely close, resulting in job losses and economic harm to communities that house the power plants.

This week, Republican lawmakers in the state Senate criticized the decision from Shapiro's office to approve the regulation. "Just a few short weeks ago at a campaign stop in Indiana County, Josh Shapiro said he had real concerns that RGGI would hurt families at a time when many are struggling to put food on the table," Senate President Pro Tempore Jake Corman and Sens. Gene Yaw and Joe Pittman said in a joint statement. "Speaking to a pro-energy community, he pledged to protect energy jobs. However, when he had an opportunity last month to keep his promise to those working families, he completely failed them."
The GOP lawmakers (including Corman, who is also running for governor) accused Shapiro of putting "his own political interests ahead of his duty to stand up for the people."

A spokesperson for Shapiro's gubernatorial campaign said Shapiro's stance on RGGI has not changed. "Form and legality is a narrow legal process as determined by the Commonwealth Attorneys Act, so I'd direct you to OAG for any comment on their recent work," said Shapiro spokesperson Will Simons. "Josh Shapiro's position towards RGGI remains the same."
In late October, The Associated Press reported that Shapiro had concerns about the state's entrance into RGGI. "We need to take real action to address climate change, protect and create energy jobs and ensure Pennsylvania has reliable, affordable and clean power for the long term," Shapiro said. "As governor, I will implement an energy strategy which passes that test, and it's not clear to me that RGGI does."
Shapiro later told City & State that as governor, he would "make a determination" about whether the state's entrance into RGGI can simultaneously protect jobs and address climate change.
"I think it is a false choice to suggest that somehow we have to either protect our planet or protect jobs – that somehow we have to choose between environmental justice and the dignity of work," Shapiro said. "Those are false choices."