Budget
The Pennsylvania executive budget by the numbers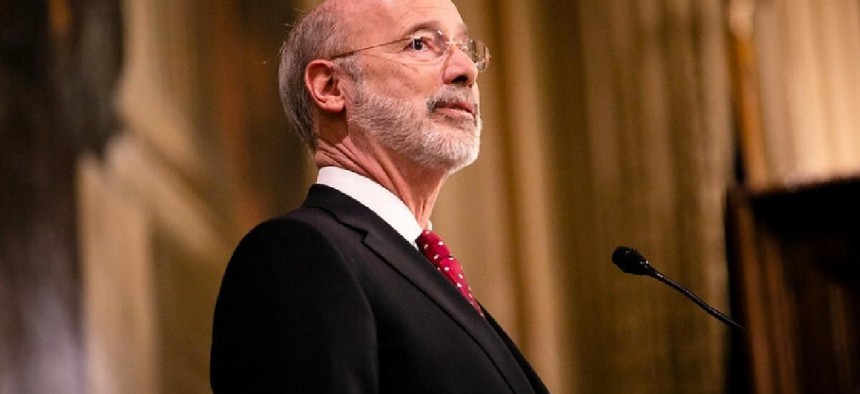 Gov. Tom Wolf delivered his annual budget address to Harrisburg lawmakers for the final time Tuesday morning. The formal beginning of the state's budget negotiations process, Wolf unveiled his budget in front of several elected officials looking to take his place next year. 
The party dynamics will once again be at play as the Democratic governor looks to solidify his legacy in Harrisburg. Wolf continued his focus on increasing investments in education, economic development, and healthcare. At the same time, Republican leaders in the General Assembly are expected to push back on his ambitious spending plan and counter his proposal to spend the billions of dollars of remaining federal relief funding. 
Going into his final year, Wolf has emphasized the Keystone State's good financial standing compared to when he first took office. The state is also still in pandemic recovery mode. As this year's budget boasts a 12.8% change in corporate taxes and an overall surplus, the state is in a much better position compared to last year. In the coming weeks, we'll see how the Wolf administration and Republican-controlled General Assembly grapple with increased revenues and a stash of federal aid in what will be a pivotal election year. 
Here are some of the key numbers Wolf has proposed: 
$43.7 billion in General Fund expenditures, compared to the $39.9 billion approved last year. 
$47.1 billion in total revenues, compared to $46 billion last year.
$2.865 billion retained in the Rainy Day Fund.
$1.55 billion: the total increase in Basic Education Funding, including $1.25 billion through the Fair Funding Formula and $300 million in the Level Up initiative.
$200 million: the total increase in Special Education Funding.
$125 million investment in higher education.
$12/hour: the minimum wage proposal for July 1, 2022, with an annual increase of $.50 per hour until the wage is $15/hour.
$45,000: the proposed minimum teacher salary. 
2%: the cut in the corporate net income tax rate, from 9.99% to 7.99% by Jan 1, 2023, which would be reduced by another one percent per year on a path to 4.99%. 
$15/month: the increase in SNAP benefits for low-income, older adults and adults with disabilities.
$7.7 million: the investment in law enforcement technology for mobile video recorders and body-worn cameras.
$7.2 million: the investment to better support county and municipal health departments.