Education
School budget report details how districts are spending relief funds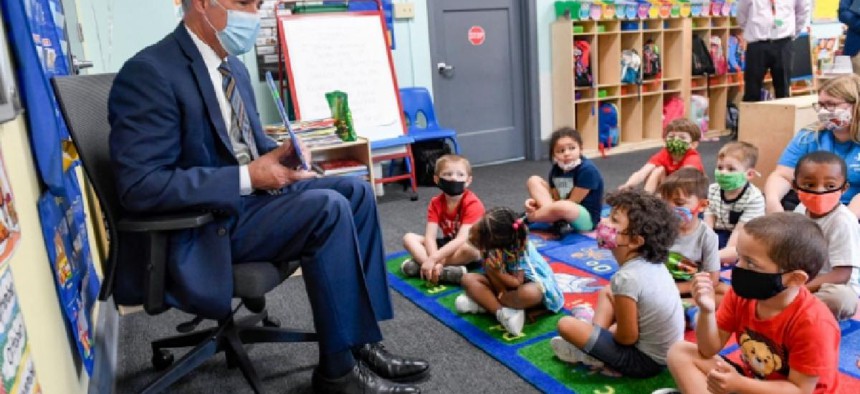 Labor shortages, rising costs and access to technology: the economic concerns of many are hitting school districts across the commonwealth. 
The Pennsylvania Association of School Business Officials, known as PASBO, released its winter school district budget report Monday alongside the Pennsylvania Association of School Administrators. The two groups conducted surveys of school districts and officials to determine the financial, operational and economic issues facing public schools across the commonwealth. 
School districts received federal stimulus funds through the Elementary and Secondary School Education Relief (ESSER) Fund during the pandemic, totaling more than $7 billion over three separate federal acts from March 2020 to March 2021. Much of the funding is required to be allocated for support learning for students impacted by lost instructional time, and school districts now have until September 2024 to hear from students, parents, teachers and administrators about how to spend the billions of remaining ESSER funds. 
---
---
The report found that school districts are spending ESSER funds mainly to purchase educational technology equipment, implement programs targeted for student learning loss, maintain or increase staffing levels and provide mental health support services for students. 
It cites bus driver and staffing shortages, as well as increased costs and supply chain issues, among school districts' chief financial concerns. The findings also come amid the ongoing fair school funding trial in Pennsylvania that pits a group of school districts, parents, the state conference of the NAACP and the Pennsylvania Association of Rural and Small Schools against the governor, the department of education, education secretary, state board of education and the leaders in the General Assembly. 
"Over the last 10 years [mandated costs] have grown by $6.5 billion, while state funding has only grown 2.8 billion," Dr. Andrew L. Armagost, director of advocacy and analytics, PASBO, told City & State. "The issue of funding keeps coming back because we don't address either the mandate side or the funding side, and so even though we do have historic levels of education funding, we have historic levels of mandated costs."
Higher costs have hit school districts in a multitude of ways throughout the pandemic. Some of the mandated costs can be attributed to increasing charter school tuition rates, enhanced health and safety protocols, and new programs targeting students in need. 
During a Senate Democratic Policy Committee hearing Tuesday, Pennsylvania State Education Association President Rich Askey spoke on the need for a long-term solution to staffing shortages. 
"The deterioration of the educator pipeline occurred steadily over a 10-year period, so we must begin our efforts with the understanding that fixing this problem is not something that is going to occur in a single budget year," Askey said. "It's going to take a sustained, multi-year effort to turn the tide – one that should be informed by data and outreach to current educators and young people to understand the challenges they are facing to stay in or enter the profession."
PASBO recommended state and federal policymakers find ways to help schools continue investing in successful programs beyond ESSER funds' expiration dates, assist schools in overcoming supply chain challenges, and expand funding support for schools experiencing compounded growth in mandated costs. 
Gov. Tom Wolf has boosted education spending throughout his time in Harrisburg, and with his final budget address approaching, he's expected to make one last effort to solidify his legacy in that area. 
"Investing in education has been a priority throughout the Wolf administration and we appreciate PASBO's advocacy as we seek to invest further in education," Kendall Alexander, a spokesperson for the Pennsylvania Department of Education, said in a statement. "The governor believes more must be done to fund our schools and he will continue to make investments in education a priority when he releases his budget proposal next week."