Energy
PA Republicans call for pipeline expansions following invasion of Ukraine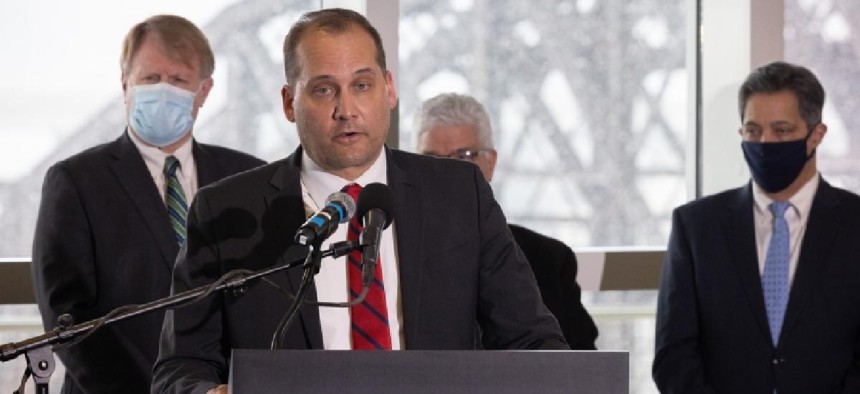 Pennsylvania Republicans are among those pressing the Biden administration to allow construction to resume on the Keystone XL pipeline, which once promised to transport over 800,000 barrels of crude oil per day from Canada to the U.S. Gulf Coast. 
The push comes as the Russian invasion of Ukraine threatens to further disrupt energy markets, especially following recent sanctions levied by the U.S. and European allies. 
Given Russia's status as an oil and gas exporter, Republican state lawmakers are introducing a resolution that urges President Joe Biden to restart construction of the 875-mile pipeline – a move they say would bolster the nation's energy independence. 
---
---
"This resolution demands that we reengage in the discussion of energy independence," said state Sen. Wayne Langerholc, who chairs the chamber's Transportation Committee. "We must use the abundant natural resources that we and our allies have within our reach to put us on a path toward energy independence. While the Keystone XL pipeline is but one piece of this puzzle, it represents a tangible solution to the problem … We cannot continue to be held hostage to foreign entities and radical environmentalists." 
He was joined by state Sens. Gene Yaw and Joe Pittman, both of whom co-sponsored the resolution. Yaw said that Americans could see drastic energy price increases as a result of the crisis, while Pittman said restarting the pipeline would allow the U.S. to supply its allies with energy.
"Unless we act now to ramp up domestic oil and gas production, there will be little other way to shield Americans from extraordinary price increases," Yaw said in a statement. "Although shortsighted climate rhetoric has left our national security at risk, we can still pivot and limit the impacts of this geopolitical crisis."
The Keystone XL pipeline was slated to deliver up to 830,000 barrels of crude oil daily from Canada to the Gulf Coast, but the pipeline was ultimately canceled after Biden revoked its permit. 
In an executive order, the Biden administration said the pipeline "would undermine U.S. climate leadership by undercutting the credibility and influence of the United States in urging other countries to take ambitious climate action."
The potential environmental impacts of the pipeline – and the nation's continued reliance on fossil fuels – prompted criticism of the pipeline by environmentalists, ultimately leading to Biden's revocation of the pipeline's permit. 
Rob Altenburg, director of the environmental advocacy nonprofit PennFuture Energy Center, told City & State that the focus on building out pipeline infrastructure in light of the Russian invasion of Ukraine is to be expected.
"It's not surprising that the fracked gas industry is trying to take advantage of that crisis in Europe to further weaken protections for public health and the environment," Altenburg said, stressing that proposals to expand pipeline infrastructure and increase U.S. exports to Europe would just be replacing one foreign import with another.
Altenburg also suggested that pipelines and natural gas infrastructure aren't reliable, pointing to widespread power outages in Texas last year during freezing weather conditions. "This is not resilient; this is not reliable. If we are going to have energy security, we need to look at other sources, rather than putting more eggs in the gas basket," he said. 
From June to November of 2021, the U.S. imported an average of 19.5 million barrels of crude oil per month from Russia, according to the U.S. Energy Information Administration. From 2015 to 2020, the most recent years for which annual data is available, the U.S. imported an average of 160 million barrels of crude oil from Russia per year. In total, the U.S. imported approximately 3.4 billion barrels of crude oil from across the world over that same period. 
House Appropriations Committee Chair Stan Saylor, a York County Republican, announced his own resolution to urge New York and New Jersey to end their respective bans on the construction of new natural gas pipelines. 
"Not only have anti-energy policies from President Joe Biden down to blue-state governors resulted in increased costs to consumers, but they mean that we as a country are helping to finance Vladimir Putin's unprovoked war on Ukraine through oil and natural gas imports," Saylor said in a statement. "It's unconscionable and outright shameful."
House State Government Committee Chairman Seth Grove also announced forthcoming legislation designed to increase natural gas drilling and distribution in the state. Grove's proposal would also reform the permitting process for natural gas drilling, provide funding for pipeline construction and remove the state from the Regional Greenhouse Gas Initiative. 
"Russia, and particularly its president, Vladimir Putin, must be held accountable for the senseless war in Ukraine. There is no reason why Americans should be forced to purchase natural gas imported from Russia," Grove said in a statement. 
Grove added that the state should increase its natural gas production to "further secure our energy sector and decrease, if not zero out completely, American's reliance on foreign gas."
State lawmakers aren't the only politicians pushing to expand pipeline infrastructure. In a U.S. Senate primary debate held last week, GOP candidates Kathy Barnette and George Bochetto both supported expanding the nation's pipeline infrastructure, with Barnette saying she would sponsor legislation to restart the Keystone XL pipeline. 
Altenburg, however, contested claims that the continuation of pipeline construction would have a significant impact in the near-term as the Ukraine crisis continues to unfold. 
"These plans – to expand pipelines, build (liquefied natural gas) terminals – these are multi-year, multibillion-dollar projects," Altenburg said. "None of these projects that they're contemplating is going to increase any energy shipments to Europe anytime in the near future."