News & Politics
New Pew poll shows 30% increase in Philly residents concerned about crime
The Pew Charitable Trusts' new 2022 Philadelphia citywide poll found that 70% of the city's residents think crime, drugs and public safety are the biggest issues facing the city.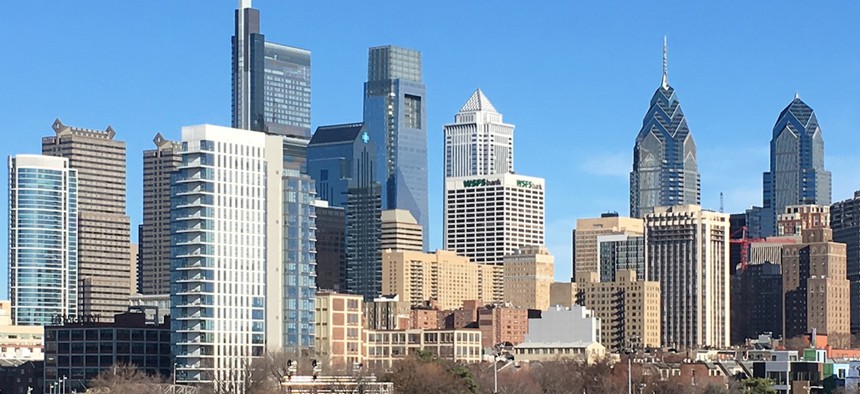 A sobering new poll from The Pew Charitable Trusts shows that ongoing issues related to COVID-19 and gun violence are among the chief concerns of Philadelphians. 
Most notably, the poll found that 70% of the city's residents think crime, drugs and public safety are the biggest issues in Philadelphia – a nearly 30% increase from August 2020 and the highest percentage since Pew began such polling in 2009. 
The survey, which aims to gauge residents' views on the city, specifically asked about the police, the pandemic's impact and the city's future. 
"Overall, we found that the pandemic has really continued to have a major impact on residents, including their physical health, their finances and their employment," Katie Martin, senior manager with The Pew Charitable Trusts' Philadelphia research and policy initiative, told City & State. "Sixty-three percent of Philadelphians know somebody who's been hospitalized for COVID-19 and 47%, nearly half, know somebody who has died from the virus. And when we asked that question in 2020, it was at 24%."
The impacts of the pandemic go beyond physical health as well. About one-third of residents said they're worse off financially than they were in March 2020, with 61% of people with children saying they had trouble paying their mortgages. 
Along with COVID concerns, the poll highlighted residents' issues with public safety. With many residents in increasingly more dire straits, the city has experienced record numbers of gun violence and homicides throughout the pandemic. 
The poll found that just 44% of Philadelphians feel safe in their neighborhoods at night – the lowest percentage since Pew began polling in 2009. On top of that, 85% of residents think gun violence has worsened over the last three years. 
"Philadelphians are rightfully concerned about the crisis of the gun violence afflicting our city and communities across the country. We need immediate, forceful federal regulation of the firearms industry so that guns stop flowing like water and so law enforcement has the tools they need to solve more shootings and homicides," Jane Roh, spokesperson for District Attorney Larry Krasner, said in a statement. "District Attorney Krasner has consistently called for a modern and effective approach to policing that uses more targeted resources for law enforcement such as expanded and modernized forensics capabilities, and enhanced investigative and legal training for officers and detectives to solve the most serious crimes. But funding for law enforcement must come with accountability, and thanks to the FOP, our residents do not have the accountability or effective public safety infrastructure they deserve."
Police were also a hot topic in the poll. Sixty-one percent of residents say the city needs more police, up from 45% in August 2020. And 53% say the city is an "excellent" place to live, down from 66% in 2020. 
Martin said residents were asked an open-ended question about their top concerns, and that issues of crime, drugs and safety "crowded out" other topics in responses. The nearly 30% increase in residents listing crime, drugs and safety as their top issues, coupled with 14% of residents listing poverty and homelessness, far outpaced all other issues, which only registered in the single digits. 
"There were a couple of different disparities both by neighborhood and by race and ethnicity. Seventy-eight percent of Black residents and 76% of Hispanic residents reported hearing gunshots compared to 46% of white residents. But 86% of North Philadelphia and 76% of West Philadelphia residents reported hearing gunshots, which were much higher than other neighborhoods in the city," Martin said. "Overwhelmingly, Philadelphians – across demographic groups, across subgroups, across neighborhoods – indicated that public safety is a major issue in the city right now," 
The racial disparities when it comes to those affected by COVID-19 and gun violence have been apparent throughout the pandemic. The poll results come as no surprise to Mayor Jim Kenney's administration. 
"Many of the challenges facing Philadelphia – including the uptick in the number of shootings and homicides, and the continued impacts of the drug and opioid crisis – are disturbing trends that are affecting municipalities nationwide," Kenney spokesperson Kevin Lessard said in a statement. "The findings of the poll also underscore why the Kenney administration's ongoing focus on racial equity is critical – we know Philadelphia residents of color continue to feel the impacts of violence and economic downturns more acutely and we are actively working to reverse those disparities."
The Pew Charitable Trusts' poll was conducted by using address-based sampling, with 1,541 adult Philadelphians completing questionnaires either online and through the mail.