Capitol Beat
Wolf, lawmakers call for action on stalled gun law reforms
Republicans say some prosecutors in the state are failing to enforce current laws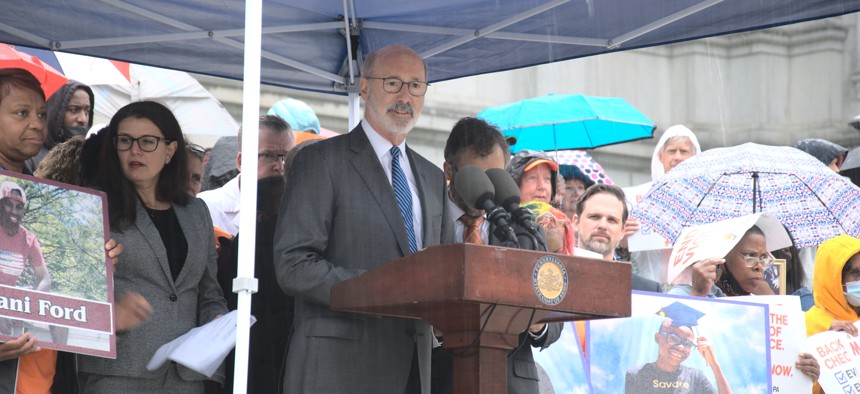 Undeterred by rain, Gov. Tom Wolf, lawmakers and advocates called on Republican leaders to hold votes on stalled gun-related legislation that has seen little movement in recent years. 
Wolf, now in the twilight of his second and final term, made yet another plea to the General Assembly to approve legislation that has eluded his desk, including a so-called red flag law and legislation to require reporting of lost and stolen firearms. 
"State leaders, all of us, need to step up and do more to stop violence before it starts. To do that, we have to pass common-sense gun safety legislation right here in Pennsylvania," Wolf said. He criticized Republicans for advancing permitless carry legislation last year, which would have allowed Pennsylvanians to carry a gun, concealed or not, without a permit. Wolf vetoed that legislation after it was approved by both chambers of the legislature late last year. 
"Instead of taking action to protect our communities, to put these common-sense actions into place, Republicans instead chose to pass dangerous legislation that would make all of us even less safe," Wolf said. "We're here today to demand that the General Assembly stop pushing dangerous legislation and start protecting lives."
Wolf has long advocated for red flag legislation, which would allow family members and law enforcement officers to petition the courts when they believe a person may be a threat to themselves or others. Courts would be able to temporarily ban the person in question from possessing a gun, though the court must schedule a full hearing within 10 days of issuing an order to consider evidence from the subject of the petition. Following the hearing, a court could issue a final extreme risk protection order for up to one year. 
State Rep. Todd Stephens, a Republican from Montgomery County, has sponsored red flag legislation in multiple legislative sessions, though his bill has never received a vote on the House floor. Stephens said at the rally today that a red flag law in Pennsylvania could reduce suicides in Pennsylvania, pointing to studies that have shown a decrease in gun-related suicides after red flag laws were passed. 
One study, published in 2018, found that gun suicide rates decreased in both Connecticut and Indiana after each state passed a red flag law, though Connecticut's decrease was offset by an increase in suicides using other means. "We know they will reduce the number of suicides here in Pennsylvania," Stephens said. "We just need to take the steps to adopt them here in the state Capitol – put them in place so that loved ones, family members, law enforcement – when they know someone's in crisis, they can act."
Republican leaders on the state House and Senate Judiciary committees have long been reluctant to advance red flag measures out of committee. A spokesperson for the House Republican Caucus touted the caucus' efforts to address crime in the state and criticized certain local prosecutors for lax enforcement. 
"Presently, like the rest of the country, Pennsylvania does not have a problem with not having enough laws and penalties on the books; we have a problem with local leaders and political prosecutors not enforcing the laws we have," said Jason Gottesman, a House GOP spokesperson. Gottesman said the caucus will be advancing legislation this week to "make Pennsylvania safer."
One measure approved by House lawmakers on Tuesday would establish term limits on current and future Philadelphia district attorneys – a move that comes as Philadelphia District Attorney Larry Krasner continues to face criticism over the rising number of murders in the city. 
Lawmakers were joined by advocates from CeaseFire PA, a statewide gun violence prevention organization, as well as relatives who have lost loved ones due to gun violence. In addition to red flag legislation, advocates called for state lawmakers to approve a measure that would require gun owners to report when their firearms are lost or stolen. 
The event also featured remarks from those who have experienced gun violence firsthand. Tahira Fortune, a Philadelphian who founded Voice By Choices after her son was murdered in 2017, urged lawmakers to take action to ease the suffering of people across the state. "I'm angry and I'm upset," she said. "Something needs to be done. Something. Please help us."