General Assembly
Wolf vetoes bill that would have allowed permitless carry in PA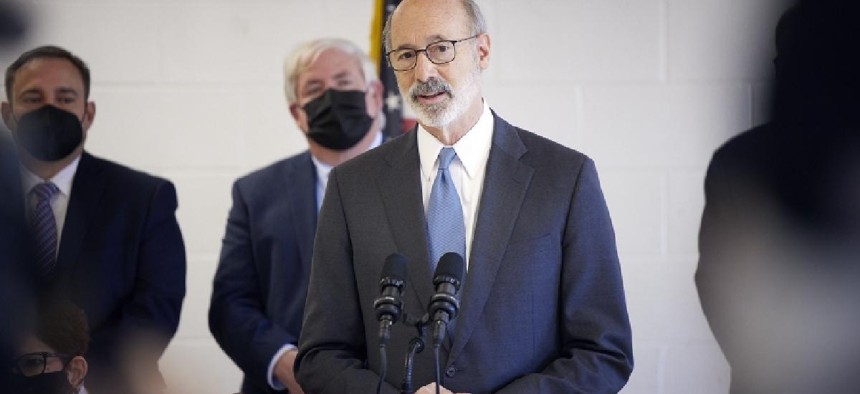 Gov. Tom Wolf made good on his promise to reject a controversial gun bill on Tuesday, vetoing a measure that would have allowed permitless concealed carry of firearms in Pennsylvania.
Wolf, in a statement accompanying the veto, said the policy would "exacerbate gun violence and jeopardize the safety of all Pennsylvanians." 
The measure was passed in November by the General Assembly, with proponents arguing that the legislation – Senate Bill 565 – would reinforce the right of Pennsylvanians to keep and bear arms. 
Wolf, however, made clear that the bill was never going to earn his signature, and said Tuesday that the bill, if signed into law, could have put law enforcement in danger. "Unfortunately, this bill would make gun violence worse and would put law enforcement officers at greater risk of harm," Wolf said.

The legislation, which was advanced by a 29-21 vote in the Senate and a 107-92 vote in the House, would have allowed any Pennsylvanian – who is not prohibited from possessing a gun under federal law – to concealed carry a gun without a permit.

The bill would have also repealed a state law barring people from carrying guns on public streets or property during a state – or municipal – proclaimed emergency. 
Proponents of the bill said Wolf's veto will put safety at risk. State Sen. Cris Dush, who sponsored SB 565, said Wolf's veto underscored the governor's "penchant for ignoring the constitutional rights of Pennsylvania citizens."
"Firearms ownership is a constitutional right that should not be subject to infringement or questioning," Dush said. "Gov. Wolf should have heeded the provisions of the constitutions of both the United States and Pennsylvania and signed Senate Bill 565."
Senate President Pro Tempore Jake Corman, who is running for governor, also criticized Wolf's veto. 
"It is disappointing that Governor Wolf vetoed this bill to reinforce the Second Amendment rights of law-abiding Pennsylvanians. Citizens deserve to have the peace of mind to know they can defend themselves against violent crime," he said in a statement. "Vetoing this bill does nothing to make Pennsylvania safer. Criminals do not care about permits. The only people harmed by Governor Wolf's veto are the citizens who follow the law."
Wolf said he supports other gun-related reforms, including safe storage requirements, red flag legislation and strengthened reporting requirements for guns that are lost or stolen. Democratic legislators attempted to tack on similar measures as the bill moved through the legislative process, but the amendments were routinely voted down. 
Democratic legislative leaders, including House Democratic Leader Joanna McClinton and Senate Democratic Leader Jay Costa, praised Wolf for vetoing the bill. 
"As communities across the state struggle with crises like gun violence and suicide, Senate Bill 565 was a poorly timed, poorly conceived plan to expand access to firearms and would have risked the lives of more Pennsylvanians," McClinton said. 
Costa said Wolf's veto "will keep our communities safer and prevent an unsafe and unlimited rise in concealed firearms in our communities."