Campaigns & Elections
GOP Sen. Cris Dush calls on state to disavow ballot drop box use
The request comes one week prior to the primaries.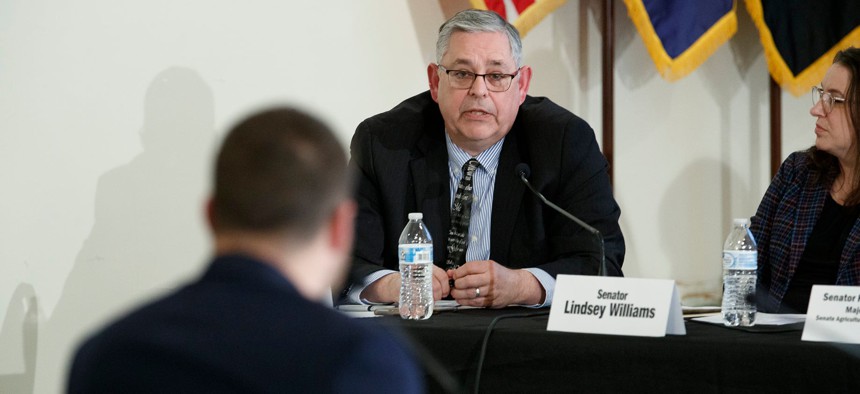 A GOP lawmaker overseeing a Republican-led investigation of the state's recent elections is calling on the Pennsylvania Department of State to direct counties to remove ballot drop boxes ahead of next week's primary elections. In a letter sent to the department's acting secretary on Tuesday, state Sen. Cris Dush urged the department to request that all counties in the state immediately stop using drop boxes as a means to collect mail-in ballots. 
"The reason for this is simple," Dush wrote. "The chain of custody for any ballot submitted in such fashion is unverifiable if such actions are not taken and thus any election which does not take those steps cannot qualify to be certified."
Dush went on to write that ballot drop boxes have "never been authorized by the legislature" and that anyone who has already voted using county drop boxes should be required to visit county election offices or polling places to verify that they are qualified to vote in Pennsylvania elections. 
The request from Dush is the latest escalation surrounding ballot-collecting drop boxes, which have become a major point of contention in counties across the state. Dush's letter follows a decision from Lehigh County District Attorney Jim Martin to have detectives monitor the county's drop boxes.
In mid-April, the state Senate approved legislation sponsored by Dush and Senate Republican leaders to ban the use of drop boxes to collect absentee and mail-in ballots. The measure was passed along party lines and approved with a 29-20 vote. 
Public polling on the issue shows a deep party split on whether voters should be able to return ballots using drop boxes. According to a May poll from Franklin & Marshall College, 54% of registered voters oppose eliminating drop boxes. The survey shows that a majority of Republicans are opposed to drop boxes, with 53% of respondents saying they "strongly favor" eliminating them. Only 13% of Democrats "strongly favor" doing away with drop boxes, according to the poll. Meanwhile, 70% of Democrats said they "strongly oppose" getting rid of the boxes, while just 24% of GOP voters said the same. 
In an email, a spokesperson for the department of state said that counties make their own decisions when it comes to drop boxes. They also said that Dush's letter contains misleading information. 
"The Senator's letter reflects a number of inaccuracies regarding the voting process in Pennsylvania," the spokesperson said in an email. "Most notably, all voters who receive and cast mail ballots have already been verified as qualified electors. All Mail-in and Absentee Ballots have unique bar codes on their outer envelope, making them verifiable."