Policy
Lawmakers remember trailblazing Black speaker with 'K. Leroy Irvis Day of Action'
In 1977, Irvis was the first Black man elected speaker of a state legislature since Reconstruction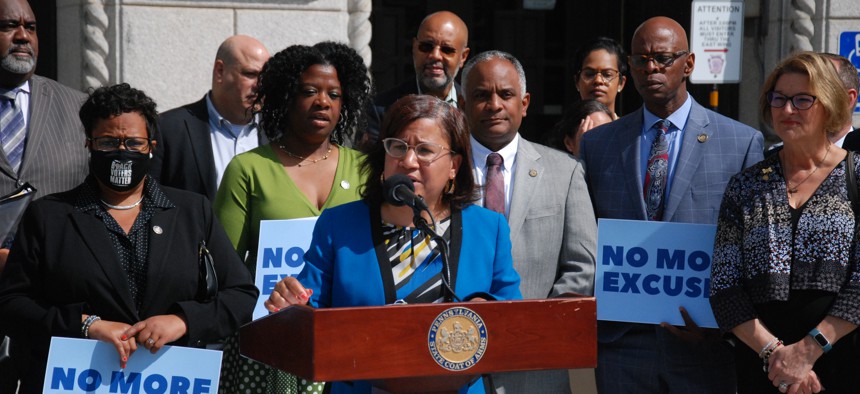 Monday marked 45 years since K. Leroy Irvis became the first Black man to be elected speaker of a state legislature since reconstruction. But rather than simply celebrate the accomplishments of the late Pittsburgh area activist and politician, members of the Pennsylvania Legislative Black Caucus gathered in Harrisburg to outline how they plan to continue Irvis' legacy in the same halls that he graced decades ago. "Forty-five years ago on this day, Mr. Irvis became the first black speaker of the Pennsylvania House and of any state legislature in this country," said state Rep. Donna Bullock, the chair of the Pennsylvania Legislative Black Caucus, from outside of the Capitol office building named after Irvis. "Today we celebrate that milestone with more than just a resolution and a bunch of speeches. We honor Mr. Irvis with what he would do: We are going to work today."
Irvis was the first Black man elected speaker of any state legislature since Reconstruction when he was chosen to preside over the state House of Representatives in 1977. Throughout his tenure in the General Assembly, which spanned nearly 30 years, Irvis focused heavily on education, civil rights and prison reform, among other subject areas. 
He is credited as the architect of both the Pennsylvania Human Relations Commission and the Pennsylvania Higher Education Assistance Agency, and was the prime sponsor of legislation to make Lincoln University a state-related institution. 
Advocates and lawmakers alike pledged to use the day of action to fight for causes near and dear to Irvis' heart, like increased funding for education, police reforms, access to affordable housing and voting rights. 
House Speaker Bryan Cutler, a Lancaster County Republican, made an appearance to pay homage to Irvis and his contributions to the commonwealth. "What a legacy," Cutler said. "Forty-five years. That's something worth celebrating. But I also think it's worth noting that the work is not yet done, and one of the things that I mentioned when I was speaker, during my opening speech, was this – that we are all to share our stories because our stories inform who we are and how we make decisions. That's what makes an advocacy day like this so important. That's what makes it a vital part of the legislative process."
The event also featured remarks from House Democratic Leader Joanna McClinton, Democratic lieutenant governor nominee Austin Davis and advocates from a range of organizations, including the Urban League of Philadelphia, Young Professionals of Color of Greater Harrisburg, and the Pennsylvania CDFI Network.
Others in attendance said Irvis' legacy can be carried on not just by the types of policies that are fought for and implemented, but by adhering to Irvis' own approach to public service. "Mr. Irvis was an exemplar of a great statesman," said state Rep. Aerion Abney, who represents the 19th House District, the same district that Irvis served in from 1967 to 1988. "Leadership for him was a practice. It was something that was internal, that extended outward."
"As we stand here today, 45 years later, and we continue to fight for racial, social, economic and generational justice, these are some of the same issues that Mr. Irvis fought for in his day," Abney said. "When we come together, we realize that we're not going to be able to solve all the issues as a Black Caucus in our tenure, but what we can do is, we can use our positions as leverage, as spheres of influence, to try to change the realities of struggle for people and to build for the posterity of all future generations."