Public Safety
Philly officials support GOP bike lane protection bill
City and state lawmakers rode into Dilworth Park to celebrate Bike to Work Day and call for better cyclist safety measures.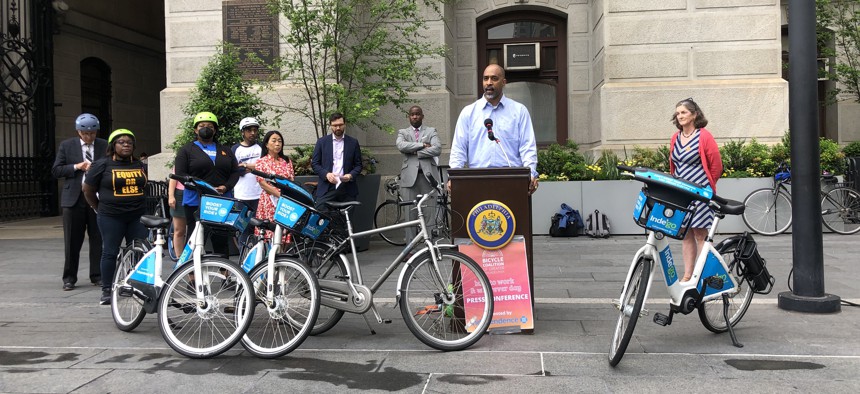 Bell-ringing in Philadelphia Friday morning wasn't coming from Citizen's Bank Park or the Constitution Center but from a peloton riding into Dilworth Park outside City Hall. 
Several city and state officials rode into a press conference with the Bicycle Coalition of Greater Philadelphia to celebrate Bike to Work & Wherever Day and advocate for further action to support the state's bicyclists. 
"South Philly has a bike commuting rate that's among the top 10 neighborhoods in the whole country – and in one census tract along Washington Avenue, one out of five commuters rides a bike," Sarah Clark Stuart, executive director of the Bicycle Coalition, said at the press conference. "That's phenomenal, but we have a lot of work ahead of us. We have a very bad bicycle death trend." 
While Pennsylvania ranks 12th in the nation in the bike-friendliness parameters of infrastructure & funding; education & encouragement; traffic laws; policies & programs; evaluation & planning, according to the League of American Bicyclists, its incident rates are rising. In 2021, eight bicyclists were killed in Philadelphia and 24 were killed across the state. Those numbers are the highest seen in the commonwealth in 20 years, Stuart said. 
Philadelphia has a Vision Zero plan in place to eliminate traffic fatalities by 2030. A major component of that plan involves increasing the number of protected bike lanes, e-bikes, speed cameras and more. Officials and advocates made a call to action for greater measures to promote and protect bicycling in the commonwealth, specifically referencing one bill in the state legislature: House Bill 140. 
Philadelphia City Councilmember Derek Green, who was in attendance Friday, introduced a resolution last week calling on the General Assembly to pass House Bill 140. The bill, which was introduced by state Rep. David Maloney, a Republican from Berks County, would allow parking alongside bike lanes to act as buffers between riders and traffic. 
"This is important because we know the challenges we've seen not only here in the City of Philadelphia, where people have lost their lives, but also in Pittsburgh," Green said. "The issue of not having protected lanes for those who are cyclists…is so important for all the citizens of the city and also the Commonwealth of Pennsylvania." Green's resolution was unanimously passed by City Council yesterday. 
The previous version of House Bill 140 passed in the state House by a 200-1 vote but stalled in the Senate. With seemingly broader bipartisan support this time around, State Sen. Nikil Saval thinks it's only a matter of time before it sees another vote. 
"I think in a previous iteration of the bill there were some misconceptions about what the bill might do. There was some opposition, even on the Democratic side," Saval told City & State. "I think that opposition has fallen away and people are well aware of how beneficial this would be to not just cyclists but to the overall safer streets across our commonwealth."
As it stands, HB 140 is awaiting action in the Senate Transportation Committee, chaired by state Sen. Wayne Langerholc. Langerholc, a Republican from Cambria County, did not respond to requests for comment by press time.
Elsewhere in the commonwealth, at the Middletown Train Station in Dauphin County, Department of Transportation officials were touting the state's Active Transportation Plan, which is also focused on improving walking and cycling conditions in communities. 
"Bike Month is an excellent reminder that having a multimodal approach to our transportation network helps meet the needs of our regional commuters and directly supports our mission of reducing traffic congestion and improving air quality," Stacy Newcomer, commuter services deputy project manager, said. "The Middletown station and the covered bike racks at this facility are outstanding assets to help commuters travel regionally and ease their decisions to make more sustainable commute choices."
Officials stressed the importance of bicycling not only because of the health and environmental benefits, but also the economic benefits for downtown districts. Creating more public spaces, pedestrian plazas, and protected bike lanes that vehicles can't access present opportunities for commercial hubs to grow. 
"We're always interested in ideas to create more public space, more public activity, and to activate streets with programming, but we don't necessarily need to completely pedestrianize a given block," Michael A. Carroll, deputy managing director for transportation, infrastructure and sustainability with the City of Philadelphia, told City & State. "We can designate pilots in order to try things out to see whether it makes sense to divert traffic from any given block and in certain circumstances. There are some projects that we're looking at, but of course, we always work with City Council to figure out what makes the most sense."
Although there seems to be a consensus on the need to increase bicycling accessibility, concerns remain about the lack of safety measures in place to protect bike commuters. Any reforms to give bikers a better share of the road must be accompanied by safety measures such as head start signals before traffic lights and speed cushions. 
"The streets belong to the people and today's Bike to Work was a celebration as well as a call to action about the importance of prioritizing safety for everybody," Councilmember Helen Gym said at the press conference. "Any hit-and-run and any bike accident is a policy failure."