Economic Development
GOP advances efforts to privatize liquor system via constitutional amendment
Mihalek's proposal would allow voters to decide on replacing the state-run system.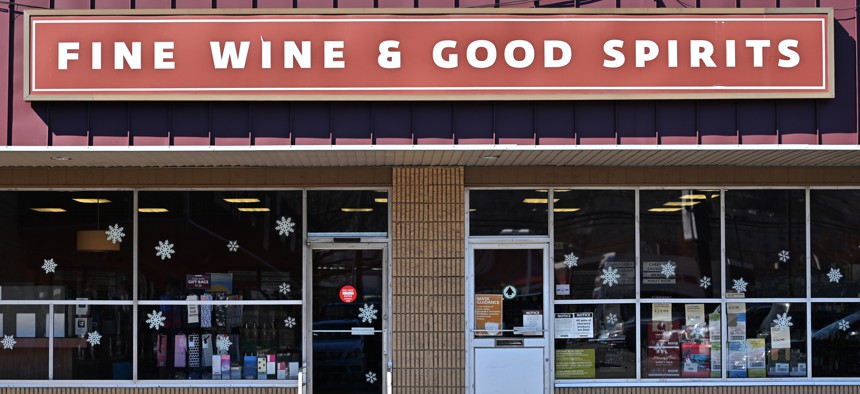 Republicans in Harrisburg have taken another step toward privatizing the commonwealth's liquor system. 
On Wednesday the state House Liquor Control Committee voted 14-10 along party lines to approve a proposed constitutional amendment to privatize the commonwealth's liquor system, with all Democrats in opposition. The vote comes a few months after the committee held a public hearing on the subject to get input from stakeholders in the industry. 
State Rep. Natalie Mihalek, prime sponsor of House Bill 2272, said she's opposed to the state's "dual role of retailer and regulator" and that her bill would bring the issue to the voters. 
"It is time for the citizens and for the taxpayers of Pennsylvania to decide what the role of their government should be. Our constitution lays out the powers, rules and structure of our state government. House Bill 2272 addresses whether selling alcohol should continue to be part of that role of our state government," Mihalek said. 
This is yet another attempt by GOP legislators to replace the state-run system with privately run liquor stores. Gov. Tom Wolf vetoed the last proposal to reach his desk back in 2015.  Pennsylvania is one of just two states with an entirely state-run liquor system – Utah is the other – and one of only 17 with some form of control over the sale of wine and spirits.
As a constitutional amendment, HB 2272 would need to pass both chambers of the General Assembly in two consecutive sessions before it could go to the voters as a ballot initiative. Republican lawmakers have utilized the constitutional amendment route as a means to pass measures that Wolf would otherwise veto, including limiting executive emergency powers, which voters approved during the pandemic. And while GOP leadership says these amendments allow voters to make their own decisions, Democrats argue it circumvents already established checks and balances. 
"We want to ask the Pennsylvania voters what they want," Mihalek, a Republican from Allegheny County, said. "I think this is the most democratic way to answer this question."
It's accurate that a ballot question lets voters have a direct say on a measure, but it's also a way to almost ensure a measure gets passed. Over the last 50 years, voters have rejected just six of about 50 amendments presented to them. The measures curtailing Wolf's emergency powers were passed during the 2021 primary, when voter turnout was just over 25%. 
Specifically, on Mihalek's amendment, Democrats on the committee said the ballot question wouldn't give voters an idea of what system would replace the state's. 
"It's very complex and the simplicity of this does not in any way, shape or form inform a voter on what they're voting on," state Rep. Mary Isaacson, a Democrat from Philadelphia, said. "It's just a concept of something that is a large branch of government that's been existing and has a lot of ramifications."
Chuck Moran, executive director of the Pennsylvania Licensed Beverage and Tavern Association, expressed similar concerns in a letter to the committee. 
"The state's liquor business is a web of rules and politics. Pulling one lever activates a series of reactions within the industry. As such, it is dangerous for taverns, bars, and licensed restaurants to support HB 2272 as it is written. To do so would be taking a leap of faith, not knowing if our segment of the industry would be protected from unintended consequences," Moran said. "HB 2272 does not address outdated rules and makes no promises about how privatization of the state's liquor sales system would work. The association will not support any change that fails to protect the future of family-owned establishments."
Mihalek, defending the simplicity of her bill, said that it lets voters decide and then allows the legislature to act. If the ballot measure were to be approved, it would give the General Assembly 18 months to devise new regulations and develop what the new liquor system would look like. 
"If the voters decide that they want to get rid of this archaic system, then we're going to do the job that we were elected to do, which is come back and hammer out all those details," Mihalek said. "That's not the job of the voters. What we're asking the voters to do is to decide on the appropriate role of their government."
Following approval in the House Liquor Control Committee, the bill was recommitted to the House Rules Committee.