Education
Members of the LGBTQ community denounce new, so-called 'Don't Say Gay' bills
Two GOP-backed bills aimed at giving parents control over when their kids learn about sexual orientation is drawing ire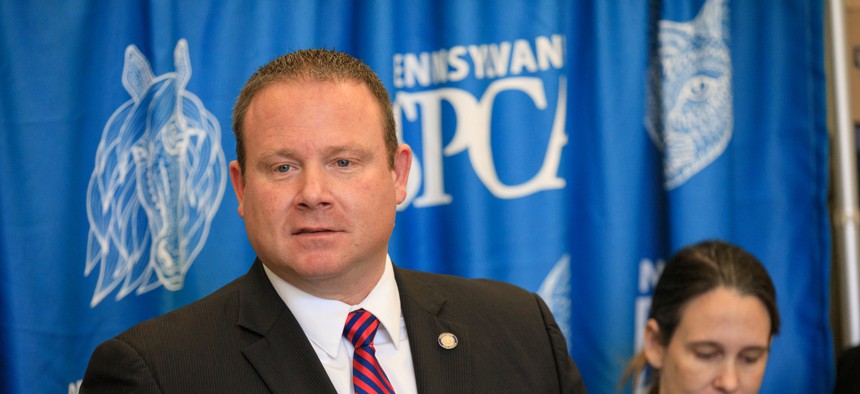 Following a state Senate committee's approval of two bills aimed at limiting sexual content in public schools, LGBTQ+ advocates and stakeholders called out the legislation as discriminatory and harmful to vulnerable children. 
The Senate Education Committee advanced two bills Tuesday addressing parental control of materials provided to students in schools. Senate Bill 1277, sponsored by state Sen. Ryan Aument, would require schools to adopt a policy of notifying parents of sexually explicit materials available or taught in the school and options to provide alternatives to the child. Senate Bill 1278, sponsored by state Senate Education Chair Scott Martin, would bar teacher-led instruction on gender identity and sexual orientation in grades pre-K through 5. 
Both bills were approved along party lines with Republicans supporting the measures. But the latter of the bills, SB 1278, has caught more of the ire of LGBTQ+ activists, as many call it Pennsylvania's version of the "'Don't Say Gay" bill passed in Florida.
The bills' sponsors, both Republicans from Lancaster County, said the legislation seeks to give parents control over their child's exposure to sensitive topics. They cited sexually explicit materials they've received from parents, with Martin adding that some of the images were prohibited from being discussed at board meetings due to the graphic content. 
"This bill, more than anything, will empower parents," Martin said. "(Grades) K through 5 is not appropriate for any type of topic of sexual orientation or sex education. That's reserved to the rights of the parents." 
State Sen. Lindsey Williams, an Allegheny County Democrat, compared the bills to book bans, calling SB 1278 "worse" than Florida's legislation. 
"This bill is not preventing government endorsement of beliefs about sexual orientation and gender identity in public schools. It's saying that being gay, having trans parents, or having a lesbian friend is wrong, is less than and is something to be ashamed of," Williams said during the committee hearing Tuesday. 
Rafael Álvarez Febo, executive director of the LGBTQ Affairs Commission, called the legislation a "cruel attempt to politicize LGBTQ people" and "score cheap political points."
"We at the Pennsylvania Commission on LGBTQ Affairs know that the guise of calling LGBTQ people and topics 'age inappropriate' is really just fearmongering," he said. "Bills like these will cause LGBTQ teachers to have to conceal their identities and strip any resources available for LGBTQ youth out of schools."
In addition to the discriminatory concerns, Democrats argued that schools and teachers are in need of more funding, not censorship. The bills are set to be considered by the full Senate, however, Gov. Tom Wolf has vowed to veto any discriminatory legislation targeting LGBTQ+ Pennsylvanians.