Budget
State House Appropriations Committee chair: Budget unlikely to be done by June 30 deadline
Wolf's budget secretary says a deal is 'very close and within reach'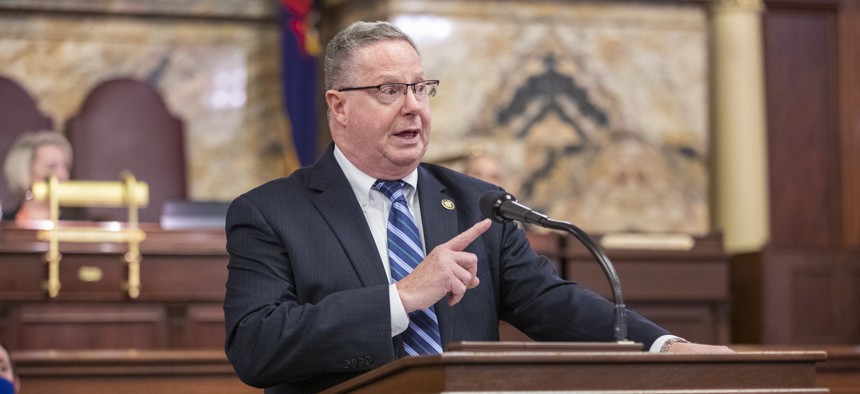 A leading lawmaker charged with overseeing state budget negotiations said Tuesday that lawmakers are still days away from approving a state budget proposal for the 2022-2023 fiscal year, casting doubt on the prospects of lawmakers approving a budget plan by the state's June 30 deadline.
House Appropriations Committee Chair Stan Saylor, a Republican from York County, told reporters that he doesn't see a final budget getting to the governor's desk by Thursday. "I don't see it getting done," Saylor said. "I'm hoping we're gonna have it done in the next week."
Saylor expressed a sense of optimism that the budget would be completed within the next week, but noted that once a framework is agreed upon by legislative Republicans and Gov. Tom Wolf's administration, legislative language will need to be drafted and proofread, which he said could take multiple days.
"It really is about writing it, and then you want to proofread it to make sure you haven't made any mistakes," Saylor said. "That takes time. I would say that takes three to four days, once you have an agreement, to get it all on paper – and put into bills."
Pennsylvania Budget Secretary Gregory Thall also acknowledged that all parties involved are close to reaching a deal, but that a finalized framework hasn't been reached as of Tuesday afternoon.
"I would say that all five parties are in talks and everything is very close and within reach," Thall told City & State. "But I don't think anything has been officially locked down at this moment in time."
Thall said that sticking points from the Wolf administration's perspective include education spending, human services spending and property tax relief.
"I think it's the overall investment in people," Thall said, citing increased education spending, Wolf's plan to distribute $2,000 checks to Pennsylvanians with a household income of less than $80,000, and property tax rebates as key priorities for the Democratic governor. "The governor is very insistent that with $18 billion sitting in our cash account … we should be able to agree on a budget that is able to get money back into the hands of people that need it."
As for where Wolf and lawmakers stand on how much to spend in this year's budget, Thall said: "​​I think everyone is in the same ballpark – or the same church, just not on the same pew."
But while Wolf and lawmakers appear to still be at odds over certain details in the budget, one area of agreement could come in the form of a reduction in the state's corporate tax rate, which currently rests at 9.99%. Wolf and Republican lawmakers who control the legislature have both expressed interest in lowering the state's corporate tax rate in recent years, though they have been unable to reach an agreement on specifics, with Wolf favoring other changes to the state's corporate tax laws along with the rate reduction. 
Thall said he is "hopeful" that a cut to the state's Corporate Net Income Tax rate materializes in this year's budget – a sentiment shared by Saylor.
Saylor, the outgoing chairman of the House Appropriations Committee, said earlier this week that he's confident that a CNIT reduction "will take place" – it's just a matter of reaching agreement on the details of the rate reduction.
"The governor's supportive, the Senate and the House are both supportive of it," Saylor said. "It's just getting to the final number."